You have /5 articles left.
Sign up for a free account or log in.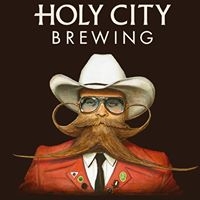 Students of Paul Roof -- not to mention the many fans of his award-winning facial hair -- are outraged that he was fired Friday by Charleston Southern University.
Roof, a sociologist there for the past six years, posted the news on Facebook and it was quickly picked up by newspapers in the Charleston area, where he is well-known. The problem, Roof says, is that the image (which illustrates this article) was used by Holy City Brewing on cans of beer. The cans weren't ordinary but were being sold for a charity event for Lowcountry Women With Wings, a group that provides education about ovarian cancer and support for women fighting it.
Charleston Southern took offense, Roof said, because the Baptist university does not tolerate alcohol use. The university takes this so seriously that it bars students from wearing clothing referencing alcohol or putting up posters from alcohol companies.
While Roof did not have tenure, he had been promoted to associate professor last year.
Not only are those speaking out on Roof's behalf noting that his image was being used for a worthy cause, but Roof has said that the image isn't one he even owns (the artist does). So even if he had wanted to block its use, he couldn't have done so.
Unlike those of most sociologists, Roof's visage is in fact the subject of much attention. As founder of the Holy City Beard & Moustache Society, he has won numerous contests in the field. (One of the names by which Charleston is known is Holy City.)
Students have taken to Facebook and elsewhere to express dismay. "You're the best professor I had at CSU and the only one I kept in contact with post graduation. You made the transition from a soldier to a student smooth for me. I learned a lot in your classes and you were always there to assist me with any issues I had. CSU is losing a great person from their team. Something greater is in store for you!" Another: "You are not only one of the best teachers at CSU but one of the best people I have been fortunate enough to meet, this is outrageous!"
On Twitter, former students and beard activists have created numerous hashtags -- #IsupportPaulRoof, #RehireRoof and  #PraisetheRoof among them -- to express their anger.
Among the comments on Twitter: "What would Jesus do?" and "If having your face on a bottle of beer with an epic beard is wrong, I dont wanna be right."
A group of supporters created a website to raise money for the Lowcountry Women With Wings, asking people to give to the group and support Roof. Nearly $3,000 had been raised by Sunday evening.
On his Facebook page, Roof wrote: "To say I am moved would be an understatement, all the support from students, friends, colleagues from across the city, state, country, and globe is overwhelming." He offered particular thanks to his students at Charleston Southern, especially his students, whom he said "it has been an honor and privilege mentoring and teaching these past 6 years."
A university spokesman did not respond to an email message, and told local reporters that Charleston Southern would not comment on a personnel matter.