You have /5 articles left.
Sign up for a free account or log in.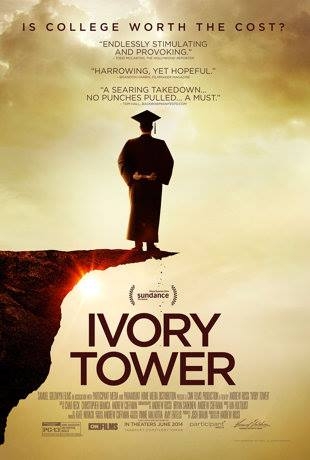 The filmmaker Andrew Rossi seems drawn to industries in decline. (Or alleged decline, anyway.) Rossi's 2011 documentary "Page One" chronicled The New York Times' efforts to withstand a brutal media climate. His latest venture, "Ivory Tower," which debuts Friday in New York and Los Angeles, casts its lens on another institution in crisis: the world of nonprofit higher education.
A challenge journalism has faced with the advent of online media is that it costs too little for consumers: readers no longer expect to pay. And if information "wants" to be free, it's hard to cover a print newspaper's operating costs. Higher education's problem, Rossi's film argues, is the reverse: college now costs so much that its mission as an engine of social mobility, as a bridge from adolescence to adulthood, has been disrupted.
Rossi's team could not have known that the documentary, which was first screened at Sundance, would hit theaters two days after a bill that would have allowed student-loan borrowers to lower the interest rate on their debts died in the Senate. Public concern about student debt has mounted. Americans owe more than $1 trillion in student-loan debt. Aggregate college tuition and fees have soared 1120 percent since 1978 (a much-touted statistic in the film). Rossi's effort, it seems, has appeared at an opportune moment.
In an interview, Rossi chalked up rising college costs to two trends: first, decreased state funding for public universities, and second, increased spending on campuses, the lion's share of which has gone to non-academic personnel and non-academic projects.
Undergirding both trends, he said, is a shift toward a political and cultural understanding of college as a private good rather than a public good.
"In the film we see that in the period of the late '60s and early '70s, conservative governors like Ronald Reagan began to suggest that the state should not be subsidizing intellectual curiosity," Rossi said. "This coincided with a move to shift budgets so they were not so heavily invested in funding state universities."
Those funding trends have led institutions to behave more like businesses – by engaging in lavish building projects to attract students as consumers, for example, he said.
The film examines how student-loan debt figures into these broader higher-education trends. In many cases, Rossi said, student loans offer "an alternative subsidy" that "creates a vicious cycle in which the institutions are chasing the student loan dollar." By increasing spending on campus, institutions can attempt to gain prestige and thereby attract more students – and more student-loan money.
Whereas "Page One" employed what Rossi called a cinéma-vérité approach – following individual characters such as the raspy-voiced media columnist David Carr to create a portrait of an institution from within – the filmmaker thinks of "Ivory Tower" as "more of an essay than a single narrative." The film intersperses beer-soaked party footage, the camera at times becoming flecked with foam, with sober graphics illustrating rising tuition and rising debt. In one sequence, Rossi tracks an outbreak of activism at the (formerly) tuition-free Cooper Union, where students occupied the president's office to protest the institution's decision to begin charging tuition.
A range of higher education authorities, from the vanguard (the presidents of Harvard, Stanford and the University of Virginia) to the upstarts ("disruptive innovation" pioneer Clayton Christensen, the Udacity founder Sebastian Thrun), offer their views. The film's moral voice, however, is the Columbia professor Andrew Delbanco, Rossi said.
"He is representing the ideal of college, what we hope it can aspire to be," said Rossi, who read Delbanco's book College during pre-production.
Rossi's stroll through the groves of academe touches on a range of institutions. Harvard, the usual suspect, appears, but so does Deep Springs, the 26-student ranch/college located in the California desert; the historically black women's college Spelman; and the 60,000-student Arizona State University, among others. The film also features community colleges, although only briefly. And in some segments Rossi trains his lens on anti-institutions, such as the Thiel Fellowship, a program that offers young people $100,000 to forgo college for two years, as well as the concomitant UnCollege movement.
Nearly every corner of American higher education gets footage, with one exception: the for-profit sector. Rossi said his omission of for-profit institutions was deliberate. He wanted to examine "the mission of educating students in its purest form and not look at how trying to increase shareholder value complicates that mission," he said.
Nicholas Dirks, the chancellor of the University of California at Berkeley, said he thought the film's sidestepping of for-profit institutions left its discussion of student debt somewhat decontextualized.
"There's absolutely no doubt that there is a student debt crisis in the U.S.," he said. But – as the political scientist Suzanne Mettler argued in her recent book Degrees of Inequality – for-profit colleges and universities are largely to blame, Dirks pointed out. Mettler found that 25 percent of federal money for higher education goes to for-profit institutions, and alumni of for-profit colleges make up half of all student-loan defaults.
"When you show the statistic of student debt cresting above $1 trillion, and it did, a lot of that is not being talked about in the film," Dirks said.
The chancellor said he felt the documentary put too much blame for college costs on the institutions themselves, and not enough on the "abdication of funding not just by the state of California but also by a lot of other states."
"The argument in effect, I think, is that colleges and universities have gone out of control, that they have seen the marketplace for student tuition as limitless, and that with very few exceptions they have begun to abandon the great traditional mission of devoting their resources to the moral education of the student body," Dirks said of the film. "The notion that we've all just swallowed the tuition and assumed that the way out of our problems is to build climbing walls and raise the price of tuition is not helping us advocate for values that I think Mr. Rossi would probably share with those of us at Berkeley, who are trying to continue this tradition of being great but also being open to a really diverse student body."
Dirks said returning to the "grand old model" of states funding public higher education – a model California at one time exemplified – "would be a wonderful goal for people to work towards."
Rossi, however, said that state funding was no panacea.
"I think that the financial model of higher education needs to be re-designed," he said. "The idea that state funding can forever keep pace with the spiraling costs of certain universities and colleges that are leading the way in terms of tuition … is not completely realistic."
The film ends by inviting viewers to take part in a social action campaign, offering a link to a student-loan activism website based off the film.
"I believe that students do not have to be victims," Rossi said.