You have /5 articles left.
Sign up for a free account or log in.
Yes, Starbucks will reimburse its employees for studying online at Arizona State University, but students should not expect to earn their bachelor's degree without spending a dime.
Nor should they expect to take as much time as they want. In an appearance on This Week @ Inside Higher Ed on Friday, Arizona State President Michael M. Crow described his university's partnership with the coffee giant, announced last Sunday night, with one word: "completion."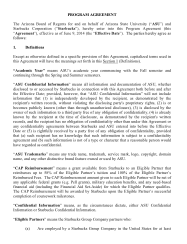 Arizona State's contract with Starbucks, obtained by Inside Higher Ed through an open records request to the university, is full of provisions that urge students toward completion. It also suggests the university is prepared to shut the door on partnerships with other companies for years to in exchange for access to tens of thousands of eligible Starbucks employees. (Click the thumbnail for the full contract.)
In the week since the deal was announced to fanfare about a path to a free college education, details show the program is less straightforward than initially promoted.
According to the contract, Arizona State "will not enter into an arrangement with another for-profit enterprise" for four years after the first students enroll -- unless Starbucks signs off on the deal. Starbucks, meanwhile, is free to advertise its existing partnerships with the City University of Seattle and Strayer University.
Kenneth E. Hartman, a senior fellow and principal analyst for the consulting firm Eduventures, said that provision seems "a little odd" in a contract that otherwise resembles standard employer-sponsored education programs.
"Reimbursement will increasingly be an important asset for institutions seeking to enroll students," Hartman, the former president of Drexel University Online, said. "The goal is to have as many corporate partnerships as you can -- particularly those that have attractive tuition reimbursement plans.... I don't quite understand why the institution would limit themselves to one corporation. I wouldn't sign any agreement with any corporation with exclusivity unless they guarantee a flat number of students per program."
Arizona State declined to comment before the time of publication.
More on Arizona State-Starbucks
In the latest "This Week" audio newscast, Arizona State President Michael Crow and Seton Hall University's Robert Kelchen discuss the deal to promote bachelor's completion by Starbucks employees.
Juniors and seniors will get 58 percent of their tuition reimbursed, as well as fees for financial aid, technology and retention coaching, the latter of which is $5 per credit hour. Should they receive federal grants, military education benefits or need-based aid, the reimbursed amount will be lower. 
To keep juniors and seniors on track to graduate, the contract notes that Starbucks will reimburse only those credits attempted in the previous 18 months. Since students will only be reimbursed for reaching "coursework milestones" -- in other words, completing 21 credit hours -- they either have to keep up with their studies or pay the full cost.
One credit hour at Arizona State University Online usually costs between $480 and $543. That means students have to find a way to cover at least $10,000 in tuition costs -- a figure that doesn't include course materials -- over an 18-month period before Starbucks reimburses them.
Freshmen and sophomores, defined as students with fewer than 56 credits, will not be eligible for reimbursement, but can receive partial scholarships from Arizona State. If Starbucks chooses to expand the program, Arizona State pledges to cooperate, according to the contract. Until then, those students will pay no more than 78 percent of the standard tuition cost.
Hartman said it is not unusual for universities to offer a 10 to 30 percent tuition discount for students enrolled in employer-sponsored online programs. "The corporate part is nothing new," he said. "Breakthroughs will occur when students have zero out-of-pocket expenses."
If Starbucks and Arizona State agree to open the reimbursement program to freshmen and sophomores, they may have to renegotiate a provision that places a lifetime cap on the number of credit hours Starbucks will reimburse. At the moment, the cap is set at 75 credits -- suitable for students looking to finish a degree they started years ago, but well short of the 120 needed to earn a bachelor's degree.
Starbucks will pay Arizona State $2,960,900 to get the program off the ground. The university will spend $2,038,100 of those funds to hire staffers in admissions, advising, transfer credit evaluation, and enrollment and financial aid coaching services, while the remaining $922,800 will fund one-time investments in equipment and infrastructure.
Between November and June of next year, Arizona State will repay $1,299,000, or almost half of the start-up costs. Once the program launches, Starbucks's role will be largely supportive.
Arizona State, according to the contract, will control the academic side of the partnership -- ensuring course quality, reviewing faculty credentials, developing and maintaining the program -- and provide financial aid, advising and enrollment services.
Arizona State and Starbucks "may also cooperate to develop coursework that is relevant to the needs of [Starbucks employees]," but those modules and courses will be available to any ASU Online student.
Starbucks's list of responsibilities is notably shorter. The company will be in charge of determining which of its employers qualify for the program, and will otherwise work with the university to create a one-week mandatory orientation session and a "digital experience" to welcome students to the program.
Its greatest responsibility will be to assemble an annual marketing plan with input from Arizona State. Among the ideas listed in the contract are joint press releases and social media posts, co-branded swag and specific Starbucks stores with reserved space for study groups, among others.
The partnership will initially run for four years, and the clock will start ticking when the first students enroll. Unless terminated, the partnership will automatically be renewed for another two years. If Starbucks pulls out of the partnership before July 31, 2015, or July 30, 2016, it will pay Arizona State $3.9 million or $1.95 million, respectively.