You have /5 articles left.
Sign up for a free account or log in.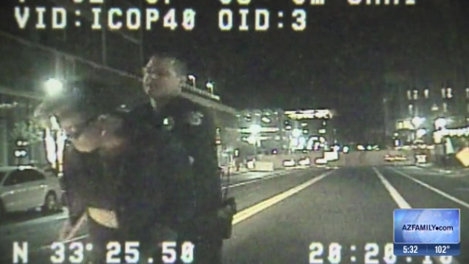 A black Arizona State University professor who was arrested by campus police last month for assaulting a police officer is charging that her actions were self-defense and that she was racially profiled. And a newly released video has attracted more support for her position.
The video, released by 3TV News, shows the professor, Ersula Ore, being stopped for jaywalking and asked for her identification. She maintains that others jaywalked as well (to avoid construction) and that there was no need to stop her. Supporters of Ore have posted photographs of the street on a Facebook page, showing that the street indeed is under construction, and one on which many people would cross the street in places other than a designated cross-walk.
The interaction with campus police escalates until she is body-slammed (after the police officer says he will do that). During the altercation, she specifically says that she is being treated unfairly, and also identifies herself as a professor. After she is forced onto the ground, she is seen kicking an officer (the alleged assault), but the professor's lawyer says that she was exposed in a dress and that the officer was grabbing at her when this happened, and that this was legitimate self-defense.
Ore is an assistant professor of English.
Here is raw footage of the incident -- audio only until about 2:10 of the video.
Arizona Critical Ethnic Studies, a coalition of ethnic studies professors in the state, has issued a statement criticizing earlier media coverage of Ore's arrest, and the university's response. "Dr. Ore has the right to expect dignified and humane treatment by ASU's police officers. ASU, as a public institution, has a responsibility to ensure this occurs. Third, ASU has not undertaken a thorough investigation into the matter, so how can officials claim that there is an absence of racial profiling? In a state and metropolitan region in which racial profiling has been proven to be widespread, the ASU administration's lack of concern for the well-being of an ASU community member of color is unacceptable," the statement says.
An online petition is attracting support nationwide, calling for Arizona State to investigate its police force and to drop charges and apologize to Ore.
The academic blogger Tressie McMillan Cottom wrote after seeing the video: "I wonder what someone like Erusala Ore has to do for her university to decide that she deserves the benefit of doubt, or the suspension of doubt, when a campus police officer arrests her for not showing her papers. Showing one's papers. By all accounts that's essentially what the ASU campus police officer asked Ore to produce, her papers. You know, like when enslaved black labor needed to prove they had permission to walk the streets unescorted?"
The university gave a statement to local reporters that did not dispute the police accounts of what happened. Inside Higher Ed asked Arizona State on Sunday whether there was any additional statement, particularly in light of the video that is now circulating.
And in response, Arizona State released the same statement it had released earlier: "ASU authorities have reviewed the circumstances surrounding the arrest and have found no evidence of inappropriate actions by the ASUPD officers involved. Should such evidence be discovered, an additional, thorough inquiry will be conducted and appropriate actions taken. Because the underlying criminal charges are pending, there is not much more we can say at this time. The Maricopa County Attorney's Office has reviewed all available evidence, including the police report, witness statements, and audio and video recordings of the incident, and decided to press criminal charges of assaulting  a police officer, resisting arrest, refusing to provide identification when requested to do so by an officer, and obstructing a highway or public thoroughfare."
But on Sunday evening, Arizona State issued another statement. This one again said that nothing inappropriate had been found in the police conduct, but this statement said that Ore was nearly hit by a patrol car because of her jaywalking, and that the officers had no intention of citing her when they stopped her.
As to the criticism that grew online over the weekend, with academics nationwide posting concerns on social media about the way Ore had been treated, the university continued to defend what happened, but also to pledge an investigation.
"ASU authorities have reviewed the unfortunate circumstances surrounding the arrest of Assistant Professor Ersula Ore and have found that the officer involved did not violate protocol and no evidence was found of racial motivation by the ASU Police Department officers involved," the statement said. "However, the ASU Police Department is enlisting an outside law-enforcement agency to conduct an independent review on whether excessive force was used and if there was any racial motivation by the officers involved. In addition, although no university police protocols were violated, university police are conducting a review of whether the officer involved could have avoided the confrontation that ensued."
Here is the 3TV newscast that includes the video: