You have /5 articles left.
Sign up for a free account or log in.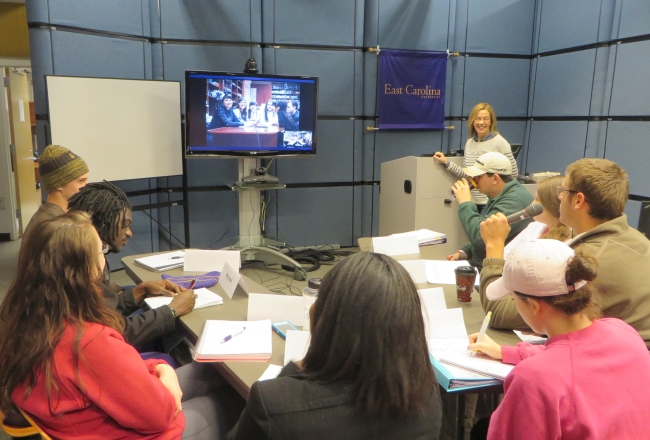 Courtesy of East Carolina University.
For his world regional geography class at Allegheny College last fall, Eric Pallant arranged for his students to videoconference with a class at Forman Christian College, an English-medium institution in Pakistan. It was Pallant's second such experience teaching a "globally connected" course: the spring before he had taught a class on food and agriculture in collaboration with a professor at Morocco's Al Akhawayn University.
Among the assignments Pallant had planned for the geography class, the Allegheny students were to prepare detailed reports on the physical and human geography of their town, Meadville, Penn., while the Pakistani students would do the same for their country. The two classes would exchange and present on their respective findings.
It sounds simple enough, but in reality it was anything but. Anti-American sentiment runs strong in Pakistan and within minutes of the start of the first video conference the Allegheny students felt under attack for U.S. foreign policy decisions of which they knew little. ("Are you keeping track of debt restructuring in Pakistan right now?" Pallant asked.) 
Further, the video picture was fuzzy and the sound quality poor, a problem compounded by the issue of accents.
And though this was less of a problem for the Pakistani exchange, in the case of the Moroccan course collaboration Pallant's students faced challenges related to different cultural conceptions of time. The American students were anxious about getting the group assignments done by the stated time on the syllabus, while their Moroccan group-mates tended to have a much more, well, fluid conception of deadlines.
"Lest you think this is all negative, what I ended up realizing and saying to my students is, 'You're going to go out there in this globalized world and you need to learn how to negotiate these things' – a different sense of time, accents, technology that doesn't work the way you expect it to, perceptions of Americans overseas," said Pallant, the chair of environmental science at Allegheny.
In other words, "it turned out to be a fantastic learning tool," he said – though not for the reasons he had expected.
As colleges look for cost-effective ways to internationalize the on-campus learning experience, globally connected courses such as Pallant's may become more common. The use of technology to enable virtual exchanges and collaborative assignments between geographically distant classrooms is not brand-new – faculty, especially foreign language faculty, have been doing it in pockets for as long as there's been email – but there seem to be an increasing number of efforts to scale up and institutionalize these kinds of activities.
"In the last 18 months to two years, there's been the beginning I would say of a sea change where SIOs [senior international officers] and provosts and other folks who are higher up on the campus are taking notice of this for different reasons and saying, 'This is a good idea; how can we support it?' " said Jon Rubin, the director of the State University of New York's Center for Collaborative Online International Learning, which goes by the acronym COIL. 
Challenges and Opportunities
This type of teaching goes by many names – COIL, online intercultural exchange, virtual exchange, globally networked learning, telecollaboration. In this context they all mean more or less the same thing, and that thing is broad: the use of technology, any technology, from email to social media sites to video-chat software to blog platforms to wikis – to facilitate class discussions and do collaborative course assignments across national borders and time zones. The course exchanges can be synchronous or asynchronous, or involve a combination of both.
COIL is often described as an alternative to study abroad, a low-cost, easy substitute of sorts for that 90 percent or so of undergraduates who never go overseas. Asked if it's oversold in that way – after all, study abroad has been characterized as a particularly high-impact educational experience – Rubin said the problem with the language of "alternative" is it suggests a COIL class would be study abroad's equal. Generally speaking it's not, he said, but that doesn't mean it's not a potentially powerful learning opportunity in itself.
"When people ask me, 'What does a COIL course do?' I say it's less about intercultural competence than it is about intercultural awareness," Rubin said. "It's about starting a process. I believe that when handled correctly it does have a very strong tendency to do that."
That said, he continued, "If there's any area where I feel it is oversold it's that it's not that easy to set up these courses. It takes quite a bit of effort and it's not just that it takes work for our faculty but it means engaging faculty abroad who similarly have the commitment and the time and the administrative support if it's going to be sustainable."

Indeed, a recent European Union-funded report on telecollaboration in language learning found that while 93 percent of survey respondents who had used online intercultural exchange in their classrooms described it as a positive experience, they also described it as time-consuming (83 percent) and difficult to organize (54 percent). Thirty-one percent of respondents described it as challenging to find a reliable partner class – though, interestingly, 45 percent did not – and 55 percent said collaborating with partner professors was challenging. (The group behind the EU report has developed a website designed to help interested faculty find partners and teaching resources.) 

Other practical challenges cited by survey respondents included differences in academic timetables and in language proficiency levels (outside of foreign language classes, most of these types of collaborations are conducted in English), and a lack of institutional support.
The issue of institutional support -- such as assistance from an instructional designer and/or an information technology expert -- comes up frequently in discussions about COIL (or whatever else it's called). After participating in a National Endowment for the Humanities-funded institute hosted by the SUNY COIL center, 15 of the fellows said they wouldn't be running a second iteration of the COIL course they'd designed compared to just 7 who would. Fellows cited a lack of partners and/or resources as their main reasons for why the course wouldn't be continuing while those seven who did have plans to do it again had one thing in common:  they all indicated that their institutions are committed to building on the work they'd begun.

"Although COIL can be considered a low-cost cost approach to internationalization at home, it is not no‐cost," the final report on the NEH institute says.
"Given the added resources these courses require, Fellows have to demonstrate how the COIL course was different from a traditional course and what added value it had. To no surprise, most cited the access to different cultural points of view as adding that 'something extra' to the course. They found that this element increased student motivation, led to more in‐depth learning and helped students be more willing to see ideas, texts, works of art, etc. from different perspectives. In some ways it was as if the students felt they had to perform better because they saw their partner class as a new audience particularly during synchronous audio/video sessions and in asynchronous discussion forums." 
COIL in Practice
Among the places where COIL has taken hold, within the SUNY system, the Oswego campus has provided financial incentives in the form of $3,000 stipends for faculty to develop a COIL course and $1,500 stipends to redesign an existing one. Lorrie Clemo, SUNY Oswego's provost and vice president for academic affairs, said that faculty developing COIL courses receive support from an instructional designer, from the center for teaching and learning, from a staff member in the international education office and from an information technology staff member who helps with the technology when the class is up and running. 
Asked why she's making COIL an area of emphasis, Clemo said it's a matter of scale and maximizing the number of students impacted. "I do think there's tremendous potential for scaling this up so that many more students have the opportunity to experience an international connection if they aren't able to study abroad," she said.

Ulster County Community College, an institution in the SUNY system, has developed a number of COIL courses, including a planned collaborative genetics class with a university in Mexico and classes on entrepreneurship in collaboration with universities in Lebanon and Brazil. Outside of SUNY, Mount Holyoke College has a telecollaboration initiative through which about 40 faculty members have led class discussions with invited speakers or with students at universities in other countries. East Carolina University is offering 20 sections this fall of its hallmark "Global Understanding" class, created in 2003, in which students engage in group video and one-to-one chat discussions on topics like family and stereotypes and prejudices with students at three different universities in three different countries over the course of the semester. And the Great Lakes Colleges Association has so far involved about 36 faculty members in its "Global Course Connections" project connecting faculty at the various institutions in the consortium it manages, the Global Liberal Arts Alliance. 

Allegheny's Pallant organized his course exchanges through the Great Lakes Colleges Association Global Course Connections project, as did Gabriele Dillmann, the Julian H. Robertson Jr. Endowed Professor at Denison University, in Ohio. Dillmann had long been looking for opportunities to connect her German language students with peers overseas, but she'd found it difficult to forge a mutually beneficial exchange between her students and students in Germany who, of course, speak German fluently and tend to speak English quite well too.
Only recently did she consider the possibility of creating connections between German language learners in two non-German speaking countries. This past fall Dillmann embarked on a collaborative class with a German professor at the American University in Bulgaria. In a series of homework assignments, students wrote emails to one another introducing themselves and their reasons for learning German and describing their home campuses. As a centerpiece of the collaboration, two students each from the two institutions met for four-person discussions on the topic of planning a trip to Bulgaria using Google+ Hangout; Dillmann received a link to the saved chat and assessed the Denison students using a rubric including not only linguistic skills but also skills like digital etiquette and group and leadership competencies.
For the next iteration of the course, Dillmann said, she and her colleague at the American University in Bulgaria are expanding on the collaboration and planning synchronous class meetings using the software program Jabber. The collaboration of course creates more opportunities for her students to practice their language skills, Dillmann said, but what she also likes is that the context is less artificial than the typical language classroom. These are students from different cultural backgrounds who are encountering one other for the first time and using German as a common language: "They are meeting each other, finding out who are you, who am I and how do you live, what is your campus like, what are your courses like?" Dillmann said. "These are all new things, and our students want to present who they are as best as they can."