Two Boston institutions have launched unusual marketing campaigns in an attempt to draw notice in a crowded market.
Each fall, Boston's population swells by a quarter-million. With 34 colleges and universities in Boston proper, and many more in the surrounding area – from Harvard University, the nation's oldest, to the Urban College of Boston, founded in 1993 – the city expands and contracts as students come and go.
With so many rivals close by, the city's colleges and universities must jostle for elbow room. Two private institutions – Wheelock College, an 850-student predominantly female college, and Suffolk University, a 9,000-student institution with working-class roots – have launched unusual marketing campaigns in a bid to grab attention. Both appeal to working-class students in the region, for whom any private institution may appear expensive compared to public options.
Wheelock has eschewed the well-trodden images of smiling students sitting on a grassy quad. Instead -- on its website, on billboards and on the sides of Boston buses -- the college has opted for black-and-white close-ups of unsmiling students, framed by the words: "Are you tough enough?"
Suffolk's strategy is more irreverent. One ad jabs at snobby students: "while most of our students don't have trust funds, they do have a work ethic." Another ad declares: "Suffolk students rely on their will to succeed, not their father's will."
Suffolk's marketing effort, which includes radio spots, TV commercials, outdoor billboards and print ads in The Boston Globe, is the university's first branding campaign in eight years. And the "Tough Enough?" venture is the first advertising campaign in Wheelock's history.
"[Wheelock] is a culture where they didn't understand marketing," said Stephen Dill, Wheelock's marketing manager, who arrived at the college in 2011. "We've never really done advertising. Word of mouth had been more than enough for 125 years."
Elizabeth Scarborough, the chief executive of SimpsonScarborough, an agency that did marketing research for Wheelock, said university-wide branding campaigns were a fairly recent innovation for higher education in general.
"Ten to fifteen years ago, most colleges and universities weren't even doing any marketing," she said. "They were doing a lot of communicating regarding recruitment and fund-raising. But they really weren't implementing comprehensive universitywide marketing campaigns."
The Boston institutions' forays into branding reflect not only the increased importance of reputation-based advertising in higher education, but also the accelerating pressure for colleges and universities to carve out niches and market themselves in unexpected ways.
"Most of the advertising in this industry is kind of mediocre in my opinion," said Ellis Verdi, the owner of DeVito/Verdi, the Manhattan-based ad agency that created Suffolk's campaign. "If your advertising looks institutional and boring, I would tell a student that's fair warning about the school. The advertising in and of itself is a presentation of who you are. It should be provocative, it should be smart, it should be witty."
Historically Female, But Not Delicate
Founded in 1888 as a training school for kindergarten teachers, Wheelock graduates a disproportionate number of educators, social workers and child advocates -- as the college's mission of "improving the lives of children and families" might lead one to expect.
But these are not strictly female professions, and Wheelock is no longer a women's college -- although it is 90 percent female.
"A lot of people had incorrect impressions of Wheelock," Dill said. "There were still people who thought it was a girls' school." Others confused the college with Wheaton, a liberal arts college in Norton, Mass.
The "Tough Enough" rebrand, which Wheelock incorporated into its recruiting materials in fall 2013 and extended off-campus in mid-March, seeks to change attitudes not just about Wheelock, but also about the child-oriented vocations the college emphasizes.
Since 2010, Wheelock had been using the tagline "inspire a world of good." Adding three words – "tough enough to" – marked a major shift in tone.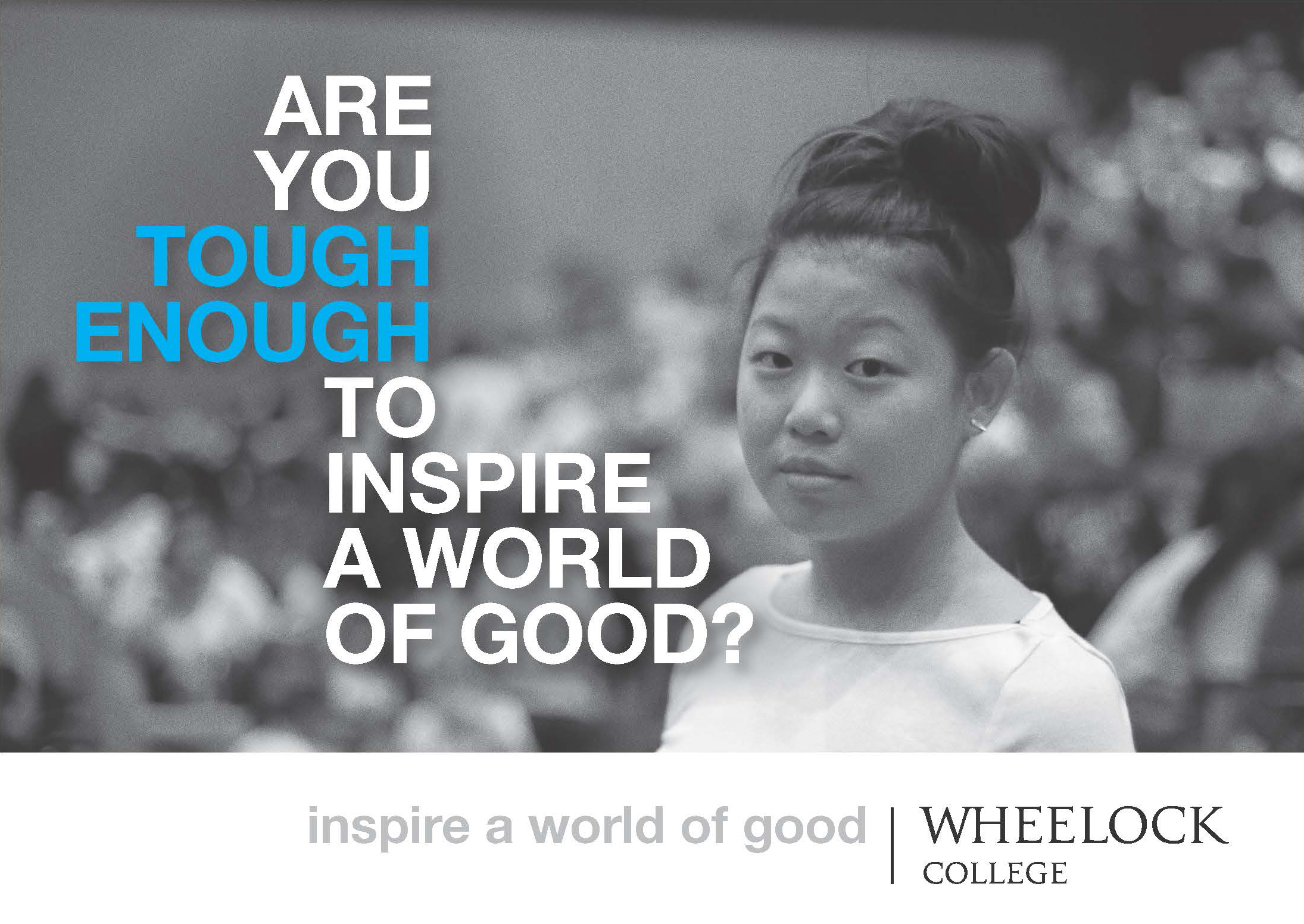 "What I knew is the materials that we used previously really didn't describe Wheelock," Wheelock President Jackie Jenkins-Scott said. "You'd see these wonderful photos of smiling blue-eyed blond-haired girls sitting in a circle with kids reading a book. It was one image of Wheelock, but not the only image of Wheelock."
Some people at the college, as well as alumni, initially bristled at the word "tough," Jenkins-Scott said. Some worried that the word connoted physical rather than internal strength, or suggested femininity was a bad thing.
"Tough for me means resilience, it means strength, it means character," she said. "Very often alumni who've been teaching in classrooms for 20 or 30 years, they'll say, 'I'm a tough old bird.' I developed a comfort level with that word by listening to our alumni and how they described themselves."
The images, too, were difficult to get right. Dill said some of the initial imagery was "too grim, too physical."
"We realized that this was a subtle but important nuance," he said. "We couldn't have faces that looked mean. We couldn't have faces that looked depressed. We had to have just a little bit of a smile, just a little bit of a curve."
Wheelock's initial plan for the campaign budgeted 90 percent of its funds for offline marketing and 10 percent for online, said Jeremi Karnell, the chief executive of Beehaus, a marketing agency that helped the college develop its strategy.
"We flipped it around," Karnell said. So far, 70 percent of the campaign's budget has gone to online marketing, such as targeted ads on Pandora.
The campaign cost half a million, Dill said.
Wheelock officials credited the branding effort with increased enrollment for the coming fall. The 300-student class entering in fall 2014 is 35 percent larger than the class that entered in fall 2013, college officials said. Male applications rose 20 percent from last year. Web traffic and campus visits have also increased.
Adrian Haugabrook, Wheelock's vice president for student engagement and success, said boosting male enrollment was not the campaign's primary aim. Nonetheless, the university hopes to be 20 percent male by 2020, he said – and a new, grittier image might help.
A Brassy Voice
Suffolk, like Wheelock, launched its branding effort in hopes of increasing application and enrollment numbers. Suffolk, however, has largely restricted its efforts to the Boston area – with the aim of presenting a voice that can "cut through the clutter," said Greg Gatlin, Suffolk's vice president of marketing and communications.
"It's a very competitive environment," Gatlin said. "There are a lot of universities in or around Boston, and a lot are advertising. If you drive up and down the Southeast Expressway and then into Boston, you'll see the billboards."
Suffolk kicked off its campaign at the end of June. Instead of going after prospective students directly, the multipronged campaign advertises in public places in an attempt to improve how Bostonians – including parents, high school counselors and other adults who influence college choice -- view the institution.
Verdi said the advertising initiative had drawn an unusual amount of attention – in the "top five" of any campaign he's ever done. His ad agency has received letters and notes from observers in a range of fields, not just higher education.
"It's a strong voice," the ad executive said. "I don't think anyone goes into advertising to create a weak voice. But some do in higher education because they're paralyzed."
The voice that comes through in Suffolk's advertising is a defiant one, underscoring the university's commitment to hard work and impatience for moneyed dilettantism. And the numbers seem to back up the advertising's claims: in fall 2013, 37 percent of Suffolk undergraduates received Pell Grants, and 73 percent received financial aid, university officials said.
Nonetheless, the university is one of Massachusetts' most expensive, with a yearly sticker price of more than $41,000 in tuition and fees.
Suffolk is the ad agency's first higher education client.
"We came into a world where there is very lackluster work and – I don't want to talk about myself this much – but I think we're raising the bar in an industry that needs the bar raised," Verdi said.
Although Suffolk's campaign pokes fun at wealthy colleges, Gatlin said the advertising had no specific target of mockery.
"I don't think we're thumbing our nose at any one institution," Gatlin said.
Wheelock, by contrast, made sure to advertise on a bus driving past Harvard, Dill said.
Marketing has long been "anathema" to many colleges and universities, Verdi said. "Institutions were above advertising," he said. "They felt that it cheapened who they were. If you saw someone advertising it looked like they were hungry, helpless, needy."
But higher education advertising need not be tawdry. "My point of view is, people just never tackled the assignment properly," Verdi said.
Scarborough, whose firm did Wheelock's marketing research, said colleges and universities should feel a sense of urgency to adopt marketing strategies tailored to their "brand." Too many institutions simply follow the competition, she said. "When an institution sees its competitor advertising in a certain publication, for example, they think, 'We need to be there too,' " Scarborough said. "They should be thinking exactly the opposite."
In Boston – where, Jenkins-Scott said, education is the economy's "holy grail" – a conservative approach to higher education marketing is no longer enough. And the same may be true for higher education more broadly, the college president said.
"I think everybody is thinking how to be distinctive," Jenkins-Scott said. "The beauty of the United States is that there are lots of choices for people who are pursuing education. That's both a strength and a challenge for institutions that are trying to thrive."