You have /5 articles left.
Sign up for a free account or log in.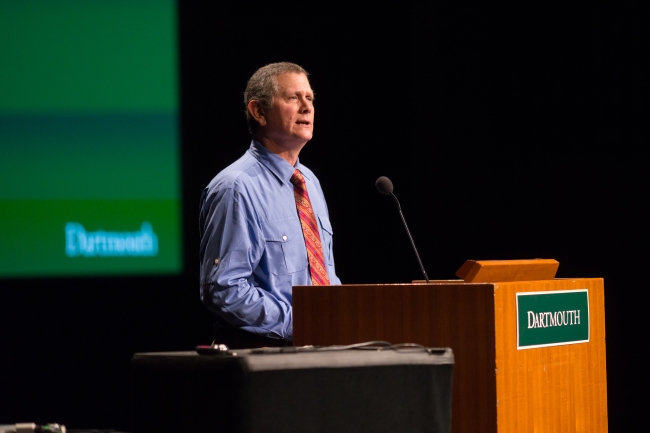 HANOVER, N.H. -- A leading forensic consultant urged representatives from more than 60 colleges and universities gathered here Monday to acknowledge that they've made mistakes in handling campus sexual assaults and to apologize publicly to student survivors.
"We must apologize for causing that harm," David Lisak, the consultant and clinical psychologist, said. "And that apology must mean something."
Lisak is one of the many speakers discussing sexual assault this week at a summit hosted and organized by Dartmouth College -- an institution that is no stranger to criticism about how it has addressed sexual violence. The college is one of 67 institutions under investigation by the U.S. Department of Education's Office for Civil Rights for possible Title IX violations related to sexual assaults.
Student unrest about a variety of issues, including campus sexual assaults, culminated in protests on the Dartmouth campus this year, and student groups warned prospective students via advertisements on social media that Dartmouth had a "rape problem." Applications to the highly selective college fell 14 percent, a drop college officials blamed in part on its reputation for rowdiness and sexual assault.
Declaring "enough is enough," Phil Hanlon, who became president of Dartmouth last summer, promised in April to rein in the excessive drinking and sexual misconduct he said was taking place on campus. In June, Dartmouth toughened its sexual misconduct policies, making expulsion the mandatory punishment for certain types of sexual assault.
"I consider being Dartmouth's president to be the pinnacle of my career, but there's a few aspects of this job I wouldn't wish on anyone," Hanlon said Monday. "That's learning that a student has been assaulted or harmed."
Rather than addressing campus sexual assaults directly, the first sessions of the weeklong summit largely focused on the broader context in which colleges must deal with sexual crimes – the federal regulations governing how colleges react to sexual assaults, as well as the larger culture that normalizes gender violence.
Catherine Lhamon, the assistant secretary who oversees the Education Department's Office for Civil Rights, and Anurima Bhargava, from the Department of Justice's division of civil rights, fielded questions from the audience in an hourlong question-and-answer session. Many of those who submitted questions expressed confusion about how to adequately comply with Title IX and the Clery Act, the federal law that requires colleges to release information about crimes that take place on campus.
Many of the questions focused on what role institutions are required to have in adjudicating sexual assault cases, with some attendees saying they didn't believe campus judicial systems were ever designed to address misconduct as serious as sexual assault.
"I resist pretty hard the idea that schools don't have a role in this," Lhamon said. "They absolutely do. They did when I was in college, and they will when my kids are in college. This is fundamental to the role of education. But it is necessarily different from what is the criminal justice role."
Other educators and administrators were concerned with honoring student privacy while obeying requirements to report sexual assaults. Lhamon said that colleges should make it clear to students who they can talk to and expect confidentiality, and who is required by law to report the crime.
"If the victim told the Title IX coordinator, then the victim doesn't have a choice," she said.
'A Toxic Environment'
Outside the Q&A session, the bulk of Sunday's and Monday's presentations explored a more abstract concept than federal regulations: the media that students consume. Robin Thicke's song "Blurred Lines," with its raunchy music video, was a popular example of entertainment that the presenters said "normalizes acquaintance rape."
"Sexual assault on college campuses is a public health problem that affects all of us," said Jean Kilbourne, a media critic and filmmaker. "We need to pay attention to the environment. Just as it's difficult to be healthy physically in a toxic environment, it's the same with sexual assault in an environment that is culturally toxic."
Kilbourne has been studying advertising and its messages for decades; she said she believes advertising has never been more problematic in its depiction of sexuality and violence. Women are constantly depicted as objects, as being in danger, or as disparate body parts, she said. Grown women are infantilized, young girls are sexualized, and men are often depicted as controlling and even violent.
When those depictions are targeted at college students to sell products like alcohol, Kilbourne said, the message can be dangerous.
"Marketers create a toxic cultural environment on college campuses that make sexual assault more likely," she said.
In Sunday's opening session, which focused on the telling of rape jokes, Gail Stern, who develops programs and curriculums about sexual violence, outlined many of the same issues discussed Monday. At one point, Stern stood in front of a large Venn diagram, with one circle labeled "things that are funny" and another labeled "rape." They did not intersect. 
Colleges must make it clear that rape jokes have no place on a college campus, Stern said, reminding the audience of some particularly egregious incidents, including a pro-rape chant that was shouted by students at Canada's St. Mary's University during the college's annual "Frosh Week." It had been a tradition for five years. Colleges should also make sure that any artists, speakers and entertainers brought to campus aren't promoting similar messages, she said.
"Anyone that is not in alignment with your message is in contradiction with that message," Stern said.
Sut Jhally, a media critic and communications professor at the University of Massachusetts at Amherst, compared colleges' growing awareness of the issue to "getting fish to see the water." It's slow, but the good news is that more people in higher education are starting to "see the water," said Jhally.
The bad news? Colleges lack the political will to pursue any substantial change, he said.  
"No one has been prepared to take up that challenge," Jhally said. "If universities wanted to do it, they have the power to change the culture on their campus. If they can change one campus, then it will be easy to change others. But that requires political will."
It also requires money.
Lisak, who was one of the primary organizers of the summit, said the idea for the large meeting was in the works for a more than two years, but it couldn't actually come to fruition until Dartmouth was willing to both host and pay for it. Another institution will have to step up in a similar fashion in order to organize the next summit, Lisak said, so that educators can share their findings from this week. The University of Virginia organized a similar summit in February.
Institutions also need to increase their funding for sexual assault prevention, he said, and not just rely on temporary grants. Such grants are helpful for getting initiatives started, Lisak said, but colleges need to find a more permanent funding source. Many colleges can find that money within existing budgets, he said, if they rethink their priorities.
"Campus sexual assaults are our problem," Lisak said. "It is our problem to solve."