You have /5 articles left.
Sign up for a free account or log in.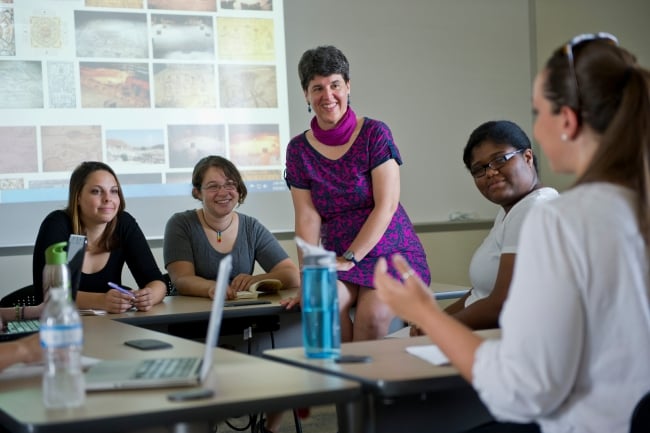 New College of Florida is a public institution with small classes and close faculty-student interaction in a state where most students attend mammoth universities with large classes. It attracts and graduates high-quality students, and it's known for its rigorous curriculum. But so far it has come out a loser under the state's new performance funding plan.
The example it sets could extend far beyond Florida. If the Obama administration's plan to tie federal student aid to performance ever becomes law, private liberal arts colleges may also have to deal with the consequences of policies that leave them at a disadvantage.
New College is one of three public institutions in Florida that didn't meet state standards. Those institutions all lost funding compared to the previous year and missed out on getting new money from a $100 million pot to reward colleges.
Part of the problem at New College is that its students' successes – including getting into prestigious graduate programs in other countries or taking jobs outside Florida – are counted against the college.
So far, New College has lost about $1 million in state funding, or about 3.7 percent of its budget, though it can make changes to earn back that money by the end of the budget cycle.
New College's President Donal O'Shea is optimistic that state policy makers, including the State University System of Florida, will alter their funding model.
"It's not necessarily the worst thing; we can adjust to some of the things," he said. "But some of the metrics, not all of them, really systematically disadvantage us in a way."
Florida's model is designed to reward and punish colleges based on 10 different factors, including the percent of undergraduates who are low-income, the cost of a degree, and the retention and graduation rates. It also judges colleges based on what their students after graduation – whether they get jobs and how much those jobs pay, or whether they continue on to earn a graduate or professional degree. Most educators, including those at New College, don't dispute the value of such measurements. But the Florida plan doesn't count students who get jobs outside Florida or who go to graduate school abroad. 
The college is small. Last year's graduating class was 144. Of those, O'Shea said, about 10 went abroad to places like the University of Oxford, on scholarships, or joined the Peace Corps. Others, somewhat less than 20, he guessed, took jobs outside Florida. That means a good chunk of his class isn't doing well in the model's eyes, even if the Peace Corps, Oxford or a good job in Silicon Valley might seem like a success story to many.
"I can understand the state's point of view, wanting to measure outcomes, and I can certainly understand why they are doing that, but it does give a challenge to the sort of basic model that underlies the liberal arts," O'Shea said.
Still, he does not absolutely oppose ratings systems that tie funding to performance.
"There can't just be two poles, where it's metrics or no metric," he said. "There's got to be a median where there are ways for folks not in the higher education business to understand the strength and weakness of different institutions, what your children will get out of them, what you'll get out them if you're paying for, what's a good bet, what's a bad bet — the current mystical system is not working."
Marshall Criser III, chancellor of Florida's public higher ed system, said New College has come back with a "powerful response" to the system's findings.
The college, which did well on the measure of low-income students and some others, is seeking to strengthen its academic advising program and its writing program in order to improve retention. And it's doing more to help  students pick careers and find internships. In a letter to the state system outlining its response in an effort to get back the $1 million it lost, New College conceded its career prep program had "stagnated."
New College's plan has specific efforts, but also notes a broader realization that liberal arts institutions have come to: "the place of liberal arts education has required a new definition, even as it has acquired a new relevance."
"It has become clear to us that we can do much more to help our students think about possible careers from the outset of their education," the college's officials said in the response. "Indeed, there is no contradiction between studying the world deeply, developing strong intellectual foundations, and deciding on a career path."
Some of those jobs, though, may have to be in Florida for New College to do well in the state formula. Criser said that this is a limitation, but one that is in the interest of Florida's taxpayers.
"I do think there is sort of a fundamental principle from a taxpayer's prospective that there is a value component of a student choosing to stay in Florida," the chancellor said, adding, "It's not that we don't want or expect that many of our great students go someplace [else], but we also want to make sure we are educating our students about the opportunities for them to stay."
Criser said New College will be judged against itself, not other institutions, so its improvements will count even if they don't match figures at other state colleges that might be more likely to educate lifelong Floridians.
O'Shea said he hopes the system's board will be flexible and allow New College's out-of-state success not to be counted against the college -- although, he said, "I really do think it is appropriate if the state is paying most of the shot to ask students about figuring out careers sooner than a bit later." O'Shea said he's optimistic the college will be able to get back the money it lost this year. But, he worried: "suppose we didn't and we whack again another year and another year."
Dennis P. Jones, the president of the National Center for Higher Education Management Systems, said that in theory, colleges that don't have lots of science, technology, engineering or math programs and degrees may be disadvantaged if that is the only factor considered for extra weighting in a funding model. 
"On the other hand," he said in an email, "this disadvantage may be offset if the model also includes a feature that provides extra weighting for degrees granted to 'at-risk' students."