You have /5 articles left.
Sign up for a free account or log in.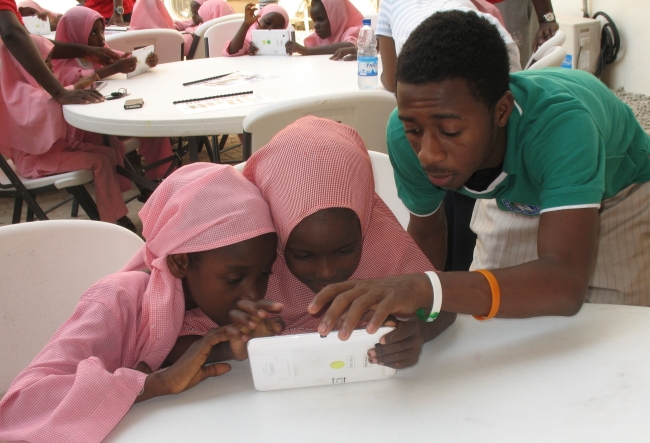 As Boko Haram continues to terrorize northeastern Nigeria, a university in the northeastern city of Yola has redoubled its efforts to provide vulnerable residents with a sense of hope. The American University of Nigeria stands for ideals the terrorist group loathes. Founded in 2003 by Nigeria's former vice president, Atiku Abubakar, the university offers American-style education to roughly 1,400 students, male and female, from pre-kindergarten to graduate school.
"We are Western education in northeast Nigeria," said Margee Ensign, the American University of Nigeria's president. "And we're going to keep extending and keep teaching boys and girls."
Guaranteeing a safe learning environment is no easy task. Walls surround each of the university's two campuses (a campus for undergraduate and graduate students stands across the street from a smaller campus for the younger grades). Loops of barbed wire further discourage unwanted visitors. Bomb-sniffing dogs and hundreds of security guards patrol buildings and the university's 16 housing units, where all the faculty members live. The university runs its own power through generators, and has its own water.
"You have to be a mini-city," Ensign said.
But the university is hardly cordoned off from the city that surrounds it. The institution is working to provide education, employment and activities to aid people in the area who've fled from Boko Haram's attacks – and to occupy young men who might otherwise, out of boredom or despair, join the militant group's ranks.
Boko Haram's activities prompted Nigerian President Goodluck Jonathan in May to extend emergency rule in the states hit worst by Boko Haram: Borno, Yobe and Adamawa, the state where the university is located. In April, Boko Haram kidnapped 250 schoolgirls from the town of Chibok in Borno. Refugees from Borno and Yobe are fleeing to villages near the university. Many are women and girls. Their husbands, sons and brothers have been killed.
The university has been systematically paying school fees for refugee children – a cost that has run into the hundreds of thousands, Ensign said. Local schools are not free, and the refugees often leave their homes with no possessions. The university also provides food, medicine and mosquito nets. The institution is raising money for scholarships to enroll young men and women from the region affected by the current violence, Ensign said.
Only two faculty members out of 100 who work at the university's main campus are not returning next year, Ensign said. Neither is leaving because of safety concerns.
The university is the region's largest employer, Ensign said. Jobs in northeastern Nigeria are so scarce that the university gets women and men with law degrees applying to be security guards.
Most of the university's students come from Nigeria's elite, and pay full price. The rest -- last year, 18 percent -- are on full scholarships. In Nigeria, Ensign said, you're rich or you have nothing.
In addition to the students it enrolls, the university serves nearly 5,000 people in the community through adult education programs and a "peace through sports" initiative, which enlists unemployed youths of all faiths to play on soccer and volleyball teams.
"Who goes to fight for Boko Haram? Poor kids with no hope and with no employment," Ensign said. More than 4,000 young men and women participated in the "peace through sports" initiative last year, she said.
"We're finding the kids who are vulnerable," she said. "We're giving them medication, training. Two of them have started little businesses."
The students in the sports initiative go through a two-day peace curriculum. The sports teams – 30 male soccer teams and 14 female volleyball teams -- play all year. Finals take place in November, at Yola Peace Day, an interfaith peace-building event the university hosts. The event drew 4,000 people last year, Ensign said.
Community education programs form the last pillar of the institution's peace-building efforts. All the university's students are required to volunteer in the community. Armed with electronic tablets, they teach children on prayer mats and mothers in classrooms without roofs. Teaching everywhere, with the help of digital tools, is "the counter to Boko Haram," the university's president said.
On May 10, about three weeks after the Boko Haram kidnapping, the university graduated 262 students. One hundred and ten were women.
"If you give up they win," Ensign said. "We as educators believe education is the solution to a lot of this."