You have /5 articles left.
Sign up for a free account or log in.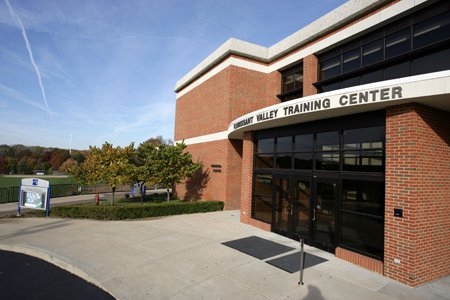 When U.S. Attorney General Eric Holder landed in St. Louis Wednesday morning, a community college in Ferguson was his first destination.
St. Louis Community College at Florissant Valley is where the nation's chief lawyer met with students and community leaders in an attempt to quell the most heated racial flare-up in recent American memory. But the Ferguson campus is also where scores of the region's young people set their sights, hoping higher education can offset the burdens of a disadvantaged upbringing. Many youth in the predominantly black area are not unlike Michael Brown, the college-bound teenager shot and killed by a Ferguson police officer.
Even on campus, though, these students face long odds. Many see the college as a way out, said Marc Wallace, who graduated from Florissant Valley in 2005. But few earn a degree. No more than a quarter of students graduate from the campus or transfer to a four-year institution, college officials said. Of course, that statistic is not atypical for institutions that serve low-income students in a low-income area.
A 'Safe Haven'
The college is half a mile from West Florissant Avenue, the commercial thoroughfare along which protesters have marched in the days following Brown's death. Protesters burned down a QuikTrip gas station on West Florissant on Sunday. The city temporarily closed portions of the street Monday morning.
Despite the nearby unrest, fall semester classes at Florissant Valley began, as planned, Monday morning. By contrast, public K-12 schools in the Ferguson-Florissant district, scheduled to open Aug. 14, remain closed until next Monday.
"It's business as usual here, under these unusual circumstances," said Ruby Curry, the college's interim president. "Our students are wanting to get back to normalcy."
Complete normalcy is hard to achieve, however. In Ferguson, confrontations between demonstrators and police have become a nightly occurrence.
"Opening is supposed to be a time of joy and excitement," Curry said. "Everyone is just a tad subdued. It's hard to be in a celebratory mood when all this is going around."
The campus has tightened security slightly, adding two officers on the day shift and one officer on the evening shift. Wesley Bell, an assistant professor of criminal justice at Florissant Valley, said college officials didn't want the campus to seem like a "police state." Instead, the college is hosting small-group discussions with students.
"We're giving them a safe haven," he said.
Analysts have characterized Ferguson as an area with black people and white power. Although the town's population is more than two-thirds black, the suburb has a white mayor, just one African-American city council member, and a police force that is 6 percent black.
The Florissant Valley campus has a different dynamic, college officials said. In fall 2013 the student body was 66 percent African-American. Curry, too, is African-American, and has worked at Florissant Valley for 39 years. The faculty is 38 percent black, Bell said, and several department chairs are African Americans. Several faculty members have participated in the protests – mostly as peacekeepers, Curry said.
The student government is mostly African-American, and for the last two years black men have served as student body president, Curry said.
Wallace, who is African-American, said Florissant Valley was remarkably free of racial animosity when he was a student there. "We were all broke, so we were all on the same level," he said. "It really wasn't a black and white level. We all came in there financially hurting. So having racial tension... it was more about how can we get money to survive to come to school the next day?"
Wallace is now a professional barber, after a short-lived career in broadcast radio.
Nick Bruns, who graduated in 2009 and worked at the campus radio station between 2001 and 2012, said he saw no racial tensions when he was on campus. "I've gone to a lot of the other campuses [in Missouri] and none of the other ones were like Florissant Valley in the sense that it was a melting pot… of a number of different races and backgrounds," said Bruns, who is white. "Ultimately it was, and I'm sure it still is, a good campus of people just trying to get their education. I definitely could see it as a bit of a refuge, if you will -- or even more than that, a way out."
A Way Out?
Florissant Valley is one of four branches of St. Louis Community College. It's the only college of its size in the Florissant-Ferguson area. In fall 2013, the campus had 5,974 students, Curry said.
The only alternative in the Florissant-Ferguson region is St. Louis Christian College, a sectarian college located two miles away from Florissant Valley's campus. The Christian college has 174 students enrolled for fall 2014, a spokesperson for the college said.
The area's young people, then, naturally look to Florissant Valley as a way to advance. The college tries to attract and mentor the low-income African-American students who live in the surrounding area. "That's one of the groups we are focusing on," Bell said.
In 2009, boosted by a pair of Education Department grants, St. Louis Community College launched a program known as the African-American Male Initiative, housed on the Florissant Valley and Forest Park campuses. The mentoring program, designed to boost the enrollment and retention of African-American men, served 349 students in the 2013-14 academic year, a Florissant Valley spokesperson said.
But despite the college's efforts, only a fraction of students successfully use Florissant Valley as a launch pad. The campus's graduation rate is 6.4 percent, said Dan Kimack, St. Louis Community College's director of public information and marketing. And 19 percent of Florissant Valley students transfer to a four-year institution. District-wide rates – meaning average rates for all four St. Louis Community College campuses – are higher. The district has a 9.9 percent graduation rate and a 22.4 percent transfer rate, Kimack said.
On Twitter, one alumnus, commenting on Holder's visit, wrote that Florissant Valley students call the college "Harvard by the highway" and "SLO Valley."
Florissant Valley officials said many students came for specific programs or certificates, not to earn a degree. "We're not just sitting here spinning our wheels," Curry said. "We transfer students and graduate students."
To some observers, the campus's lackluster graduation rates merely reflect existing disparities. Charles H.F. Davis III, a researcher at the University of Pennsylvania Graduate School of Education's Center for the Study of Race and Equity in Education, said these inequalities begin with K-12 education.
In a study released Wednesday, Davis found that 68 percent of white school-age children who live in Ferguson or Florissant do not attend public schools in the Ferguson-Florissant school district. The district's public schools are 78 percent black. Three-quarters of the district's students qualify for free or reduced lunch.
Shaun Harper, a professor in Penn's Graduate School of Education and the executive director of the center, co-wrote the study.
"We don't know where the 68 percent of white students are going," Davis said. "If they're going to school elsewhere, there's a reason. Presumably for a better education. They'd have better options in terms of going into postsecondary education somewhere else – it's likely not going to be that community college."
Colleges, as well as K-12 schools, suffer from stratification pressures "that will ultimately, in some ways, limit the potential of where the students go," he said. "Schools are only as good as the communities they're in."
If that's the case, Florissant Valley faces an uphill battle. "Florissant is in a predominantly black area, where they see jobs leaving left and right and liquor stores popping up left and right," Wallace said.
Yet the college remains a community hub – as Holder's visit reflects – and, for some students, a refuge. On campus, Curry said, "we tend to try to create the world we think everybody else should live in. So what we really see ourselves as – this is the next set of leaders who will be advocates in our community for change."