Topics
Young Families and Student Debt
Federal report shows families' student loan burden grows while other forms of debt decline, but suggests a slight slowing of the rate of increase in families' college-related debt.
Studies that show student loan debt increasing are a dime a dozen these days. But while a new report from the Federal Reserve Board reinforces the idea that more Americans are taking on more debt to finance their postsecondary education, it also suggests a slowing of that trend in the last three years.
The Fed's 2013 Survey of Consumer Finances, a version of which is released every three years, also offers an in-depth look at the student loan debt accumulated by young Americans (those families headed by someone under 40), revealing that both the proportion of such families with student debt and the amount they've incurred have nearly doubled since 2001.
Most forms of debt are in decline. The board's survey showed that for all families, the median debt declined by 20 percent, and the mean debt of those families with debt fell by 13 percent. The dip was driven mostly by a drop in the proportion of families with home-secured debt, and a nearly 20 percent decrease in families' median and mean credit card balances from 2010 to 2013.
Student loan debt goes against that trend. Exactly 20 percent of all families had an education loan in 2013, up from 19.2 in 2010. The median value of the loans held by those families was $16,000 in 2013, up from $13,900 in 2010. The mean debt rose by 5 percent, to $28,900 from $27,500.
The report also takes a deeper look specifically at the impact of debt over a longer period of time on families headed by someone 40 or younger.  It finds that the fraction of such families with education debt grew to 38.8 percent in 2013 from 22.4 percent, and that the mean debt amount for those families that had debt grew to $29,800 from $16,900 (the median debt grew by a similar proportion, to $16,800 from $10,500).
While the 2013 report shows debt levels increasing, a slight bit of countervailing news is that the rate of growth appears to be slowing, a Brookings Institution report on the Federal Reserve study points out.
The Brookings report by Elizabeth J. Akers and Matthew M. Chingos, released Friday, shows that the mean debt for young families grew by 14 percent from 2010 to 2013, whereas it increased "by 42 percent between 2007 and 2010, by 35 percent between 2004 and 2007, and by 18 percent between 2001 and 2004."
The Federal Reserve report notes that despite the growth in debt levels, "the majority of young families with education debt owed less than $25,000 in both 2001 and in 2013, and the share of families with large balances ... is still relatively small."
While that may be true, the proportions of young families with debt over $50,000 and over $100,000 have increased significantly. As seen in the chart below, 13.2 percent of families have loan debt between $50,000 and $100,000 (up from 5.6 percent in 2001), and 5.6 percent have student loan debt over $100,000, up from 0.6 percent in 2001.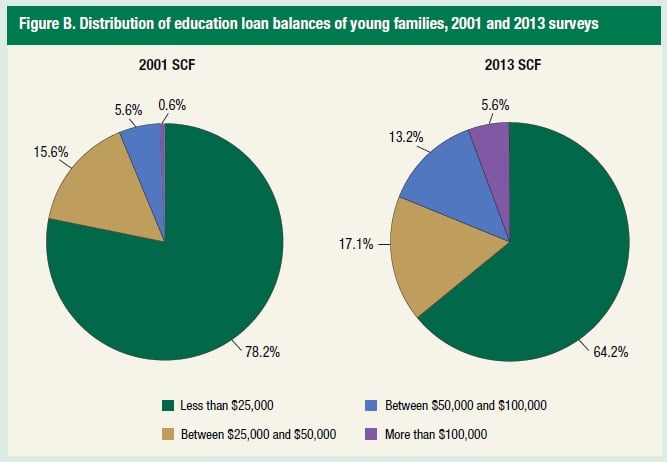 Source: Federal Reserve Board Survey of Consumer Finances
The Federal Reserve Board report notes that many of the families that have student loan debt have incomes that should allow them to repay the debt comfortably. But the share of loan debt held by families with incomes under $30,000 is rising. "About 24 percent of young families' education debt is held by those making less than $30,000, nearly double the share that these families held in 2001," the report states.