You have /5 articles left.
Sign up for a free account or log in.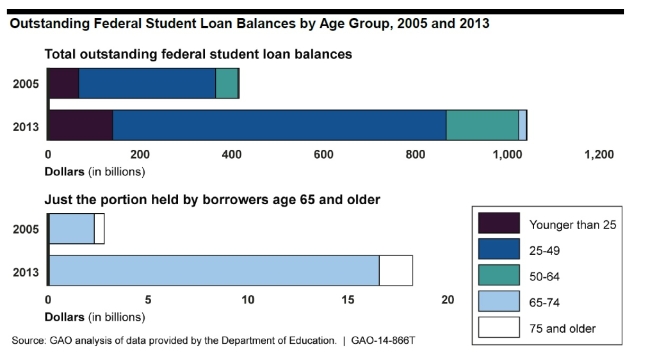 WASHINGTON -- The number of Americans who are nearing or past retirement age and still have student loan debt has ballooned in recent years, as has the amount of money the government is seizing from their Social Security checks to recoup defaulted federal loans, Congressional researchers have found.
More than 700,000 households headed by Americans 65 or older now carry student debt, according to a report released Wednesday by the U.S. Government Accountability Office. And the amount of debt owed by borrowers 65 and older jumped from $2.8 billion in 2005 to $18.2 billion last year.
While older Americans' outstanding student loan debt accounts for a small slice of the more than $1 trillion in outstanding federal debt, they are becoming indebted and struggling to repay their loans at much higher rates than their younger counterparts.
Between 2004 and 2010, for instance, the number of households headed by individuals 65 to 74 with student loan debt more than quadrupled, going from 1 percent to 4 percent of all such families. During that same period, the rate of borrowing among Americans under 44 years old increased between 40 and 80 percent, even though borrowing among that age group is far more prevalent than it is among senior citizens.
The default rates among older Americans are much higher, too. More than one-quarter of federal student loans held by individuals 65 to 74 years old are in default, compared with only 12 percent of loans held by borrowers 25 to 49 years old, the GAO found. Among the oldest borrowers, those over 75 years old, the default rate is even higher, with more than 50 percent of those loans in default.
While some of the debt reflects loans taken out by parents on behalf of their children, the vast majority -- roughly 70 to 80 percent of the outstanding debt -- is attributable to the borrowers' own education. Parent PLUS loans accounted for only about 27 percent of the student debt held by borrowers 50 to 64 years old, and an even smaller share for borrowers over 65.
The problems facing older student loan borrowers was the subject of a hearing Wednesday by the Senate Special Committee on Aging, at which several lawmakers said the issue has been under the radar but needs to be addressed.
Senator Bill Nelson, the Florida Democrat who chairs the panel, said that the issue was an "unusual subject" but one that needs more attention.
"While many may think of student loan debt for just a young person, increasingly that's not the case," he said.
It's unclear whether the student loan debt that is increasingly burdening older Americans is most attributable to decades-old loans from traditionally aged students that were never repaid or more recent borrowing, to finance adult education, for instance. The Education Department was unable to provide GAO researchers with the borrower-level detail needed to make such a distinction, the agency said.
The number of borrowers, especially older borrowers, whose Social Security benefits are seized by the government because they have defaulted on their student loans is also increasing.
Between 2012 and 2013, Social Security garnishments for defaulted student loan debt increased five-fold across all ages. During that same period, the number of borrowers 65 and older who saw their monthly social security checks reduced jumped roughly 500 percent, from 6,000 to 36,000 borrowers.
The GAO report also notes that while Congress in 1998 capped the amount of a person's monthly Social Security benefit that may be reduced to recover defaulted student loan debt, that threshold has not kept pace with inflation. As a result, the report says, older student loan borrowers can now be left with Social Security payments that are as little as $750 each month, which is below the federal poverty line.
Senator Susan Collins of Maine, the top Republican on the Senate Aging Committee, said at Wednesday's hearing that she would soon introduce legislation to adjust that cap for inflation over the past 15 years and index it to inflation going forward.
Critics of the federal government's power to garnish the Social Security benefits point out that most Social Security recipients who are still trying to pay off student loans are likely in such financial stress to begin with that further curbing their fixed income is unduly burdensome.
Sandy Baum, a higher education economist at the Urban Institute, argued in a new blog post Wednesday that "the practice does more harm than good."
"Garnishing Social Security payments to collect on student loans really isn't worth it," Baum said. "It doesn't put much of a dent in the outstanding debt, but it can create serious problems for the individuals affected."