States last year kept their spending on student aid roughly the same -- but they invested more heavily in grant programs based on financial need rather than merit. 
States last year doled out roughly the same amount of student aid money in 2012-13 as they did the previous year, but they increased the share of money flowing to students based on financial need, according to a new survey published Monday.
The annual survey, conducted by the National Association of State Student Grant and Aid Programs, found that although the top-line number of state aid -- $11.28 billion -- actually declined just slightly from the previous year when adjusting for inflation, states collectively boosted their investment in need-based grant aid.
States increased their spending on need-based grant aid by 3.5 percent in the 2012-13 academic year, while non-need-based grant aid declined by 2.1 percent. In inflation-adjusted dollars, states reduced their spending on aid with a merit component to $3.98 billion last year from $4.02 billion the previous year. (An earlier version of this paragraph incorrectly said spending on grants with a merit component was in the millions; in fact, states spend billions on such aid.)
Among the states that saw increases in spending on need-based grant aid were Arizona (35.1 percent), Washington (18.3 percent increase), North Carolina (24.1 percent), and Minnesota (12.7 percent). 
The amount of need-based grants that states funded per each full-time equivalent student increased by 5.7 percent, from $482 in 2011-12 to $509 last year. Sixteen states also increased the maximum amount a student can receive in their need-based grant program.
Of all grant aid awarded by states last year, a full three-quarters of the aid was awarded to students on the basis of need, which is the highest rate in at least the past five years, the survey found.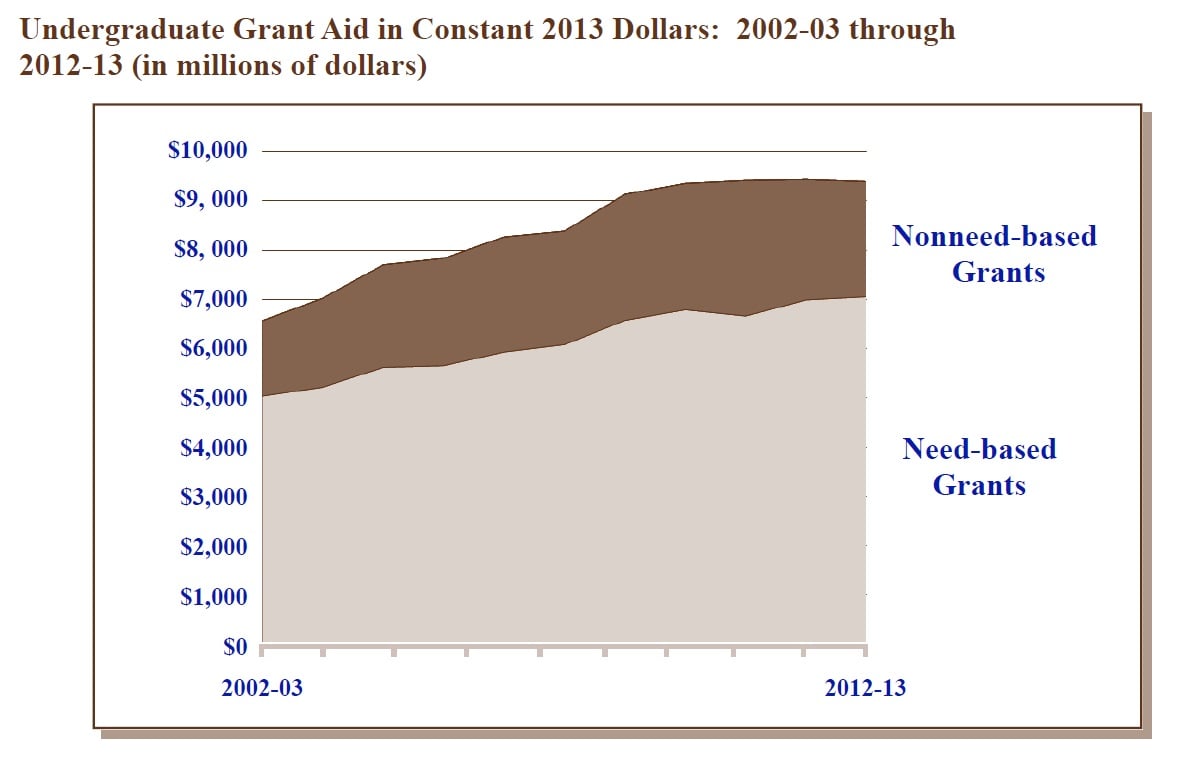 "There is recognition in some states that non-need-based aid can be somewhat inefficient because you're providing dollars to people who are going to go to college anyway," said Frank Ballmann, who directs the Washington office for the association. But, he added, "we take the view that any investment in state student grant aid is better than no investment."
Ballmann also said that his group's survey shows that "while at the federal level, there may be a lot of partisan debate over higher education, at the state level there is bipartisan support for need-based grant aid programs."
He pointed to the fact that of the eight states providing the majority of the nation's need-based aid, four are led by Republican governors and four by Democrats. 
In Washington, meanwhile, the Obama administration has touted the increase in Pell Grant funding in its first term as one of its crowning higher education achievements. In contrast, House Republicans have proposed reductions to the program, arguing in their most recent budget that the grants had become "more generous than the federal budget could afford."
Total Grant Aid Awarded, 2012-13 (in millions)
State
Need-based
Grant Aid
Nonneed-
based Grant Aid
Nongrant
Aid
Total
 
 
 
 
 
Alabama
 $6.937
$2.599
 -  
 $9.536
Alaska
3.945
5.655
7.310
16.911
Arizona
21.436
-  
0.277
 21.713
Arkansas
 9.396
146.146
 2.926
158.468
California
1,519.221
1.989
23.931
1,545.141
Colorado
74.722
0.365
30.388
 105.475
Connecticut
45.486
0.339
92.801
 138.626
Delaware
13.951
6.975
0.956
 21.882
Florida
153.371
 320.143
 76.498
550.012
Georgia
-  
 535.992
2.530
538.521
Hawaii
3.225
-  
0.563
3.788
Idaho
1.101
4.227
1.374
6.701
Illinois
370.909
1.049
7.659
379.617
Indiana
252.595
6.913
25.931
 285.438
Iowa
57.610
5.189
 0.958
63.756
Kansas
17.817
0.081
3.900
21.797
Kentucky
87.192
108.265
2.617
198.074
Louisiana
26.163
191.905
0.040
218.108
Maine
16.407
-  
 1.872
18.279
Maryland
88.514
5.084
 5.795
99.393
Mass.
85.547
7.296
44.512
137.355
Michigan
91.701
0.973
0.104
92.778
Minnesota
169.452
 0.884
83.184
253.520
Mississippi
 5.618
 19.226
7.857
32.701
Missouri
63.616
 40.646
-  
104.262
Montana
 4.162
1.350
0.863
6.375
Nebraska
15.999
-  
109.863
125.862
Nevada
36.269
23.053
18.887
78.210
New Hampshire
-  
-  
-  
-  
New Jersey
365.932
10.112
185.569
561.612
New Mexico
25.433
81.125
9.895
 116.453
New York
941.292
31.723
65.693
 1,038.708
North Carolina
332.852
8.371
73.514
414.738
N. Dakota
10.905
7.102
1.634
19.641
Ohio
86.048
35.351
0.666
122.065
Oklahoma
83.347
11.102
180.745
275.194
Oregon
52.134
0.032
87.475
139.641
Pa.
450.897
0.365
26.341
477.603
Puerto Rico
36.612
-  
0.048
36.660
Rhode Island
12.406
-  
-  
12.406
SC CHE
23.377
293.715
1.937
319.029
SC TGC
36.126
-  
-  
36.126
S. Dakota
-  
4.336
0.548
4.884
Tennessee
89.524
284.092
1.579
375.195
Texas
703.389
-  
166.096
869.485
Utah
3.484
6.240
80.539
90.262
Vermont
20.117
0.080
0.394
20.592
Virginia
157.940
81.723
191.747
431.411
Washington
343.851
1.832
17.835
363.518
Wash., D.C.
1.177
32.959
-  
34.136
W. Virginia
45.267
61.006
40.642
146.915
Wisconsin
120.834
2.993
7.036
130.863
Wyoming
15.470
-  
-  
15.470
 
 
 
 
 
Total
 $7,200.774
$2,390.602
 $1,693.530
 $11,284.906