You have /5 articles left.
Sign up for a free account or log in.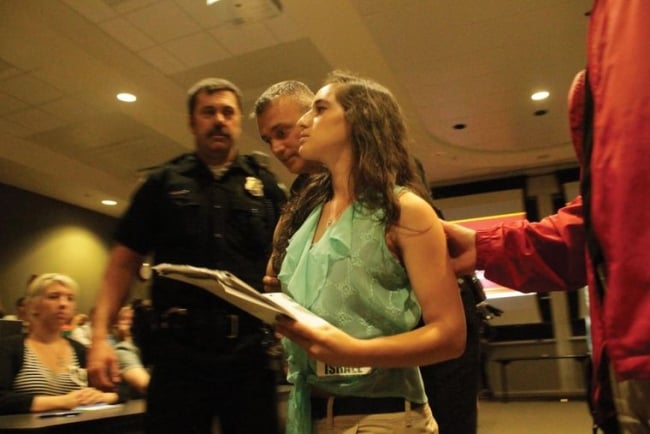 Last month, Ohio University's president, Roderick McDavis, invited the university's Student Senate president to participate in the ALS Ice Bucket Challenge, a viral campaign raising money and awareness for Lou Gehrig's Disease. The student president, Megan Marzec, accepted the challenge. But rather than pouring a bucket of ice water over her head, Marzec recorded a video in which she drenched herself in fake blood and urged the university to boycott Israel.
"As Student Senate president I am sending a message of student concern of the genocide in Gaza," she said.
Since the release of the video, Marzec has received multiple death threats; student groups have called for her resignation; and four members of the group Bobcats for Israel were arrested while attempting to filibuster a Student Senate meeting. The debate shows little sign of slowing.
There are numerous, conflicting charges about what some see as the suppression of free speech. Marzec's supporters say that the university hasn't sufficiently defended her right to take a stand on behalf of the Palestinians. But those who back the four students arrested ask why they were punished for speaking out against her stance. Of particular note to critics is that Marzec, whom the four students were protesting, allegedly gave the order to officers to make the arrests. University police deny that was the case, however.
Eric Fingerhut, president and CEO of Hillel International, sent an open letter to McDavis on Friday demanding that the university apologize to the four arrested students and make sure the charges against them are cleared.
"These students were not a threat to public order or to the public safety," Fingerhut wrote. "How could the university administration have failed to intervene when these students were taken to the police station by university police and actually booked and charged with criminal conduct? Any university policy that placed the power to order those arrests in the hands of a single student, who was herself directly involved in the controversy, is wrong and must be changed."
Fingerhut also called the president to discuss the arrests, though it remains unclear if the university will intervene. 
"President McDavis and Dr. Fingerhut had a telephone discussion last week, during which both leaders shared in respectful dialogue about recent happenings on campus," the university said in a statement. "President McDavis appreciated the opportunity to address Dr. Fingerhut's concerns during their conversation."
Stephanie Filson, director of external communications at the university, said Marzec did not order the arrests, nor did she play a role in deciding who was arrested. Marzec requested assistance from the police, Filson said, who then instructed students to clear the Senate floor so that the meeting could continue. Those who did not, were arrested.
On Friday McDavis sent a letter to students and faculty reminding them that "varied viewpoints can co-exist in peace."
"It is my hope that the discord we have recently encountered and the constructive manner in which we come together to address it will become an important element in the transformative learning experience at Ohio University," he wrote. "As we move forward, Ohio University remains committed to free speech and civility, interrelated concepts that provide the foundation of the academic freedoms that we value."
McDavis previously pleaded for civility in a statement released the day after Marzec posted her video, saying "the manner in which we conduct ourselves as we exercise our right to free speech is of utmost importance." Some students and faculty interpreted the statement as condemning Marzec.
Last week, nearly four dozen faculty members signed an open letter criticizing the president's call for civility.
"We are appalled by the death threats and other forms of intimidation that she has faced in response," the faculty wrote. "We are also disappointed in OU administrators and community members who have criticized her act but have not publicly defended her against this violent response. The invocation of 'civility' in the responses of OU authorities and some members of the community to Marzec also concerns us. Too often, as is recently the case at the University of Illinois and University of California, the invocation of 'civility' functions to silence dissent and debate on issues of current concern."
At a packed Student Senate meeting on Wednesday, members of Bobcats for Israel called the threats against Marzec "unacceptable," but also demanded that she resign. In a quickly escalating exchange, the protesters continued to read from a conservative website called Legal Insurrection, even after the senate leaders told them to allow other students to speak. After about 10 minutes, including a "two minute warning" from police, four of the students were arrested. Marzec then reportedly stood on a table and announced that she would "never apologize for standing up for the people of Palestine."
"And I will never stand up for fascists," she said. "And this body won't either."
The four students have since been released. They were charged with disrupting a lawful meeting, a misdemeanor that carries with it a possible sentence of 30 days in jail. Louis-Georges Schwartz, an associate film professor at the university, said that at least one male member of Bobcats for Israel carried himself "in a menacing manner" that led concerned faculty members to step in between the protesters and Marzec, fearing for her safety in light of the threats she has received.
Video of the event (see below, along with the original video created by Marzec) shows the pro-Israel students ignoring requests that they stop speaking, but the students are reading from notes, not posing any apparent threat. One student does briefly take a step toward Marzec while yelling. The video shows other students, who are supportive of Marzec, wanting a chance to share their views.
"I know people felt physically threatened," Schwartz said. "The second Bobcat rushed Marzec's personal space and was screaming from a prepared text in her face."
Rebecca Sebo, the president of Bobcats for Israel and one of the students arrested last week, said she could not comment on the arrest itself, but said that Marzec is alienating many of the students she is meant to represent. Sebo noted that the university's president challenged Marzec to raise money for ALS, and that she instead used her position as student president to turn a fund-raising campaign into a platform for voicing a personal opinion that some students may agree with, but others strongly object to.
"We asked Megan Marzec to resign two weeks ago when she released the video, not because of her political views but because of her unprofessionalism while representing the student body," Sebo said. "Ohio University is an amazing community, but it is definitely divided due to Megan​'s actions."
Following are videos of Marzec's challenge and Sebo's arrest.