You have /5 articles left.
Sign up for a free account or log in.
WASHINGTON -- A new coalition of 11 large public research universities plans to work together on techniques to improve their graduation rates, particularly for lower-income students.
Dubbed the University Innovation Alliance, the group hopes to dial back the hyper-competitiveness and quest for exclusivity in higher education that can stymie collaboration on how to help students get to graduation. (See boxes for a list of participating universities and details on their collective enrollment.)
"We're not getting there by all flying solo," Mitch Daniels, president of Purdue University and the former Republican governor of Indiana, said during an event here on Monday to announce the alliance.
The 11 universities are spread out around the country. Together they enroll about 380,000 undergraduates, which is roughly 20 percent of the overall student population at large research universities. Their six-year graduation rates for bachelor's degrees range from 51 to 82 percent, with an average of 68 percent. That average drops to 63 percent for students from minority groups.
The alliance crosses several boundaries within higher education. As Michael Crow, Arizona State University's president, said at the event, it includes two flagships, five land-grants and four "behemoth" and relatively young public universities in the nation's Sunbelt.
"This is the first time a group of large public research universities has self-organized across state and conference lines specifically to test and scale solutions to problems of access and graduation in higher education," according to a 36-page "vision and prospectus" report the group released on Tuesday.
Despite their differences, the 11 universities all have relatively socioeconomically diverse student populations. Roughly one-third of the group's overall enrollment is eligible for Pell Grants. On the high end, more than half of the students who attend the University of California at Riverside are Pell-eligible.
University Innovation Alliance Members
Arizona State University
Georgia State University
Iowa State University
Michigan State University
Ohio State University
Oregon State University
Purdue University
University of California at Riverside
University of Central Florida
University of Kansas
University of Texas-Austin
*California State University System (observer of group)
The universities will share three primary goals besides deeper collaboration, Crow said. They are to increase degree production, to increase student diversity and to cut costs by being more effective.
Five foundations kicked in a total of $5.7 million to support the work. (The Bill and Melinda Gates Foundation contributed $3 million of that amount.) The universities will match those grants with money from their coffers.
The plan starts with the development of promising ideas to improve student success rates. Participating universities must then take proven strategies and spread their application across the group. Finally, the alliance hopes to get the word out more broadly -- to other institutions, policy makers and the general public.
Not 'Boutique Programs'
University leaders who spoke at the event said they weren't sure whether or not the group would grow to include new members.
"This is not like an athletics conference," said Kim A. Wilcox, the chancellor of UC Riverside, "at least not yet."
Likely coalition projects, according to the report, include the use of adaptive-learning techniques, new forms of financial aid, pre-college student outreach and targeted supports for students. Data sharing will be part of the work, the group said, including principles for sharing as part of the report.
First up, the alliance announced Tuesday, is collaboration on predictive analytics. That hot and emerging field involves the use of "big data" to track student progress. Georgia State University has combined predictive analytics and proactive advising, which together have resulted in a 5 percent increase on semester-to-semester student retention rates, according to a document the alliance released.
Graduating students at Georgia State now earn their degrees a full semester quicker, an improvement the university attributes to the predictive analytics work. If that approach worked similarly across all 11 universities in the group, it would prevent 19,000 students from dropping out and save graduates $200 million in tuition and fees.
"We're not talking about boutique programs," said Mark Becker, Georgia State's president.
Rachel Fishman, an education policy analyst for the New America Foundation, said the Georgia State project is a particularly strong example. That's because it applies across the entire university rather than just to select groups of students.
The predictive analytics program has been "helpful at identifying where all students are falling through the cracks," she said via email, and has helped the university "improve their graduation rate without increasing their selectivity."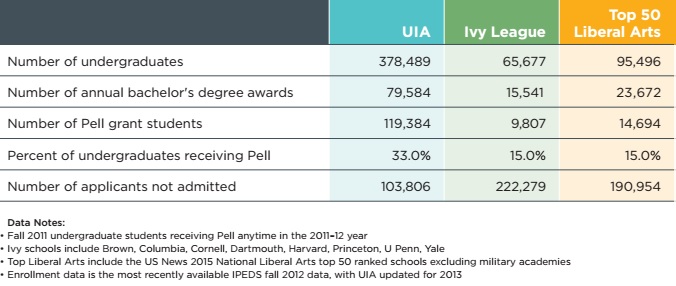 The event Tuesday included descriptions of several such "success stories" at participating universities. But the alliance will have to do more than just tout what they already do right, said Wilcox. He said the group must take risks, be public about them and learn from failures.
Higher education, particularly big research universities, tends to struggle at paring back programs that aren't working as well as they should. Yet Wilcox said there should be "leaders" and "followers" among the 11 universities when it comes to trying out specific types of student-success projects.
Wilcox compared the ask to 11 technology companies in Silicon Valley setting aside their competitive differences to share "customer algorithms that will work for America."
That could mean the rest of the group would emulate the lead of Georgia State on predictive analytics, despite the fact that many have their own "big data" experiments in place. If the alliance pulls that off, it would be an unusual form of cooperation for colleges with ambitious leaders and faculty members.
But Crow said the research universities have no choice if they want to make a major contribution to the national college completion push.
"No individual school can do this," he said.