You have /5 articles left.
Sign up for a free account or log in.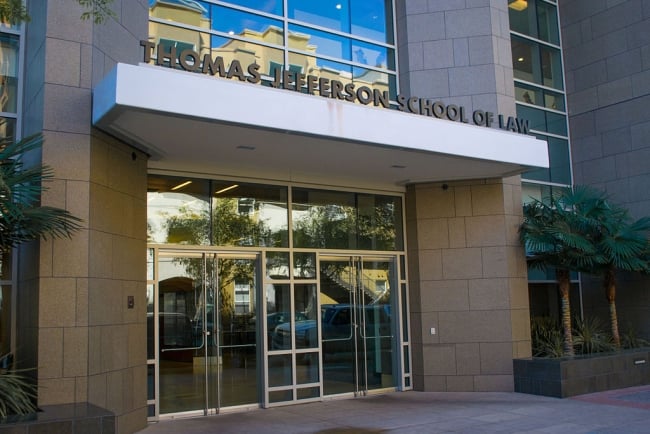 With a deadline next month, officials at Thomas Jefferson School of Law are pushing to restructure the school's debt after defaulting on a bond payment this year.
The private law school in San Diego missed its June 26 payment on two loans totaling $133 million.
The school said in a statement this week that it has since paid most of its June bill and has been having "constructive discussions" with bondholders that have kept them from taking action against the school for defaulting.
And while the school says it's confident it will turn things around, others who watch the field of legal education are more skeptical for a variety of reasons, including a gloomy outlook for law school operations in general.
Thomas Jefferson's current agreement with bondholders expires Oct. 17. The agreement also states that the school won't pay its bill scheduled for Sept. 26.
The debt stems from two loans taken out through the California Statewide Communities Development Authority in 2008, partially to pay for a $90 million, state-of-the-art building that opened in January 2011.
School officials declined to comment aside from the statement, which says that negotiations over the past several months have produced a variety of potential debt restructuring options, each of them focusing on the school being able to continue offering an education that's accredited by the American Bar Association.
"The parties have a mutual interest in restructuring the law school's debt in a way that will allow the school to remain in operation and prosper," the statement reads.
Kyle McEntee, executive director of the watchdog group Law School Transparency, said he isn't surprised Thomas Jefferson is in this situation, given the school's high tuition prices, poor graduate outcomes and negative publicity.
Only about a quarter of the school's graduates found full-time employment in the legal field, according to statistics on the transparency group's website.
"If Thomas Jefferson wants to survive, it strikes me that rethinking the whole model for the school is what's needed," McEntee said, adding that the school needs to change the type of students it targets and admits, the faculty it hires, and the education it provides.
Thomas Jefferson, which had 938 students in fall 2013, has been one of the more publicly criticized law schools in the past several years, as debate has flourished about whether it's practical for students to pursue an expensive law degree when the job outlook for lawyers has been dim.
The school is still involved in a lawsuit from 2011, when a graduate of the school claimed Thomas Jefferson purposely misled students about job prospects.
Thomas Jefferson also was named in a December 2013 report on the finances of stand-alone law schools from Standard & Poor's.
The credit ratings agency said that despite a few years of expanded enrollment ahead of the 2013-14 academic year, the school's large debt and very high debt service costs were weakening its credit. The report also pointed out that the 45-year old school had no history of fund raising.
And last year, Thomas Jefferson cut its budget by $4.4 million, eliminating 12 staff positions and 14 classes. The law school had an operating budget of about $40 million in 2012 and 2013, according to financial disclosures.
There are key pieces of the school's finances that aren't publicly available, but based on what is known, a University of Colorado Boulder law professor and legal blogger, Paul Campos, said he questions whether the school can survive, particularly with competition for legal jobs in California.
At nearly $70,000 a year for tuition and living costs, attending Thomas Jefferson usually leaves graduates with a significant debt burden. Then, graduates enter a job market for lawyers that is already highly saturated, Campos said. With dozens of law schools, California, especially, is a place that has way too many people trying to make a living as lawyers.