You have /5 articles left.
Sign up for a free account or log in.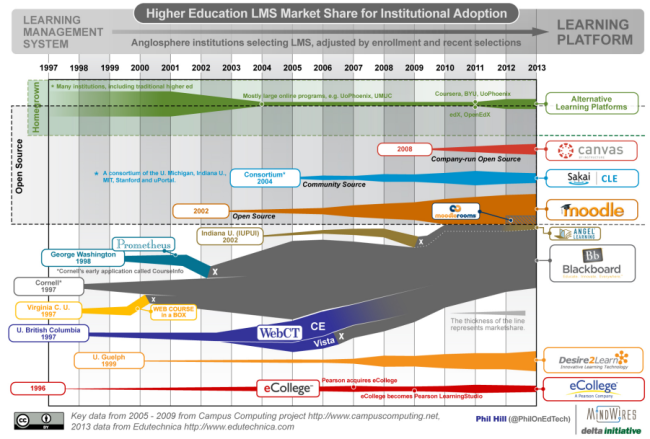 Faculty members and students want their future learning management systems to be customizable and full of features, but a new study finds they still use the systems' basic functions most often.
The report, produced by Eden Dahlstrom, D. Christopher Brooks and Jacqueline Bichsel at the Educause Center for Analysis and Research, provides an overview of faculty and student opinions about a piece of educational software present at virtually every college and university in the U.S. The researchers pulled data from last year's Core Data Service survey, which collects information about institutions' IT use, as well as two surveys of faculty members and students conducted this year, summarizing the responses of more than 27,000 respondents at hundreds of U.S. institutions.
Discussion of the State of the LMS
This report will be discussed on Friday's edition of "This Week," Inside Higher Ed's free weekly news podcast. Sign up for notification of "This Week" podcasts here.
"What we feel like this report does is provide numbers and some more context," Dahlstrom, director of research for the data, research and analytics unit at Educause, said. "As people are talking locally, we can give them a way to understand what's going on around them."
With the report, Educause has launched the Next Generation Digital Learning Environments Initiative, a Bill and Melinda Gates Foundation-supported effort to examine why colleges and universities are using "antiquated" technology -- and how to replace it. The average institution's learning management system, according to Educause's data, is eight years old.
The initiative also comes as the systems on the market have more or less reached feature parity, leading some analysts to predict the industry is due for a shakeup.
While learning management system providers tout their growth in the corporate, K-12 and international markets, the U.S. higher education market is saturated. The report pegs the percentage of institutions running at least one system at 99 percent, whether it's Blackboard's Learn, Instructure's Canvas, Desire2Learn's Brightspace or open-source projects such as Moodle and Sakai.
To make any gains in the higher education market, the providers need to capture colleges and institutions as they look to replace those aging systems. Since Educause in 2002 started tracking how many institutions were looking to replace their systems, the number has consistently hovered in the mid-teens. This year is no different, with 15 percent of institutions reporting they will move to a new system within three years.
That leaves Blackboard, which years ago dominated the market (and which still has more college clients than any other provider), at a disadvantage, as many of its long-term customers look to try a new provider. This spring, George Kroner, a former Blackboard engineer now at the University of Maryland University College, estimated that Blackboard managed to convert between one-third to one-quarter of the institutions that moved away from the Blackboard-owned Angel Learning -- which Blackboard owns -- this spring. Blackboard's competitors picked up the rest.
Anecdotally, the systems are often the source of frustration for faculty members, but according to the faculty survey, 60 percent of respondents said they were satisfied with them. An even larger share said the systems are useful for enhancing their teaching and student learning -- 74 and 71 percent, respectively.
Yet when it comes to how faculty members use the systems, a minority of respondents said they take advantage of the most advanced features. Most faculty members -- 58 percent, according to the survey -- said they primarily use their system as a place to store content such as lecture notes and the syllabus, while 41 percent said they use it to interact with students outside the classroom.
Broken down by individual features, faculty satisfaction reflected how instructors use the systems. About three-quarters of faculty members said they were satisfied with their ability to perform simple tasks such as posting content, but they were split on the collaborative features the systems offer.
The researchers refer to this divide as an "underutilization phenomenon." They also pointed to a gap between how IT officials perceive faculty feel about learning management systems and faculty members' own opinions. IT officials surveyed vastly overestimated faculty satisfaction, saying they believed 92 percent of instructors were satisfied with the system at their institution.
IT officials also rated student satisfaction at 93 percent -- almost 30 percentage points higher than how students rated their own satisfaction. Like faculty members, students were most satisfied with the basic uploading and downloading features.
Asked how they would redesign their learning management systems, 46 percent of students said the features needed to improve -- far outpacing any other response. The students listed alerts, methods of communication and mobile access as some of the features that needed to be revamped.
Those features, however, are offered by many of today's learning management systems. Based on the survey results, they may be going undiscovered. Dahlstrom described that conundrum as the "$8 billion question," referencing the worldwide market value of the industry.
Although the report talks about training faculty members and students to use those advanced features, Dahlstrom said "training" isn't the right word. "I think it's more about the systems needing to be intuitive and meaningful," she said.
Dahlstrom also stressed the importance of personalization, which ranked highly among students. More than two-thirds of students, or 69 percent, said they would be interested in a feature that support them in reaching their personal educational goals.
"There has to be an element that allows a student to think 'This is my learning management system -- this is for me,' " Dahlstrom said. "If they value it, they'll use it."