You have /5 articles left.
Sign up for a free account or log in.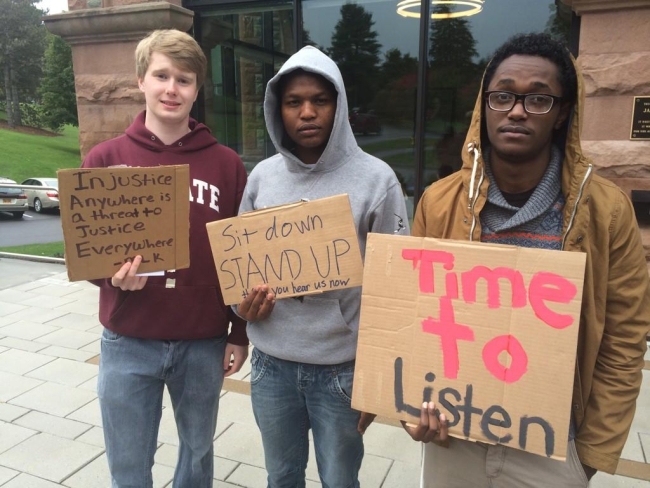 More than 300 students have staged a sit-in inside Colgate University's admissions building since Monday to protest the treatment of minority students on campus and the university's lack of diversity.
The Colgate University Association of Critical Collegians is leading the effort and promoting the sit-in through social media using the hashtags #CanYouHearUsNow and #SoThisIsColgate. The organization is also posting video testimonials from students on its YouTube account and publishing photographs of students sharing their stories through handmade signs on Instagram.
In a statement, the group said the demonstration is meant to raise awareness about various "microagressions" experienced by minority students on the predominantly white campus and to convince the administration to do more to combat the mistreatment and increase diversity. White students account for nearly 70 percent of Colgate's undergraduates.
"In order to obtain a complete liberal arts education, one must learn and be aware of different identity politics," the group stated. "Colgate University, at this moment, has insufficient methods to address equity and inclusivity."
The organization provided Colgate with a document listing "action plans" for the university to adopt. The lengthy list includes such suggestions as requiring all faculty and staff to participate in sustained diversity training; making more financial aid available to needy students; and hiring and retaining more minority faculty members.
"Until those action plans are met, we will pursue our sit-in here at the Hurwitz Office of Admission building," said Sydni Bond, a Colgate student and a spokesperson for the Association of Critical Collegians. (After this article was originally published, the university responded to each item on the list, bringing an end to the sit-in after 100 hours.)
The sit-in was inspired, in part, by bigoted messages on the anonymous social media app Yik Yak, as well as racist comments on other social media sites and remarks made to students who were riding the campus bus. As the demonstration has picked up steam, so have the Yik Yak posts. "I chose Colgate for the lack of it's [sic] diversity," reads one of the milder entries. "I knew the statistics. It's not my fault you didn't read the fine print."
Reads another, "White people won life, Africa lost, sorry we were so much better than you that we were literally able to enslave you to our will."
Jeffrey Herbst, Colgate's president, and Scott Brown, the university's dean of students, have both attended events at the sit-in and listened to testimonials from students. In a statement, Herbst condemned the "appalling anonymous social media posts" and a recent incident where Colgate students "yelled racial and homophobic slurs."
Herbst said the university was standing in solidarity with the students taking part in the sit-in, and he encouraged students to report bias-related incidents to campus authorities.
"Acts of racism and homophobia have no place at Colgate and will not be tolerated," he stated. "Prejudice can devastate our community: it chills the campus climate, making members of our community feel unwelcome, shackles the mind with stereotypical thinking and bigotry, and keeps us from reaching our true potential as caring, intelligent people who are prepared to live in an increasingly global and diverse society."
The racial tension illustrated through social media posts is not new to Colgate, demonstrators said, and the sit-in is meant to show how prevalent similar comments are on campus. The demonstration is not the first time students have protested the university's handling of diversity issues on campus.
In a demonstration that made national headlines 13 years ago, 70 students -- most of them black -- staged a sit-in in the same building now occupied by this week's demonstrators. Those earlier students were also angry about the lack of diversity on campus and about racially insensitive messages -- that time, however, the messages were emails sent by a professor. This week's sit-in, which has already outlasted its predecessor by two days, prompted messages of support from the previous generation of Colgate demonstrators.
"I was one of the 70 in 2001," Lisa Cowan, a Colgate graduate, wrote on Facebook. "And I sit with the 350 today."