You have /5 articles left.
Sign up for a free account or log in.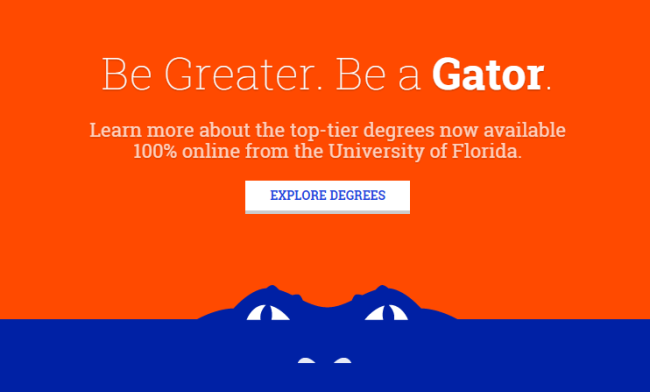 How do you tell high school students they're going to attend -- but not actually go to -- college?
It's a conversation the University of Florida is having with potential students, parents and school counselors about UF Online, the institution's degree-granting online arm. Now facing its first full academic year, UF Online is hitting its course development and enrollment targets, but it has so far attracted few first-time-in-college (FTIC) students.
UF Online launched in January with 583 students -- all of them transferring in. In March, university officials said they hoped to enroll 750 to 1,000 students by the fall semester, including 100 to 150 high school graduates starting as freshmen.
"We have not met that expectation," said W. Andrew (Andy) McCollough, associate provost for teaching and technology at UF. "We have only recruited first-time-in-college students for the first time this fall, and we have a total of 22 out of a class of right about a thousand."
McCollough, who has served as the interim executive director of UF Online since Elizabeth D. (Betty) Phillips's sudden resignation two months after launch, said time constraints are largely to blame for the low number of first-time-in-college students. Ideally, the university should have marketed to those students last fall, but the institution was then racing to meet its legislature-imposed deadline to launch in January.
"I think a fairer test of the robustness of a fully comprehensive four-year baccalaureate degree for first-time-in-college students would be this time next year, because we are only now getting the opportunity to talk to next year's class," McCollough said. "We didn't really crank [the marketing efforts] up until after applications were due for entry into the university for this fall. We're up and running this time, and we've got not only the digital conversation that Pearson is assisting us with ... we're also having feet on the ground with our enrollment management people."
The delayed timeline for recruiting high school students at least means UF Online will have more time to develop the course and degree offerings it hopes will make it competitive. McCollough counted 10 majors (the website lists nine) and more than 130 courses in the fall lineup, saying the university will continue to add five new majors each year.
"I think we'll be very close at the end of three years to 20 majors," McCollough said. "One of the things that's clear to us -- and should come as no surprise to us -- is as we talk to both transfer students and FTICs, we need to have a robust array of major opportunities to be attractive to these possible students."
'Become a Gator'
Many of the 22 first-time-in-college students who have enrolled in UF Online fit the same mold, McCollough said. "These are young students -- 18-year-old students out of high school who for whatever reason had place-bound commitments, had already started working, parents wanted [them] to stay local," he said.
In other words, those students are choosing to enroll for the same reasons adult learners are -- the difference being that the 18-year-olds may not have work experience or a collection of previously earned college credits they hope to dust off and turn into a degree.
It also means UF Online has yet to tap into a pool of students it needs to bolster its enrollment and fulfill the charge issued by the state legislature. Florida's public universities physically can't meet the demand for higher education in the state, so the legislature designated UF to build an online education provider aimed at the students turned away because of space issues.
According to the business plan approved by the Florida Board of Governors last fall, UF Online estimates it will in nine years enroll 24,152 students and generate more than $76 million in revenue. Out-of-state students are part of that goal, but as a public institutions, UF Online will first and foremost target in-state students (including students who were homeschooled), their parents and guidance counselors, focusing on Jacksonville, Miami, Orlando and Tampa.
The business plan has some ideas about how to make going to college online appealing to those students.
"Become a Gator," the plan lists as one of UF's "unique advantages," even though online students will obviously miss out on much of what a traditional college experience involves -- no football games, no Greek life, no Frisbee on the quad. Even if the online students lived close to Gainesville, they couldn't take advantage of campus resources; by law, UF Online can't charge in-state students the facilities and service fees residential students pay.
Much of the students' face-to-face interactions will be handled at the university's extension offices -- one in each Florida county -- but McCollough said the university is also inviting online students to attend certain campus events, such as homecoming. In the future, the university may create student organizations and local clubs specifically for online students to get to know one another.
Those restrictions may be why the plan stresses an equal educational experience: "An online degree from UF is a degree from UF -- same credibility as [a] residential degree," it reads. Some UF faculty members, skeptical of online education, have said they will monitor UF Online's offerings to ensure students aren't receiving an inferior product.
Quality, McCollough said, is part of a four-point sales pitch -- as are the on-campus events. A third point is perhaps aimed more at parents than at students: UF Online can only charge in-state students 75 percent of the cost of residential tuition. Combined with the savings on fees, McCollough estimated online students pay about 36 percent less than residential students.
Some students may use UF Online as a gateway to a spot on campus. After students complete 60 credits and general education requirements, UF Online intends to let them transition into a residential program -- as long as there's room. After all, the impetus for UF Online was to improve access to higher education, not diminish it.
"If [a] student said to us, 'I would really like to be a business major,' I'd say 'Congrats, that's a good idea -- we may not have room for you,' " McCollough said.
A 'Common Conversation'
In addition to piling new responsibilities on UF, the legislature has at least helped smooth the transition from high school to online higher education. The same bill that directed the formation of UF Online, Senate Bill 1076, also created an online education requirement for high school students. To graduate, the students have to take one online course.
The requirement has made online education a "common conversation" that counselors have with high school students, said Nestor Avila, a certified school counselor in Lee County.
"Online courses are something that is not out of the ordinary now that it's a high school requirement for students to experience," Avila said. "When we talk to students about college, we make sure to let them know that courses are primarily on campus; however, it's common these days for students to take an online section of a general requirement they need."
Many students complete the requirement through the Florida Virtual School, an online education provider that offers free courses for high school students in the state. Todd Hitchcock, a former vice president of global services with the school, said the development in Florida can be seen in a majority of states across the country. He said that more than 2 million high school students are taking blended or virtual courses, and that the proliferation of such courses is leading to a greater acceptance of online education among students and parents.
"I'm not saying that's an epic sea change, but it has changed dramatically over the last 10 years," he said.
Hitchcock is now the chief operating officer for Pearson Embanet, which has partnered with UF Online to support its marketing, recruitment and retention efforts.
McCollough said there is "no question" the online course requirement in high school could make UF Online an easier sell.
"As long as the online experiences that the students are required to get are well done, and the student walks away thinking, 'That was convenient, and, darn it, I even learned something,' then that should allow them to be more open to this as an opportunity," he said.