You have /5 articles left.
Sign up for a free account or log in.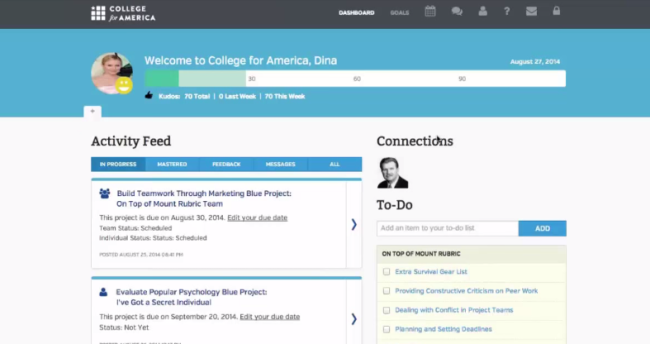 Southern New Hampshire University, seeing an opening in the market for a learning management system designed around competency-based education, is spinning off the custom-made system it built to support College for America.
Before College for America launched in January 2013, the university considered building a platform to support the competency-based education subsidiary on top of the learning management system used on campus, Blackboard Learn. The university instead picked Canvas, created by Instructure, but after only a couple of months, "we decided we needed to build our own," said Paul J. LeBlanc, president of the university.
For most colleges and universities, any one of the major learning management systems on the market will likely meet their requirements for posting course content and engaging with students outside the classroom. But for institutions that don't tie academic progress to the course or the credit hour -- or have an unconventional method of delivering education -- those same systems may be restrictive.
"We speak of the world of LMSes as a world that's designed around content delivery, course delivery and the mechanics of running a course," LeBlanc said. "It's very course-centric, so we built our program on the basis of our relationship with our students."
LeBlanc and College for America are calling it a "learning relationship management system," a composite term to describe a learning management system build on top of Salesforce, the popular customer relationship management software. LeBlanc said the system aims to strike a balance between "lots of things that CIOs love" -- such as software as a service and cloud hosting -- with "what educators love."
For students, the system looks more like a social network than a learning management system. When they log in, students are greeted by an activity feed, showing them a tabbed view of their current projects, goals and feedback. A column on the right side of the screen lists connections and to-dos, and a bar along the top tracks progress toward mastering competencies.
Behind the scenes, faculty members and administrators are treated to a stream of data about everything students do inside the system, from when they submitted their paperwork and their statement of purpose to the surveys they have answered and the time spent talking to academic coaches.
"I think this next generation of systems is really going to be about data and analytics and relationship management," LeBlanc said. "The whole shift in conversation, it seems to me, is about student-centeredness."
On Oct. 1, one year after the system went live at College for America, the university is spinning it off as Motivis Learning and writing the for-profit subsidiary a $7 million check. In its first phase, LeBlanc said, the company will further develop its platform based on how other institutions are approaching competency-based learning.
One of Motivis's early design partners, the University of Central Missouri, hopes to use system to cut down on administrative overlap. Its Missouri Innovation Campus program, which gives students an opportunity to earn a bachelor's degree two years after graduating high school, has in its first year attempted to tie together data from a school district, a community college and a four-year institution with manual spreadsheet work.
"We've likened it to trying to cobble together three different student information systems, three different registrations ..., three student IDs, three admissions portfolios," said Charles M. (Chuck) Ambrose, president of the university. "What we're trying to envision is that this LMS will help move us to a superhighway or an Autobahn."
The university will also be able to invite local businesses into the system, allowing internship supervisors to log students' progress instead of filling out a paper form, Ambrose said.
Central Missouri's model is one of many Motivis is interested in tweaking its system to support, said Brian Peddle, College for America's chief technology officer, who will become the company's CEO. One idea, he said, is to produce the common features of any learning management system, then offer "building blocks" to support traditional courses, competency-based learning and other modes of delivery.
Initially, though, "I think our goal is to go after those competency-based schools," Peddle said. "Go in the side door and then move horizontally through the organization."
Southern New Hampshire will also use the system in an on-campus class next fall.
Kenneth C. (Casey) Green, who tracks changes in the learning management system market with the annual Campus Computing Survey, said Motivis has an opportunity to capture its share of institutions.
"If anything, this market has shown itself to be open to new versions of an LMS that's a better digital mousetrap," Green said. "If they're building on Salesforce, that's very different than what anyone else has done."
The decision to spin off Motivis, LeBlanc said, allows for a clear division of labor. Southern New Hampshire can focus on being a university, College for America on competency-based education and the company on software development.
The university will still own Motivis, but the company will have an independent board, whose members include Harvard Business School professor Clayton M. Christensen, among others. By cutting the company loose, Motivis also becomes more flexible to pursue additional funding (although the $7 million is budgeted to last for three years), and the university may be open to selling shares to investors in the future, LeBlanc added.
"Our sense of this was we don't want to lose College for America's focus on what it wants to do," LeBlanc said. "Let's keep SNHU's focus on what it does in its not-for-profit way."