You have /5 articles left.
Sign up for a free account or log in.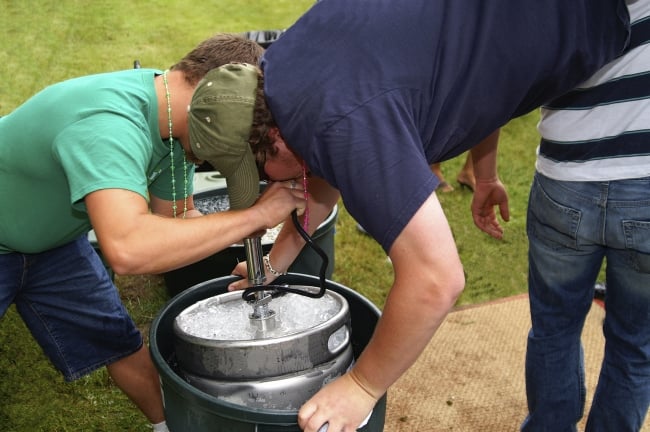 This month was not kind to the already-embattled image of the American college fraternity.
Wesleyan University announced that its fraternities would have to go coeducational amid a push from students and faculty members who say that fraternities encourage sexism and mistreatment of women. Clemson University suspended all fraternity activity following a member's fatal plunge from a bridge. The Texas Tech University chapter of Phi Delta Theta was suspended after displaying a banner that read "No Means Yes, Yes Means Anal."
And with research and college health experts noting that incidents of sexual assault and high-risk drinking are particularly prevalent among fraternity and sorority members than other students on campus, a question inevitably arises: Why don't colleges just do away with Greek life completely?
"That creates two more questions," said Elizabeth Armstrong, an associate professor of sociology at the University of Michigan. "The first question is, is that actually realistic? Can that actually be done? The second, what are the potential consequences, both intended and unintended? Some campuses have actually made the move, but they are small liberal arts colleges on the East coast. It's difficult to see Ohio State or Mississippi making a move like that. These are really powerful organizations there."
Banning fraternities -- with their deep pockets and even deeper roots -- from large state universities would be a difficult (if not impossible) endeavor. The same can be said for Ivy League institutions like Dartmouth College, where nearly two-thirds of eligible students belong to a fraternity or sorority. That hasn't stopped students, faculty, and even college presidents from suggesting it. At Dartmouth last month, hundreds of students, faculty, staff, and alumni said they would like to see the college's Greek system "abolished."
But some say that abolishing fraternities and sororities would not help curb instances of sexual assault and heavy drinking -- and could actually exacerbate them.
While the majority of fraternity members do not commit rape, they are three times as likely to commit rape as non-members, according to a 2007 study. Another study, published in the NASPA Journal in 2009, found that 86 percent of fraternity house residents engaged in binge drinking, compared to 45 percent of non-fraternity men. Fraternity house members were twice as likely to fall behind in academic work, engage in unplanned sex, or be injured after drinking.
Fraternity members were more likely to have unprotected sex, damage property, and drive, all while under the influence of alcohol.
"It's not just a stereotype," said George Koob, the director of the National Institute on Alcohol Abuse and Alcoholism. "There is pretty good evidence that fraternity individuals are drinking more, particularly in the heavy range of binge drinking. They have more problems associated with drinking. They have more impairment in occupational functioning related to drinking, such as getting homework and term papers done. But, I don't think you should go about banning fraternities. Punishment is rarely the way to go about anything like this. If you punish a behavior, it comes back with a vengeance."
In the case of banning a Greek system, that behavior could come back in the form of off-campus houses or underground fraternities that could not be regulated by colleges.
"There's always the risk that if you force fraternities off campus, they just form their own houses off campus," said Kevin Kruger, president of NASPA: Student Affairs Administrators in Higher Education. "They're still there, exhibiting the same behaviors, only now they don't really have to answer to anybody."
That's already the case with fraternities like American University's infamous "secret" frat Epsilon Iota and Wesleyan's Beta Theta Pi, a house that's facing a sexual assault lawsuit and where a sophomore fell from a third-story window earlier this month. Wesleyan has no say in how the chapter itself operates, so it instead resorted to banning its students from the house.
Thomas Fox, the national executive director of Psi Upsilon, said that if banning fraternities and sororities drives houses off campus, many issues could be exacerbated by colleges' inability to intervene.
"Quite frankly, bans don't accomplish anything," Fox said. "The problems that fraternities and sororities are facing exist outside of the Greek system as well. We offer educational opportunities to help combat these issues and have alumni volunteers to help mentor our members. When done right we are complementing the academic mission of the institutions where we exist."
For many college presidents, too many aspects of Greek life are not being "done right," Kruger said, and patience is wearing thin. The colleges that have abolished fraternities -- mostly small private liberal arts colleges like Colby, Bowdoin, Middlebury, and Williams -- say publicly that they do not regret the decision. While the bans at these colleges did lead to secret fraternities sprouting up off-campus, their influence has waned over the years.
Some colleges and universities are trying to split the difference -- acknowledging the values of a Greek system by not banning it outright, but ordering dramatic changes to some longstanding traditions. This month, Dartmouth's Interfraternity Council banned pledging at its fraternities and sororities, and Sigma Alpha Epsilon has forbidden pledging at all of its chapters. A handful of colleges in recent years have forced Greek houses to become coeducational, including Trinity College in Connecticut and, last week, Wesleyan.
"Only about 4 or 5 percent of the student body belongs to a Greek organization," said Kate Carlisle, public relations manager at Wesleyan. "Since this change only involves two residences and a relatively small number of students, the practical aspects of the transition are likely be easier than at larger public colleges."
While Wesleyan currently has just two recognized fraternities and one non-residential sorority, Ohio State University, for example, has 38 fraternities and 24 sororities. At the University of Mississippi, 32 percent of undergraduate men are fraternity members and 34 percent of women are in sororities. More than 7,000 of the University of Alabama's 30,000 undergraduates are members of the Greek system. At these universities, even banning individual chapters is a lengthy and time-consuming process, Armstrong said, and, as some of the houses are owned by national Greek organizations, much-needed student housing "just sits there empty" after a fraternity has moved out.
Outright bans of Greek life are not really considered to be on the table at these types of colleges, Kruger said, and the same can be said for going coeducational. Some universities have taken smaller actions to change Greek culture, however. Last year, Pennsylvania State University's Interfraternity Council banned parties during a key college party weekend known as State Patty's Day. This summer, all fraternities and sororities at Purdue University went dry -- officially, at least.
"It's understandable knee-jerk reaction to say, 'Why don't we just get rid of them,?' " Kruger said. "The really negative things are really so awful. But I think for many campuses, trying to work within the Greek system is better than not having it at all. When fraternities and sororities are done well, they really are extraordinary leadership opportunities. But when they are done poorly, it's truly horrific."