You have /5 articles left.
Sign up for a free account or log in.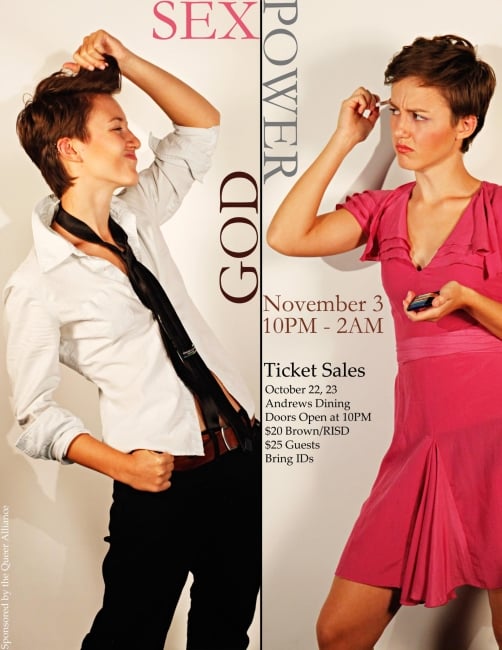 This fall will be the first in nearly 25 years that students at Brown University won't attend a well-known party titled "Sex Power God." 
Queer Alliance, the student group that organizes the annual tradition, announced last week that this year's installment was canceled. In the past decade, according to the group, the dance has evolved from an event for safe, positive sexual expression to an environment characterized by excessive alcohol consumption and at-times violent behavior, including sexual harassment and unwanted touching.
The announcement was shared as a statement in Bluestockings Magazine, a feminist-minded student publication that writes frequently about issues of gender and sexuality.
The decision to cancel the event was made after taking into account the objectives of the Queer Alliance and the safety of students on campus, according to the statement, which was signed by Queer Alliance President Lorin Smith and the group's coordinating committee.
Queer Alliance is a student group that supports gay students and serves as a hub for organizing related activities, and Sex Power God, also known as SPG, was meant to celebrate the diversity of sexuality and bodies at Brown, according to the statement.
"SPG was intended to be a glitter filled rejection of limiting narratives that claim that there is a 'right' or 'acceptable' way to perform sexuality," it reads.
But the party has drifted from those goals, and instead is more commonly described on campus as a school-sponsored orgy, a sex party and a space where students are encouraged to drink excessively, according to the group's statement. Those descriptions show there's confusion and debate about the aim and results of Sex Power God among Brown students, the statement reads.
The leaders of Queer Alliance were unavailable for an interview Monday and Tuesday.
Sex Power God was started at Brown in 1986. At the time, it wasn't envisioned as anything more than a dance, and the organizers had no idea that it would grow into a campus tradition, according to a letter to the Queer Alliance from a Brown alumna.
Although there haven't been official reports of sexual assault during Sex Power God, members of Queer Alliance had heard enough stories from peers to decide that event was no longer in line with the group's mission.
There have been reports about years when multiple students at the party had to be taken to the hospital or treated for alcohol-related illnesses. Alcohol isn't allowed at the party, but it was common for students to drink beforehand. Then in 2005, the party received more negative attention when a producer for Fox News's "O'Reilly Factor" filmed the party, and the film was shown on air.
After that year, students worked with the administration to impose more safety and privacy for students, according to Kelly Garrett, program director for Brown's LGBTQ Center. Instead of using tickets, students' names were placed on a guest list and they had to show a student ID to get in. The center also hired an event management company to help with security, screening for illegal items and monitoring student behavior.
Attendees even signed contracts in recent years in which they promised to seek active consent for sexual encounters at the party. But some students disregarded the policy last year, according to the Queer Alliance statement.
"It has become a violent space," the statement reads. "We cannot in good conscience continue perpetrating such a space."
In an opinion piece that ran in Bluestockings Magazine a few days after the party was canceled, one student, Will Furuyama, wrote that student and alumni perceptions of Sex Power God vary by individual experience and the climate on campus for the party in any given year. But the event had grown increasingly sexualized, to the point that near-nudity and sexual interactions were expected, according to the piece.
"Especially in light of the heightened activism around sexual assault on Brown's campus, as well as calls for the university to take active measures to ensure student safety, it is clear that a break is in order," Furuyama wrote.
The Sex Power God party certainly isn't the first time a popular student event has been canceled.
A similar celebration for lesbian, gay, bisexual and transgender individuals at Sarah Lawrence College was suspended indefinitely almost a decade ago.
The student-led Coming Out Dance was successful for many years, according to Judith Schwartzstein, the college's spokeswoman. But over the years, the event was marred by excessive drinking before the dance, and the administration was concerned about the health and safety of students, Schwartzstein said.   
In the past year alone, Iowa State University brought an end to Veishea, an event held each April that was almost 100 years old, and Temple University canceled its Spring Fling celebration. More recently, Columbia University canceled its annual Bacchanal concert
Administrators have cited safety concerns related to increased illegal behavior, including alcohol consumption, property destruction and sexual harassment as reasons for abolishing long-running student celebrations.
The decision at Brown University, by contrast, was made entirely by the students, said Garrett, the LGBTQ Center director.
Members of the Queer Alliance's dance committee generally start working with the student activities office early in the fall semester to organize the dance.
The office provides event management support for all large student activities, though the student group is responsible for most of the decisions and work, Garrett said.
When she contacted the Queer Alliance to see who was in charge of organizing Sex Power God this year, the students told her they'd decided not to host the event. She said there hasn't been a major outcry from students about canceling the event, and many students have vocally supported Queer Alliance's decision.
There was no push or suggestion from the university to cancel or change the event, Garrett said. And her office would have been just as supportive of the students' wishes if they'd wanted to host the party or had concerns and felt there needed to be significant changes.
"We'll be supportive again in the future if students come forward and say, 'We'd like to do this again,' " she said.