You have /5 articles left.
Sign up for a free account or log in.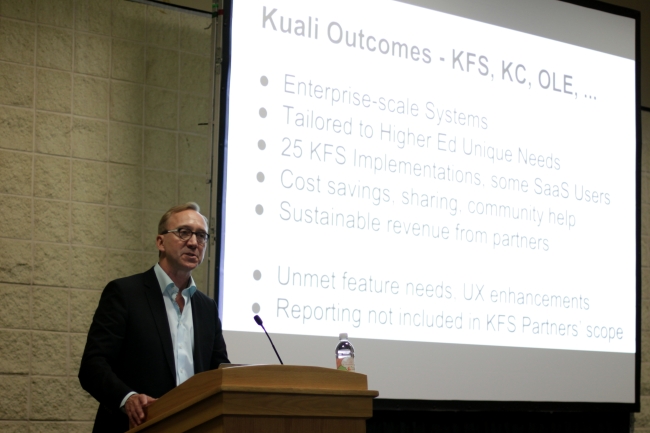 ORLANDO -- It took the Kuali leadership 20 minutes to address the elephant in the conference center meeting room.
"Change is ugly, and change is difficult, and the only difference here is you're going to see all the ugliness as we go through the change because we're completely transparent," said John F. (Barry) Walsh, a strategic adviser for the Kuali Foundation. "We're not going to hide any difficulty that we run into. That's the way we operate. It's definitely a rich environment for people who want to chuck hand grenades. Hey, have a shot -- we're wide open."
Kuali, formerly a community-source approach to enterprise resource planning software, this summer announced it would launch a for-profit company to speed up development. Since then, Kuali Foundation leaders and KualiCo executives have fended off criticism in blog posts, on social media and at events such as the annual Educause conference, the first major ed-tech happening "Kuali 2.0" has attended.
Walsh, who has been dubbed the "father of Kuali," issued that proclamation after a back-and-forth with higher education consultant Phil Hill, who during an early morning session asked the Kuali leadership to clarify which parts of the company's software would remain open source.
The short answer: everything -- from the student information system to library management software -- but the one thing institutions that download the software for free won't be able to do is provide multi-tenant support (in other words, one instance of the software accessed by multiple groups of users, a feature large university systems may find attractive). To unlock that feature, colleges and universities need to pay KualiCo to host the software in the cloud, which is one way the company intends to make money.
"I'll be very blunt here," Walsh said. "It's a commercial protection -- that's all it is."
The exchange symbolizes the communication issues Kuali has had since its announcement in August. Members of the foundation frequently invoke Instructure, which develops the learning management system Canvas, to explain the direction in which KualiCo is headed. (They even recruited Instructure's former chief technology officer, Joel Dehlin, to serve as CEO.) But the foundation has yet to win over some of its university partners on that strategy, and as a community initiative governed by high-level university officers, it lacks a dedicated marketing team to spread the correct message.
Meanwhile, some people in academe have walked away almost with a sense of betrayal, as if Kuali would spend a decade criticizing profit-driven companies only to become one of them.
The foundation therefore used much of its two sessions on Wednesday to explain the rationale behind KualiCo, its roadmap going forward and how the changes would affect current and future users.
"As we gather more data from our community, some of the decisions we thought about six months ago, we're changing, because we're hearing feedback from people, and that will continue to be the case," Walsh said. "We're not holding anything back. Nothing is being retained."
The rest of the sessions -- which were followed by a reception Wednesday evening -- were dedicated to fielding questions from curious university IT officials -- questions about institutions outside the U.S., the schedule for software updates and how a for-profit Kuali entity would interact with the rest of the community.
"Unfortunately some of what we're hearing is out of a misunderstanding or miscommunication on our part," said Eric Denna, vice president of IT and chief information officer at the University of Maryland at College Park. "Brad [Wheeler, chair of the foundation's board of directors,] and I routinely are on the phone saying, 'You know, we have day jobs.' We weren't hired to be communications officers."
One of the most common misconceptions, Denna said, is that the foundation is being replaced by a for-profit company. 
"We're just adding an option," Denna said. "Once they understand that, then some of the blood pressure goes down. But then they hear, 'Oh, so KualiCo is going to own the copyright. Does that mean I can't download it anymore?' No. It's still open-source software. It's just knocking down each one of these misperceptions."
Kuali's group of commercial affiliates have until now handled many of the tasks the foundation hasn't touched, responding to requests for proposals from institutions and supporting campuses that choose to deploy the software. KualiCo will be able to play a more active role in bringing the software to institutions, foundation members said.
"From the perspective of the school that wanted to find out more about Kuali ... we kind of made it difficult and confusing," Jennifer Foutty, the foundation's executive director, said. "I know I'm really looking forward to having a sales and marketing force in the KualiCo that can go out to a lot of schools and make it less confusing, describe the products, answer RFPs.... I'm hoping that will lead to a bigger community, wider adoptions and, again, sustainability."
While the afternoon session was marked by general curiosity, some attendees said they were still undecided on KualiCo. Kent Brooks, director of information technology at Casper College, in Wyoming, said he was hopeful about Kuali's new direction, but added that the company's for-profit status changes "everything."
"One of the things that was appealing to [Kuali] was the community feel," Brooks said. "Even though we're talking about not necessarily being beholden to venture capital, you're still beholden to the bottom line."