You have /5 articles left.
Sign up for a free account or log in.
The Pell Grant program, once a powerful tool for promoting low-income access in higher education, has lost its luster.
That's the conclusion of a new report -- "Beyond Pell: A Next-Generation Design for Federal Financial Aid" -- that was published Thursday by the Education Trust, New America Foundation, and Young Invincibles.
It argues that the federal government needs to be bolder in how it gets low-income students to enroll in postsecondary education, given the Pell Grant's declining purchasing power and tuition hikes at public universities. In 1980, the maximum Pell award covered more than three-quarters of what it cost students to attend a four-year public university in the student's home state; last year it covered 31 percent of the cost of attendance under the same circumstances. Similarly, over the same time period, a Pell Grant went from covering nearly all of the costs students face at community colleges to covering less than half.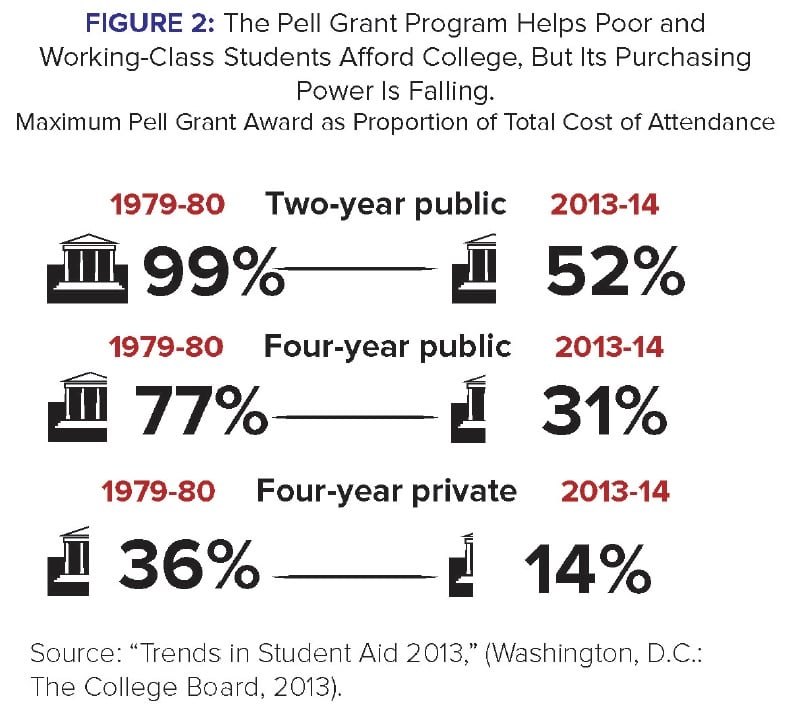 The solution, the authors say, is an upfront affordability guarantee for low-income families. That is, they should not have to pay out of pocket -- or borrow -- more than 10 percent of their discretionary income to finance their college education each year.
"Instead of focusing financial aid benefits on the period of time after students leave higher education (in the form of loan interest subsidies and forgiveness options) when it is too late to affect college-going behaviors, the federal government can and should refocus and grow financial aid benefits that will be felt at the start of college," the authors write. Such an approach, they said, would help low-income families overcome the "sticker shock" that deters many students from going to college in the first place.  
The report lays out three options for designing such an "affordability guarantee." All would involve states being willing to -- or being prodded to -- spend more per student on higher education.
A first approach would be to create a federal-state funding match to convince states to boost their investment in higher education -- and then require public colleges to help pick up the tab of students' loan payments if they charge Pell Grant recipients a net price exceeding the 10 percent-of-discretionary-income threshold.
Second, the authors propose restricting Pell Grant eligibility only to those colleges that include the 10-percent affordability guarantee for low-income families and enroll a certain share (not specified in the report) of Pell Grant recipients. They would also require states to commit to providing sufficient aid to help colleges meet that requirement.
A third alternative, the report says, would be for the federal government to dole out student aid directly to states on the condition that they adopt the 10 percent guarantee at their public colleges and universities.
The report is the final installment in a series of studies commissioned by the Bill and Melinda Gates Foundation. Previous papers this year focused on boosting accountability for poorly performing institutions, creating incentives for states to spend more on higher education, revamping the work-study program to help low-income students and making other reforms for non-traditionally-aged college students.