You have /5 articles left.
Sign up for a free account or log in.
All college graduates are more likely than they were two decades ago to have financed their education with loans. But the likelihood of borrowing increased the most among students from the nation's wealthiest families, according to a new Pew Research Center analysis of government data.
The center's report, published Tuesday, shows that the share of graduates from families in the top income quartile who borrowed to pay for college more than doubled between 1992-93 and 2011-12, from 24 percent to 50 percent.  For the second-highest income-quartile, the borrowing rate increased by more than 80 percent.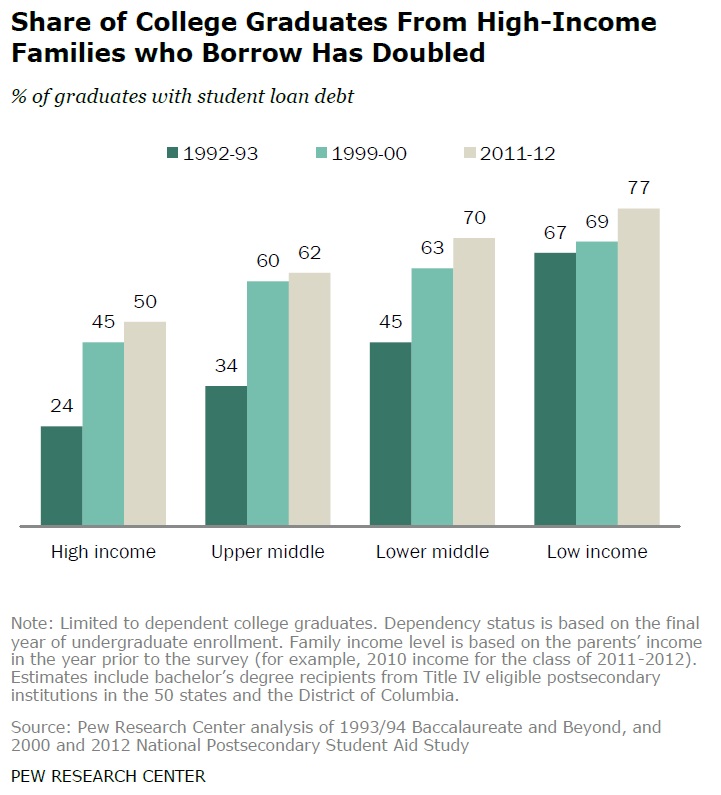 Borrowing rates increased among graduates from families across the economic spectrum, but they did not rise as rapidly among graduates from lower-income families -- although those families remain the most likely to take out loans to pay for college.
More than three out of four graduates from the lowest income quartile in 2011-12 took out loans to pay for college, up from 67 percent in 1992-93.  
The study looked only at the debt levels of dependent students who completed a bachelor's degree. It did not analyze students who took out loans but failed to complete their degree.
The authors suggest that the large increases in borrowing rates by middle- and high-income college graduates might be explained by a number of factors. They cite, for example, policy changes that made it easier for students to access federal student loans regardless of need. In addition, they said, the recession's impact on families' wealth as well as the lack of other sources of borrowing in the wake of the financial crisis may also have pushed high-income families to take out student loans. Historically, many middle- and upper-income families have relied on home equity to pay for college, and declining housing values may have made that difficult or impossible.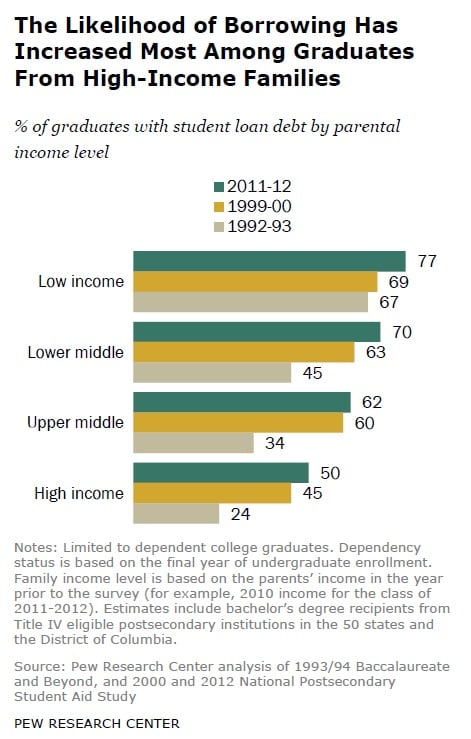 The study found a similar pattern when breaking down college graduates by their parents' level of education. While the tendency to take out loans has increased for graduates from all families over the past two decades, the borrowing rates increased the most among graduates with college-educated parents.
Graduates with parents who have the most formal education borrowed the least in 1992-93, but they saw the highest rate of increase in borrowing by 2011-12, going from 41 percent to 61 percent. For graduates whose parents had less formal education, the borrowing rate increased more modestly, even though they borrow the most over all. For example, nearly 8 in 10 college graduates whose parents have a high school diploma or less in 2011-12 had taken out loans.