You have /5 articles left.
Sign up for a free account or log in.
The number of faculty job openings in communication has doubled since 2009, and rose 12 percent in 2013, according to new data from the National Communication Association.
The data and analysis from the association are much more optimistic than are reports coming out of other humanities and social sciences disciplines, many of which are seeing modest growth if any, and are struggling to get their openings back to pre-recessionary totals.
Also unlike some disciplines, the number of faculty job openings in communication outpaces the number of new Ph.D.s in the field.
Like many disciplinary associations, the NCA tracks openings in the various places it provides for departments to announce searches. Many openings in various fields are not listed with their associations, so the communication data aren't complete. But generally, the association reports mirror overall hiring trends, even if their may understate the total number of openings.
Here are the total figures for academic positions in the field in the last five years: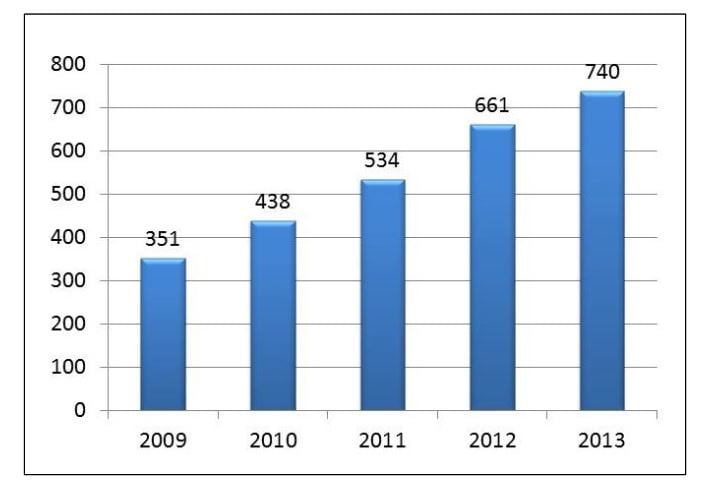 Data on the number of new Ph.D.s lag by a year, but the total for 2012 was 597, and figure for the year before was 560, so the current openings appear sufficient to cover those entering the professoriate.
The communication field includes many subfields, with varying job totals. The following total lists the top 10 subfields, measured by the total number of openings listing the topic as either a primary or secondary focus. (The table excludes generalist, which had applied to 156 positions, more than any specialty.)
Communication Specializations Requested in Job Openings 2013
| | | | |
| --- | --- | --- | --- |
| Field | Primary Focus | Secondary Focus | Total |
| Media and mass communication | 62 | 25 | 87 |
| Public relations | 69 | 12 | 81 |
| Journalism | 67 | 0 | 67 |
| Digital, emerging and new media | 54 | 12 | 66 |
| Organizational | 46 | 11 | 57 |
| Rhetoric, public address | 35 | 14 | 49 |
| Health | 36 | 11 | 47 |
| Interpersonal, small group | 24 | 13 | 37 |
| Intercultural, international | 26 | 9 | 35 |
| Advertising | 25 | 3 | 28 |