You have /5 articles left.
Sign up for a free account or log in.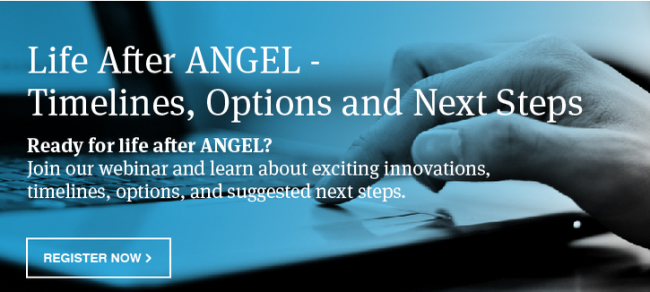 The Angel learning management system, after cheating death once, will officially retire in October 2016. Before then, hundreds of institutions will have to search for a new provider.
The death of a major learning management system is not an everyday event. In the day-to-day battle for market share, providers make gains by peeling off customers from their competitors, outmaneuvering other suitors when a college or university looks to makes a once-in-a-decade shift. U.S. higher education is considered a saturated market, and as one of those systems now leaves the space, it creates an opportunity for providers to scoop up new clients -- and headache for the colleges and universities urged to migrate.
"This is potentially a big deal, because it's one of those structural changes in the market that creates disruption," said Kenneth C. (Casey) Green, whose Campus Computing Project tracks higher education IT trends, including changes in the learning management system market. "It creates a great opportunity for other providers to say, look, you've got an up-or-out decision here."
Angel's death has long been foreshadowed. Blackboard acquired the company in 2009, and then gave the system five years to live. This month, Blackboard said, Angel would move to "end-of-life" status, meaning the company would no longer maintain the system or develop new features.
In 2012, Blackboard reversed earlier plans, saying it would continue to support Angel "indefinitely." The company described its new strategy as one that involved multiple learning management systems, from its flagship product, Learn, to the open-source Moodle.
Then, earlier this month, Blackboard reversed again. Come Oct. 15, 2016, the colleges and universities still running Angel will be on their own, though Blackboard will still offer "limited, situational support," it told Pennsylvania State University.
"The official answer is that there are third-party technologies that underlie the Angel learning platform that are either at or rapidly approaching their end-of-life from those manufacturers," said Valerie Schreiner, Blackboard's vice president of product management. "We would be coming into a position where we couldn't guarantee a service level to these clients that we were comfortable with. We've worked as long as we could."
The decision lets Blackboard focus on fewer products, but the company still faces a fight to retain its customers. Among the Angel institutions that migrated this spring, Blackboard only captured between one-quarter and one-third, according to data collected by University of Maryland University College enterprise solutions engineer George Kroner.
When Blackboard announced the first end-of-life date for Angel, Penn State formed a committee to look for a replacement system. The committee then put its work on hold -- and signed a five-year agreement to keep running Angel through December 2017 -- when Blackboard backtracked on the plans. Now, the committee's work has started back up again, said Terence N. O'Heron, the university's director of operations in teaching and learning with technology.
The agreement likely means a busy 2017 for Penn State. Although Blackboard will honor the terms of the five-year agreement, it will be up to the university's IT staffers to identify bugs, report them to Blackboard and then cross their fingers for a fix, O'Heron said.
"We were glad to hear that they went to indefinite support," O'Heron said, adding that he was disappointed to hear Blackboard will cut back on its support for Angel. "We're not surprised that they're ending the life of Angel, but in the end we respect the fact that they're honoring our current agreement."
O'Heron said Penn State is planning to pilot Learn next summer after much prodding from Blackboard. "They've been lobbying us ever since they bought Angel back in May 2009," he said, but added, "That's not to say we're closing our options."
The State University of New York, meanwhile, has a migration schedule in place to move all the campuses using Angel to other systems by 2017, said David Belsky, a spokesman for the system. Of the 35 campuses that at one point used Angel, 23 still need to migrate.
SUNY is something of a success story for Blackboard. Six campuses have already moved to Learn and another "handful" will migrate to Moodle, Belsky said.
Apart from holdouts such as Penn State and SUNY, Angel is today a more common sight at smaller institutions. The average Angel institution has about half the number of students as the average institution running Sakai, according to Kroner's data. Many of those that still run the system today are community colleges that launched the system a decade ago and have yet to migrate to a new one.
That's where Blackboard's stake in Moodle -- through the service providers Moodlerooms and NetSpot -- could come in handy. Moodle is particularly popular among institutions with 1,000 to 2,000 full-time students, even edging out Learn.
Schreiner said there aren't any simple tests to determine if an institution is a better fit for Learn or Moodle, but that it depends on how the institutions want the systems to be hosted and what they plan to do with them. Generally, she said, Blackboard is trying to sweeten the deal to win over Angel institutions by offering "more than an LMS." Blackboard has this year acquired a number of smaller companies to improve its student services, and the company recently began packaging its products into "solutions" -- one package may contain the core learning management system, another with analytics thrown in.
Blackboard's competitors are also preparing to make their pitch, and they may have an opening as long-term Angel customers look to try a product not offered by Blackboard.
"We're trying to create a different experience in the market, and we try to differentiate that experience in our prospecting, in our sales channel, in our support," said Misty Frost, vice president of marketing at Instructure, the company behind Canvas.
Instructure, founded in 2008, has "benefited remarkably" from being a fresh face in the market at a time when legacy systems are approaching end-of-life status, Frost said, but the company isn't going to launch marketing efforts aimed at Angel institutions.
"Obviously we will reach out to them because they'll be in an evaluation process, but we're not going to specifically create lots of touchpoints or campaigns around that unless there's a particular reason to do it -- because we're already probably talking to them," Frost said.
John Baker, CEO of D2L, also noted that the company has been able to capitalize on institutions leaving behind legacy systems. Michigan State University and St. Petersburg College, two former Angel institutions, have switched to D2L's system, Brightspace.  
"Many have said the switch to D2L was less painful than some of their upgrades in the past," Baker said in a statement. "But more importantly, clients need a partner that is investing in the innovations to improve the learning experience."
Migrating to a new system is a costly process, not just in the money spent on new licensing costs and training, but also in time (Green said migration typically takes three years from start to finish).
"It's just never easy -- it's just not," Schreiner said. "But to the extent that Blackboard can make it a reasonable experience with a better destination at the end, that's what we're aiming for."