You have /5 articles left.
Sign up for a free account or log in.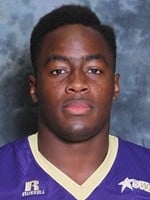 The National Collegiate Athletic Association does not have a rule against allowing convicted felons to participate in NCAA sports and it does not anticipate changing its policy, even as it faces public pressure following the revelation that a star football player at Alcorn State University is a registered sex offender.
"If you've been convicted of sexual assault or rape you shouldn't be allowed to play on the team," Senator Kirsten Gillibrand, a Democrat from New York, said to ABC News last week, calling on the NCAA to change its rules.
But this week, the NCAA doubled down on its policy. Stacey Osburn, a spokeswoman for the NCAA, said Monday that it is not the association's place to dictate who can and cannot be allowed to enroll at a member institution and participate in sports there. (NCAA rules do, however, set academic requirements for athletes.)
"Just as with every student seeking admission to a college or university, the decision on whether or not to admit a student-athlete rests with NCAA member schools," Osburn said. "The NCAA is not empowered by its members, or would it be appropriate, to have involvement in individual school admission practices and policies."
Jamil Cooks, who was recently named Alcorn State's "male athlete of the week," transferred from the United States Air Force Academy after a court martial found him guilty of "abusive sexual contact" and required him to register as a sex offender. Cooks, who was expelled from the academy, is appealing his conviction, his lawyer said in a statement.
Colby Bruno, an attorney with the Victim Rights Law Center, said turning to legislation, whether created by the NCAA or the federal government, is "a knee-jerk reaction."
"I do think if the NCAA were to create a rule, it is more likely that people would not allow players like this to transfer to their college," Bruno said. "But in life, I don't think we should have to do that. Whether it's the NCAA or actual legislation, I think looking for legislation to fix this just gives us something else to quibble about and it prevents us from looking deeper into this question."
And that question, she said, should be directed at the college: why would an institution knowingly allow "someone proven to be dangerous" to enroll?
"In sports there seems to be this idea that you have to find a balance between morality and talent," Bruno said. "We have to have this scale tip toward the morality side, otherwise what you're looking at is a known assumption of risk and a giant liability."
The university said in a statement that "the safety and well-being of all Alcorn State University students is the top priority for our university," and that it was in "full compliance" with the federal Clery Act. Cooks and his conviction can be found on the university's website if a student knows where to look. In a section of the campus police department's page, he's listed with four other registered sex offenders who live on or near campus.
Alcorn State may meet the disclosure requirements of Clery, but Erin Buzuvis, director of the Center for Gender & Sexuality Studies and a law professor at Western New England University, said the university "could be sitting on a ticking time bomb of Title IX liability." Simply recruiting an athlete who is known to have committed sexual misconduct is not a violation of Title IX, Buzuvis said, but not doing anything to mitigate the risks that athlete may pose to other students could be. About 90 percent of campus sexual assaults are committed by repeat offenders, according to a study authored by clinical psychologist and forensic consultant David Lisak.
If another student is assaulted by such an athlete, Buzuvis said, the university would likely find itself on the losing end of a Title IX lawsuit. In 2007, a lawsuit filed by a former student at the University of Georgia ended in a six-figure settlement. The plaintiff was raped by a football player who had been previously dismissed from a community college after sexually assaulting two women there.
"Maybe if the university had subjected this athlete to some extra supervision, or made him go through sexual assault prevention training, or put him on some kind of probation, those are things that at least arguably address the risk in some way," Buzuvis said.  "If Alcorn State is doing any of these things, they would at least have a defense if someone is later assaulted and sues the school. A court would have to decide whether those steps are sufficient in light of the risk."
That's a risk any university must deal with when it actively recruits and enrolls a student accused of sexual assault, let alone one who was actually convicted, but it is a risk that some colleges are more than willing to take.
Earlier this year, Brandon Austin, a student suspended from the University of Oregon for up to 10 years after allegedly assaulting a student there, transferred to Northwest Florida State College to play basketball. He had already been accused of sexual assault at Providence College before transferring to Oregon.
In 2009, the Arizona Board of Regents agreed to pay a former Arizona State University student $850,000 after she was raped by a football player the university had previously expelled for groping, threatening, and exposing himself to women. He returned to campus at the request of a coach, and then raped the female student in her dorm room.
Last year, a football player was suspended from Vanderbilt University for allegedly raping a female student, only to transfer to another college. That player, Jaborian "Tip" McKenzie, is now one of Cooks's teammates at Alcorn State. McKenzie has been charged with five counts of aggravated rape and two counts of sexual battery, but has not yet stood trial. A hearing is scheduled for November.
Mark Nagel, a professor of sports and entertainment management at the University of South Carolina, said as more colleges recruit students accused or convicted of sexual crimes, the NCAA may feel more pressure to get involved. The association tries to shy away from issues of "crime and punishment" or other aspects of college sports that don't have a direct impact on fairness and competitive advantages, Nagel said, but its intervention in the child abuse scandal at Pennsylvania State University demonstrates the NCAA is willing to cross that line if there's enough public pressure.
"The NCAA will always engage in an area they don't have a full-blown right to if they feel it's critical to do from a public relations standpoint," he said. "I think the more of these situations we see, the greater the need the NCAA will feel to get involved and formalize some sort of process dealing with this."
The NCAA is facing pressure to do something about how its member universities handle cases of sexual assault involving athletes. A report released in July by Senator Claire McCaskill stated that more than 20 percent of institutions allow their athletic departments to oversee sexual assault cases. McCaskill called the finding "borderline outrageous," and in a previously scheduled Senate hearing that week she prodded Mark Emmert, the president of the NCAA, into promising he would raise the issue with member institutions' leadership. In August, the NCAA released new guidelines – not rules – for how college sports programs should deal with sexual assault.
Dionne Koller, director of the Center of Sport and Law at the University of Baltimore, said if the NCAA were to change their stance and create rules about allowing convicted criminals to participate in NCAA sports, the legislation would have to be more nuanced than its rules that bar convicted felons from coaching. Those rules, which have been the subject of multiple law suits, place violent and nonviolent criminals into the same box.
"The decision to allow someone with a criminal background to enroll is a highly individualized inquiry," Koller said. "I do think it would be possible for the NCAA to find that balance, but it would be a difficult territory to navigate. Colleges already have this sort of discretion, so I'm not sure I'd lay all of this at the door of the NCAA. We need to seek more accountability from our universities."