You have /5 articles left.
Sign up for a free account or log in.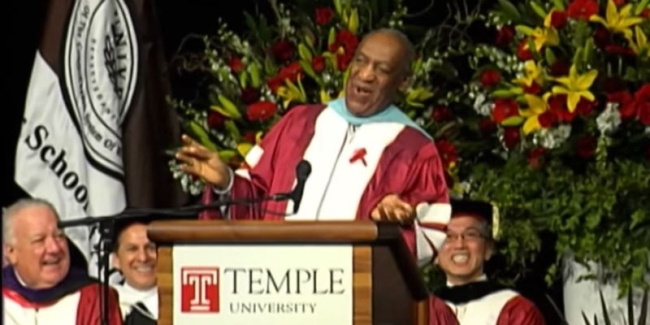 At least one college is distancing itself from Bill Cosby, the once-family-friendly comedian who has been accused of sexual assault by more than a dozen women.
Cosby's involvement in higher education is extensive. He has been among the most prominent and generous donors to historically black colleges, especially with a $20 million donation to Spelman College. He was leading the capital campaign at Lincoln University of Pennsylvania until a few months ago.
Cosby has also been a trustee at his alma mater, Temple University, since 1982. 
That's where Cosby met one of his accusers, the former director of operations for the Temple women's basketball team. Cosby settled a civil lawsuit brought by the woman, Andrea Constand, after she accused Cosby of drugging her and then sexually assaulting her in January 2004.
Her lawyer told a judge that 13 women were prepared to testify about similar incidents of sexual assault involving Cosby.
Cosby was attempting to resurge as an entertainer when old allegations gained new traction and new allegations of older incidents became public, including one by model Janice Dickinson, who accused him of sexually assaulting her in 1982.
In an unusual retrospective remark, a former prosecutor has since said he believes Cosby did something "inappropriate" to Constand, even though the prosecutor didn't bring charges at the time.
Temple is standing behind Cosby. "Dr. Cosby continues to be a member of the Temple University Board of Trustees," a Temple spokesman said in a statement.
Cosby has previously denied Constand's and others' accusations. His lawyer said recently that "decade-old, discredited allegations have resurfaced," but their being now repeated "does not make them true." At least one new alleged victim has come forward in recent days, putting Cosby's total number of accusers at 15, including more than a half-dozen whose names are public.
A new biography of Cosby was just released. NBC, which aired his long-running, immensely popular "The Cosby Show," was planning a new series with him. Netflix was set to post a Cosby special.
The author of the biography has been questioned over its failure to mention the longstanding allegations against Cosby. NBC canceled production of the new Cosby project. Netflix postponed releasing the special. Even TV Land, the channel that shows reruns of classic television shows, stopped airing the original "Cosby Show."
The Berklee College of Music is following the lead of those companies in distancing itself from Cosby. The college named a scholarship for Cosby after he appeared several years ago at its 60th anniversary bash; on Wednesday, it decided to take his name off the scholarship, said Berklee spokesman Allen Bush.
Bush said college officials should be aware of the perception that campuses are unsafe – even if that isn't true for their particular college – and that awareness should include partnerships and how they are perceived by students.
Another college, High Point University, announced a temporary shift on its ties to Cosby, who had been named to its National Board of Advisors in July. The university removed his name and photograph from the webpage of board members, and a spokeswoman told the Associated Press that "we are removing his name from our board of advisors until all information on this matter is available." When High Point named Cosby to the board in July, the university's announcement hailed him as "one of the most influential performers of our time."
Cosby's most important contributions to higher education may be at historically black colleges – which Berklee and Temple are not – and those colleges are, so far, sticking with Cosby or at least declining to say they are not.
In 1988, Cosby gave $20 million to Spelman College, the women's college in Georgia, which is the largest donation ever made to a historically black college by an African American. Endowed chairs and a building are named after Cosby and his wife. Cosby even filmed part of a short-lived TV show at Spelman.
Spelman said Thursday it had no comment.
Cosby was also leading the capital campaign at Lincoln University of Pennsylvania. The university's president has recently come under fire for being dismissive of female students' rape accusations. A video on Lincoln's homepage that featured Cosby was apparently removed in recent days.
Lincoln representatives said Cosby's relationship with the university had ended this summer, as planned.
The university said Cosby was recruited to be part of the first phase of its "Student First" capital campaign. That started in summer 2013 and ended this June, though Cosby performed at a July concert to mark the end of that phase.
"Mr. Cosby has no current association with the University's Student First campaign," the university said in a statement.
Johnny Taylor, the president of the Thurgood Marshall College Fund, which represents public HBCUs, said neither he nor the organization's members were preparing to back away from Cosby without independent evidence of Cosby's guilt or a verdict. Last year, Cosby hosted a black-tie gala for the Thurgood Marshall College Fund.
Taylor said he had been at Lincoln on Thursday and spoken with some male students who were concerned they could be wrongly accused and the entire world could turn on them without evidence.
"We just don't have the basis to know if this is true or not," Taylor said of the allegations against Cosby. "And thus it would be horribly unfair to turn on someone who has been very generous with his time and his money based purely upon accusations that are, at this point, unfounded."
If independent evidence emerged that proved Cosby's guilt, Taylor said, "we absolutely would not condone that behavior and we would have to officially take a different position."
On the historically black college scene, Cosby is a major presence: he speaks frequently at campus events and helps with fund-raising. At a Tuskegee University last year, donors paid $5,000 or $10,000 to speak with Cosby and get a souvenir photo.
When Norman Francis of Xavier University of Louisiana announced his retirement in early September, Cosby called him. Francis got off another call with a reporter to speak with Cosby.
Xavier and Tuskegee did not respond to requests for comment.
Cosby is also still expected to be the speaker at a fund-raising dinner Dec. 5 for Freed-Hardeman University, a Christian institution in Tennessee. The university's website says of its speaker that Cosby is "one of the most influential performers of the last half-century."
Berklee's decision to take Cosby's name off one of its scholarships was first reported by the International Business Times.