You have /5 articles left.
Sign up for a free account or log in.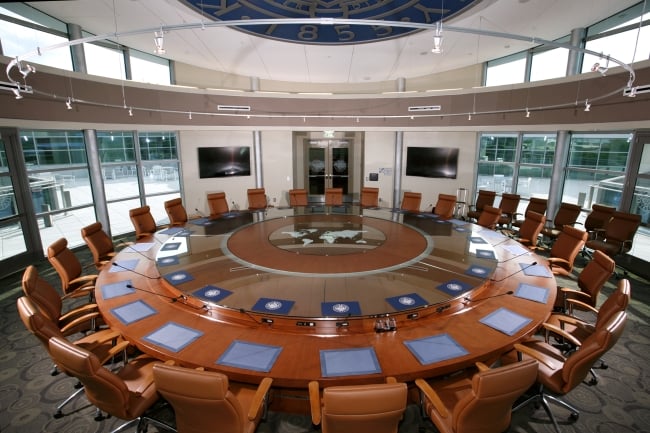 Kean University has been put on the defensive in the last week by the news that the university spent $219,000 on a conference table (without bids). Critics were frustrated not only by the expense but by the reaction of President Dawood Farahi, who told NorthJersey.com that it was "small minded" to question the expense and who said, "Why not?" three times, when asked about the purchase.
With legislators and some students demanding answers, the university is providing details.
Philip Connelly, executive vice president of operations at Kean, a public university, sent a letter to students and faculty members late Monday defending the purchase.
He stressed that the table has high-tech qualities and criticized media coverage.
"Recently, there have been reports in the media about Kean University's new conference center, with a specific focus on the center's table without emphasis to the high-tech electronics that were included in the purchase price. As an important member of the Kean community, we want to provide you with specific examples of how this new center with its equipment-filled table will be an asset to our institution and ultimately benefit our students," he wrote. "Functioning as a piece of high-tech equipment rather than a static furniture item, the 22-foot, circular, mixed-media conference center includes an intelligent conferencing system with the ability to connect people at up to 25 locations around the world for remote conference calls and to record meetings. The center's table reflects the artistry and history of the region where our China campus, Wenzhou-Kean University, is located."
Other reasons he cited:
"President Farahi's Vision 2020 outlines our strategic plan to provide a global experience to our students, and the conference center supports some of the plan's goals. For example, through the new conference center, our student leaders in Union [New Jersey] can have regularly scheduled meetings with student leaders at Kean Ocean and Wenzhou Kean University in China."
"Faculty can lead students in special class discussions in the neighboring interconnected room while listening and watching public proceedings with policy experts being held in the conference center."
"Students' exposure to world-class meeting spaces that include cutting-edge technology better positions students for success in today's corporate marketplace."
Also this week, the leader of Kean's student government issued a letter backing the purchase. "Much has also been made of President Farahi's 'why not?' comment," wrote Gerard E. Smithwrick, president of the Student Organization of Kean University. "All of us who know and work with President Farahi are sure there was more to the sentence he offered. In fact, his reaction is in line with many of the discussions he has had over the years with students. Why not provide Kean students with the very best spaces, places and equipment needed to learn and succeed in today's economy? Are Kean students any less deserving than students at other colleges? The answer is simple: we're not."
It is unclear whether these defenses will work. Farahi has had strong backing from his board, but also has faced numerous controversies. For years, faculty members have charged that he is focused more on the appearance of the campus than on learning (charges he dismisses as unfair, although he has acknowledged caring about how Kean looks). In 2012, his board backed him after finding that several of his résumés contained inaccuracies.
While the official student leadership is backing Farahi, other students are pushing a petition that he be fired -- and they cite the table as an illustration of the problem, but not the root ot if.
"[W]e as a student body must be willing to demonstrate that we will no longer put up with President Dahwood Farahi's FAILURE to work for a better education and obsession with costly vanity projects that benefit no one but himself," the petition says. "This is NOT about a table. The story about the table is a story about another instance of big time stealing from Kean's students by the rich and super-rich people who control our school, namely, by the officers and members of the Board of Trustees. Let's make Kean University a school to be proud of!!"
In addition, new details continue to leak out about the table, which was not subject to a competitive bid process. In the form the university filed to avoid a bidding process, style was cited, not technology. This is an explanation from that form: "In keeping with the university's mission for providing a world-class education and strengthening ties to its Wenzhou-Kean campus, this special conference table will be built for the sixth floor Executive Event Space in the new Green Lane Academic Building and will showcase and highlight the Wenzhou-Kean experience. The conference table matches the characteristic style used in China with a revolving component that permits buffet style presentation in the typical Chinese 'family style,' while permitting work to be done on a second tier of the table. Its unique craftsmanship demonstrates an appreciation of and deference to the design aesthetic of our Chinese partners."