You have /5 articles left.
Sign up for a free account or log in.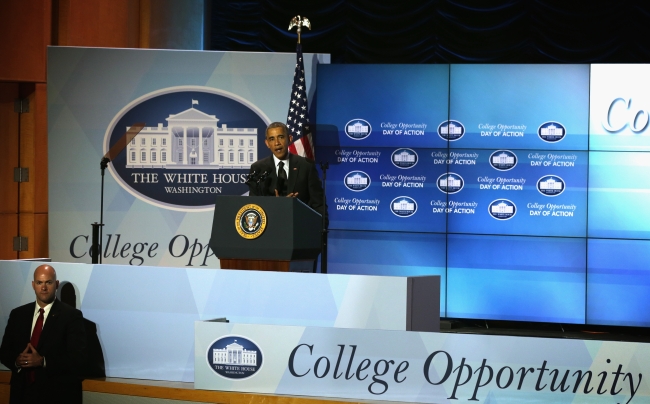 WASHINGTON -- The second White House college summit held Thursday was bigger and focused on a broader range of institutions than the inaugural January event.
And it also, in part, more vividly illustrated what seems to be an ongoing tension of the Obama administration's higher agenda: how to promote the value and importance of colleges while also seeking to hold institutions more accountable, especially for their tuition prices. 
The contrast in tone between separate speeches on Thursday by President Obama and Vice President Biden underscored the balancing act for an administration that has sought to both cheerlead successes and innovations in higher education and clamp down on rising tuition prices -- approaches that tend to draw opposite reactions from college leaders.
The Summit on 'This Week'
Our weekly news podcast, "This Week @ Inside Higher Ed," will feature a discussion of the summit with Gail Mellow, president of LaGuardia Community College. Click here to receive email notification of this and other podcasts.
Although Obama's remarks referenced a growing "frustration" with rising tuition, his speech was largely geared at making the case for why boosting college completion is crucial both for enhancing the nation's global competitiveness and pushing individual families into the middle class.
Obama praised the hundreds of commitments that the White House published from colleges and university leaders, philanthropists, business leaders and nonprofit organizations.
He noted that the two summits have yielded promises of change and progress  without the need for "a single piece of legislation" or "a single new stream of funding."
"There's a lot that you and I can do together even if Congress doesn't act," Obama told the college presidents.
In his speech, meanwhile, Biden took college presidents to task for rising tuition, criticizing some university expenditures.
"It seems to me -- and you're going to be angry with me, you college presidents -- you got to do something about escalating costs," he said. "I understand the problem, and I'm not talking about salaries. I'm talking about spending another $180,000 putting new boxes up at the football stadium."
"The president is much more polite than I am," Biden joked. "But all kidding aside: You got to do something."
He continued to push the college cost issue, telling the presidents: "On another occasion, I'd like to speak to you more about this."
"If I announce what I'd speak to you about, you probably won't show up but I'd like to talk to you about it," he said to some laughter.
Biden's remarks were a contrast to a daylong summit that was otherwise focused on cheerleading effective innovations in higher education -- and talking about ways to scale them -- as well as promoting more seamless pathways between secondary education and colleges and universities. First Lady Michelle Obama spoke about the need to reduce the inequality in college advising between low-income students and their wealthy peers.
To be sure, outside of the summits, the Obama administration has pursued policies seeking greater accountability for colleges as a way to combat the rising costs that Biden railed against Thursday. The president has twice used his State of the Union address, for instance, to advocate for policies that would punish colleges that don't do a good job of keeping down rising tuition.
Unmentioned, though, in both Thursday's summit and the previous event in January, was a discussion of the administration's policy efforts aimed at holding colleges more accountable for their outcomes and prices. To that end, the Education Department plans to release in the next week or two its college ratings system.
Those ratings seem certain to reignite a new round of criticism -- and debate -- over the role the Obama administration wants to play in higher education. But on Thursday, college leaders said they were largely happy with the Presidents Obama's role as a convener of higher education.
Freeman A. Hrabowski, president of the University of Maryland-Baltimore County, who was on a panel on innovation at the summit, said the event served as an important moment of self-reflection for colleges and universities.
"We need to understand who else is doing what," he said. "What do we do well? What can we do better? And how might we think different?"
M. Peter McPherson, who attended the summit as president of the Association of Public and Land-grant Universities, praised the administration for winning commitments from hundreds of colleges but said the next step should be to channel those pledges toward an overarching college completion goal. 
"It's been my observation that big institutions, countries, organizations need stated goals that can be measured," McPherson said. "It's my hope that the administration will emphasize a big completion goal, an umbrella under which these commitments and others could fit."
More from Learning & Assessment