You have /5 articles left.
Sign up for a free account or log in.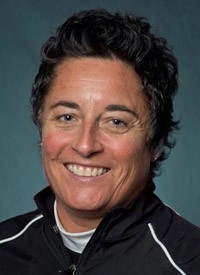 University of Minnesota at Duluth
In her 16 years as the head women's hockey coach at the University of Minnesota at Duluth, Shannon Miller has won five national championships. Miller, a former coach for the Canadian Olympic team, is the fourth winningest college women's hockey coach in Division I.
She's also the highest paid – a factor that has helped cut short her career in Duluth.
Last month, Miller's $215,000 contract wasn't renewed, with the university saying a shrinking budget no longer allows for such a salary. But, with the men's hockey coach still employed and earning about $20,000 per year more than Miller, some are asking whether the firing was based on her gender as much as her salary. (The recent firing of a field hockey coach at the University of Iowa has inspired a similar conversation there.)
"Coach Miller was a highly successful coach who has graduated her players, earned the respect of her community and peers, and hasn't gotten in any trouble or in a scandal," Nicole LaVoi, associate director of the University of Minnesota's Tucker Center for Research on Girls and Women In Sport, said. "I have never in my career in studying women coaches ever heard of a coach like that not being retained because they were being paid too much. It's kind of a game-changer."
That's not to say gender inequity in college coaching is a new phenomenon. In the last four decades, the percentage of women's teams being coached by women has fallen from 90 percent to 40. The massive drop in the percentage of women coaches happened while the number of female college athletes soared 500 percent, thanks to Title IX of the Education Amendments of 1972. Sixty percent of women's teams are now coached by men.  About 3 percent of men's teams are coached by women.
Title IX has helped give female athletes more equal footing on campus, but it also made coaching women a more lucrative job prospect, said Kristine Newhall, a sports management lecturer at the University of Massachusetts. The change attracted more men to the job.
"There's a disparity, but it used to be that you couldn't even make a living at it," Newhall said. "Now, you can make a living at it, and sometimes a really good living. On top of that, women were running women's athletic departments before Title IX. After Title IX, those departments were merged and leadership was handed over nearly entirely to men. Men tend to hire men."
The decline in women's share of coaching jobs has slowed in recent years, though not reversed. From 1996 to 2013, according to the National Collegiate Athletic Association, the number of women coaching women's teams dropped from 43 percent to 40. In the same time period, female assistant coaches in Division I women's basketball have fallen from 79 percent to 65. Less than 13 percent of women's hockey programs are coached by women.
This means that when a female coach in any sport is out of a job, LaVoi said, it's increasingly difficult for her to find a new job, especially when a coach has been working as long as Miller has.
"If a female coach of a certain age, meaning maybe 45 years old or older, is fired, the data seems to say that she's less likely to be rehired than her male colleagues," LaVoi said. "When men are in their 50s, they're considered to be in their coaching prime. They're thought of as knowledgeable and competent and can reenter the coaching carousel pretty quickly. That's not true for women at that age, who are thought of as past their prime."
It also sends a troubling message to women who have not yet entered coaching, LaVoi said.
"It has a potential to be a precedent-setter in that it communicates to women coaches that you can be really good and respected by your community and your peers, but that is not good enough," she said. "It says, 'Not only will we not pay you what you're worth, but your job might be in jeopardy.' It's a really dangerous precedent."
Minnesota-Duluth is currently facing a $5 million deficit across the institution, but critics point out that there are ways to save money without getting rid of the women's hockey coach and her staff. With expenses totaling $2.02 million, the men's hockey program outspent the women's program this year by nearly $500,000, according to numbers provided by the university.
Chuck Tombarge, a spokesman for the University of Minnesota at Duluth, said that while Miller's salary was a key consideration, there were other factors that went into the decision not to renew the coach's contract, including "the direction of the program." Miller was not offered a pay cut, Tombarge said, because "a pay cut alone would not have addressed all of the considerations" involved in the decision. Miller's team won 12 of its last 13 games, but it hasn't made the NCAA tournament since 2011.
"Per UMD's current practice, when any coach's current contract is up, the athletic director closely evaluates overall program and quality success," he said. "This will include the UMD men's hockey coach's contract when it is up in 2017. UMD values diversity in coaching and will work to recruit qualified and diverse candidates for this position."
In a statement earlier this month, Josh Berlo, the university's athletic director, called Miller's departure a "financially driven" decision, adding that UMD is "not in a position to sustain the current salary levels of our women's hockey coaching staff." Newhall called the justification "weak," saying it's "not hard to see that firing a female coach under the guise of being paid too much where there are other, less successful coaches who are paid more" is gender discrimination.
Mark Nagel, a professor of sports and entertainment management at the University of South Carolina, said a contract not being renewed because a college can no longer afford to pay a coach's salary is "very rare." Whether the gender disparity makes it illegal or not is a more complicated question.
The gap in men's and women's coaches' pay doesn't often fall under the Equal Pay Act of 1963, because the disparity tends to happen no matter which gender is coaching women. At the University of Minnesota's Twin Cities campus, the men's hockey coach earns $320,000 a year, while the women's coach earns about $150,000. Both coaches are men. It's less about the gender of the coach, and more about the gender of who is being coached and whether the coach has turned the sport into a revenue-generator.
"Revenue sports are looked at differently than all other sports because of the extra pressure," Nagel said. "There's often more of a need to win. There's more media attention."
The argument for paying coaches of men's teams more than coaches of women's teams then suggests that the Equal Pay Act is not applicable because you're comparing two different jobs. In a northern state like Minnesota, hockey may qualify. The men's hockey team brings in more revenue than any other sport at Minnesota-Duluth, according to the university, earning $2.37 million this year in ticket sales and sponsorships. The women's team has earned less than $90,000, while its expenses totaled $1.59 million.
Using Title IX to challenge salary disparities -- or an even more dramatic case like Miller's -- would also likely be a challenge, Newhall said.
"You don't have to pay coaches the same, but you do have to provide comparable resources and quality of coaching to both men and women," she said. "The way Title IX has been interpreted as it applies to coaches has been a part of this broader umbrella. If you're Alabama and you're paying Nick Saban millions of dollars because he's arguably in the highest tier of coaching caliber and thus allowing the quality of his experiences to benefit 100 male athletes, you have to have quality coaches from that same tier in their prospective sports that can benefit 100 female athletes."
Newhall said she would like to see Title IX used to address a broader range of gender inequity on college campuses -- and for institutions to begin considering male and female coaches as they do male and female professors, meaning how much revenue their work generates is beside the point -- but few are willing to risk finding a new job by challenging a former employer in court. For the most part, Nagel said, universities and their employees have just accepted that revenue sports get treated differently from non-revenue sports, which tend to be the ones with women athletes and coaches.
"It's hard to say if this was some blatant Title IX violation," he said, "because if that's the case then almost every college at every level is violating Title IX."