You have /5 articles left.
Sign up for a free account or log in.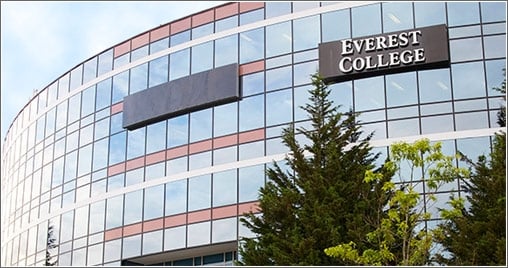 A student loan guaranty agency finalized its purchase of roughly half of the for-profit Corinthian Colleges chain this week. And the announcement included new, student-centric concessions that earned praise from federal agencies and some consumer groups.
Corinthian sold 53 of its Everest and WyoTech campuses and online programs to the Zenith Education Group, a new subsidiary of the ECMC Group. The nonprofit will pay $24 million for the campuses, which enroll about 33,000 students.
The sale included the forgiveness of $480 million in loans Corinthian students took out from a controversial private lending program the company created. Zenith will also drop a Corinthian requirement that students pursue arbitration before suing over complaints.
"We're confident students will be safeguarded by the strong and bold commitments Zenith has made," said Ted Mitchell, the U.S. undersecretary of education, in a written statement.
Corinthian collapsed last June, after the U.S. Department of Education froze its access to federal financial aid for 21 days. The company faced a wide range of financial and legal problems, including a lawsuit the Consumer Financial Protection Bureau (CFPB) filed over its private loan program.
ECMC will provide various supports to keep the rest of Corinthian afloat for the next year, according to a "transition services agreement" the for-profit chain announced on Tuesday. For an estimated fee of $3 million per month, Corinthian will receive loan-default prevention services, human-resources help, accreditation services and some marketing and student recruiting from the guaranty agency.
In addition, ECMC is managing the gradual closure of 12 campuses it did not buy, as the two sides has previously reported.
David Hawn, ECMC's president and CEO, said in an interview that the nonprofit does not plan to buy any more of Corinthian.
The debt-reduction plan drew the most attention on Tuesday. In its lawsuit, the CFPB alleged that the company's Genesis loan program was a predatory lending scheme that used deceptive information about students' job prospects and then illegally harassed borrowers for payments.
Under ECMC's purchase agreement, current and former Corinthian students will see an immediate 40 percent reduction in their private loan debt, Hawn said. The guarantor is spending $7.5 million up front on the loan forgiveness, according to a Corinthian corporate filing, and likely more as part of an additional $17.25 million payment to the Education Department during the next seven years. (Student debt often can be purchased for a small fraction of the principle.)
Hawn said ECMC negotiated for months with federal regulators over the proposed purchase. And even though he said ECMC had no responsibility for the loan program, it remained a major stumbling block.
The guarantor sought a release from legal liability for Genesis. But the CFPB would only grant that immunity if ECMC agreed to help students who were saddled with debt because of the lending program, the bureau said Tuesday in a written statement.
ECMC pursued and eventually got a good deal to forgive the debt, Hawn said. "We can and want to do that," he said, because it's a "major relief for students."
Feds Weigh In
The CFPB applauded the final sale's terms, taking credit for securing the $480 million in debt forgiveness. The agency also cited Zenith's promise not to offer its own private student loans for a period of seven years.
The new Zenith, which will be the largest nonprofit chain of career colleges, will cut tuition by 20 percent for all Everest students who enroll this week and beyond. And current Everest students who continue and complete their programs will be eligible for a 20 percent "graduation scholarship," which would help them repay loans.
In addition, Zenith said it would focus on job placement and transparency, aided in part by its hiring of a Chicago-based law firm as an independent monitor.
In a news release on the deal it helped broker, the Education Department cited several improvements that Zenith had promised. They include voluntarily complying with the department's gainful employment rules and offering roughly 40 percent of the students Zenith is absorbing the choice of a full refund or a voucher to transfer to another program in the chain.
"We recognize the hard work that thousands of students have undertaken to improve their lives and we want to do whatever we can to make sure those efforts don't go to waste," said Mitchell. "That's why the department has kept students' best interests at heart in every decision made about Corinthian."
While they were less positive than Mitchell, several consumer advocates praised the revised deal. But quibbles remain, including a continued Corinthian ban on students' ability to join class-action lawsuits.
Higher Ed, Not Debt, a coalition of groups and unions that focuses on student loan issues, had been among the loudest of critics of the Corinthian sale. The group previously challenged ECMC for allegedly being too aggressive in chasing down student borrowers. Critics of the sale also said Corinthian students should be able to get refunds and loan discharges rather than being part of the purchase, an argument several U.S. Senate Democrats also made.
"It is clear that ECMC and the Department of Education responded to students' call to improve the terms of the sale," Maggie Thompson, the campaign's manager, said in a written statement. "We are pleased that the CFPB secured $480 million in debt forgiveness for students that were victims of Corinthian, but disappointed that ECMC insisted on banning students' rights to class action."
Likewise, Pauline Abernathy, vice president of the Institute for College Access & Success, in a written statement praised the "significant new debt relief" for students as well as fraud protections. But she noted that Corinthian students still hold debt from taking out federal loans.
"While far better than what was announced in November, we continue to have grave concerns about this deal," she said.
Three Campuses to Go
The sale had been scheduled to close last month. Its postponement led to speculation of a collapse, but ECMC and Corinthian had insisted that the remaining hurdles were surmountable.
Three campuses that were part of the original sale proposal remain in limbo. Hawn said he is hopeful that those locations, including two in the Phoenix area and one in Rochester, N.Y., would soon join Zenith.
The Everest campuses in Phoenix are the only Corinthian institutions to hold regional accreditation, which generally is considered to be more prestigious than national accreditation. Hawn said the campuses' accreditor, which is the Higher Learning Commission, has a "very deliberative process" for approving a change of ownership.
The holdup in Rochester is due to the ongoing approval process by that state's regulator agency. Hawn said it is a "near certainty" that the campus's sale will eventually go through.
Some consumer advocates praised ECMC for dropping Corinthian's mandatory arbitration clause. Without it, students have more avenues for taking their complaints about Zenith to court.
Hawn said the guarantor made that decision after looking at "best practices" by other nonprofit college operators. "We really believe that students should have a right to seek redress."
Neither ECMC nor the new Zenith has experience running a college, a fact that has drawn complaints from student groups and Senate Democrats. Hawn has promised that the nonprofit will bring in accomplished academic administrators.
On Tuesday Zenith announced the first of those senior hires. Troy A. Stovall is the chain's new interim president. Stovall was previously Howard University's executive vice president and chief operating officer. He is also the former senior vice president of finance and operations for Jackson State University.
"I've seen firsthand how a quality education can transform the lives of students by providing an open door to opportunity and another sturdy rung in the ladder of upward mobility," Stovall said in a written statement. "While we have significant work ahead of us, that is and will remain our north star as we transform these schools."
More from For-Profit Colleges