You have /5 articles left.
Sign up for a free account or log in.
This year's freshmen traded some of the hours they would normally have spent hanging out with friends or partying during their senior year in high school for time on social media, a survey of those students shows.
Rather than conclude the freshmen entering college today are more introverted than past cohorts, the 2014 Freshman Survey, conducted by researchers at the University of California at Los Angeles's Higher Education Research Institute, suggests the findings raise new questions about how students interact with their peers -- and how they view those interactions themselves.
Read our full coverage on the 2014 Freshman Survey
here
.
During their senior year of high school, only 18 percent of surveyed students spent more than 16 hours a week with friends, while 38.8 percent said they socialized for fewer than 5 hours. In 1987, those figures were reversed.
The students also arrived at college woefully underprepared to party. Since 1987, the number of students who spent less than one hour a week partying has more than doubled, from 24.3 percent to 61.4 percent, while the share of students who spent six or more hours a week has dropped from 34.5 percent to 8.6 percent. Nearly half of the students, or 41.3 percent, said they didn't party during their senior year.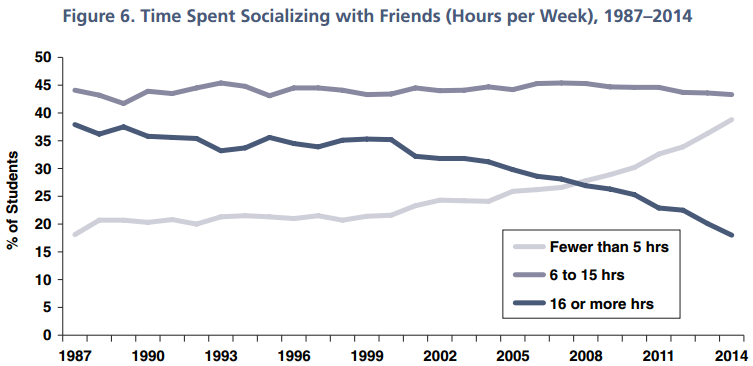 At least part of the time not spent partying or hanging out with friends in person went toward social media use, according to the report. The institute first began asking students about social media use in 2007, when fewer than one in every five students, or 18.9 percent, spent more than six hours a week on social networks. Now, 27.2 percent of students say they do.
The cohort also included fewer casual social media users. In 2007, almost one-third of students, or 31.9 percent, said they only logged in to social networks for less than an hour a week, compared to 21.7 percent who said the same this year.
"It's fair to assume that for some significant portion of kids, time spent on social media is replacing time spent hanging out with friends," said Victor Schwartz, medical director at the Jed Foundation, which works to prevent suicide among college students. "Most of us would argue that texting or e-mailing a friend is not the same quality of interaction as being in a club, or on a team, or just hanging out, but it's more complicated than that. They're still connecting, but it's happening through a device."
While their need for face-to-face socialization has dropped, students value the social activities offered by colleges more today than they did in the 1980s. More surveyed students (42.8 percent) said a college's reputation for social activities was a more important factor in their decision-making process than a campus visit (42.4 percent), the size of the institution (36.6 percent) or its graduation rate (31.1 percent), for example.
"Even though socializing with friends has declined, students increasingly value institutional social offerings and environments during the college choice process," the researchers write. "This may indicate that students are increasingly looking to institutions to provide social opportunities given their declining experience with less structured forms of socializing."
Jake New contributed to this article.