You have /5 articles left.
Sign up for a free account or log in.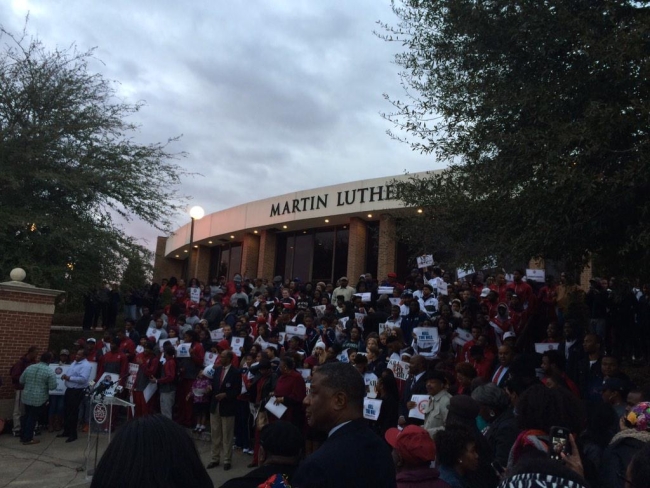 A legislative panel in South Carolina stunned and angered supporters of South Carolina State University Tuesday by passing a measure that would shut the institution down for two years.
While the measure is far from law, its approval by the House of Representatives subcommittee that oversees state appropriations for higher education sparked protests by supporters of the institution. Talk of a two-year suspension could discourage enrollments and create additional financial problems for the university, which even its supporters acknowledge is facing severe financial challenges. The university has had large deficits and has been losing students for years. As a historically black university, its supporters argue, South Carolina State is an essential part of efforts to provide an education for all citizens in the state, not just those students sought out by larger institutions.
Legislators said that closing South Carolina State for the next two academic years would provide a "clean slate" for the institution. The State reported that the measure would fire all trustees, administrators and faculty members in July.
Students currently enrolled would be offered scholarships to enroll at other public institutions in the state or at other historically black colleges. South Carolina State is the only four-year public historically black institution in the state.
The legislators who are pushing for the two-year closure cited the millions of dollars in deficits (that the state would pay off under the plan), falling enrollment and low graduation rates. According to U.S. Education Department data, 14 percent of students graduate within four years of enrolling, and the six-year rate is 36 percent.
The State quoted State Representative Jim Merrill as saying, "We are looking at a bankrupt institution. No one takes any pleasure in recommending this."
Legislators called the university shortly after the panel approved the measure. Supporters of the university said that they feared any closure would effectively kill the institution.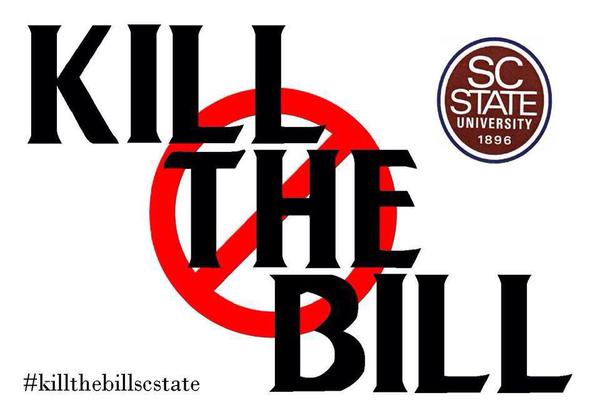 President Thomas J. Elzey immediately went to Columbia to see legislators. Upon returning to campus, he gave a speech before students and others holding signs that read "Kill the Bill" (the slogan of social media campaigns that were quickly started on behalf of the university).
"News of this proviso has sent shock waves throughout this university community. It has incited worry and panic among our students, their parents, faculty, staff, alumni and our supporters everywhere," Elzey said. "I want to make one thing clear. S.C. State will not close. I did not come to this university to serve as its president for us to fail, and our board has made the same commitment. This university has had its share of challenges. These problems did not happen overnight and it is unrealistic for anyone to expect that they will go away overnight."
Elzey has been president since 2013, and the problems at the university predate his arrival.
Many of those in South Carolina and elsewhere who are defending South Carolina State are acknowledging that the institution has significant problems. But many argue that solutions shouldn't hurt the current students, who didn't create the problems.
Some supporters of historically black colleges were Tuesday night circulating a Facebook post by Marybeth Gasman, director of the University of Pennsylvania Center for Minority-Serving Institutions. "SCSU has been in turmoil for years now and is carrying significant debt. It has also suffered through some rough leadership (some that has been recycled elsewhere) that has left it in sad shape. It has made many poor decisions and has mishandled finances. But, as we critique, it's important to always keep in mind the context and history," she wrote. She noted that state leaders select trustees and said that "South Carolina has starved the institution for funding since its creation."
Added Gasman: "SCSU is located at the site of the Orangeburg Massacre in a town that remains segregated even today. Still, struggling HBCUs have to do better and have to communicate widely when they do. The stakes are too high. These are Black lives and they matter!"