You have /5 articles left.
Sign up for a free account or log in.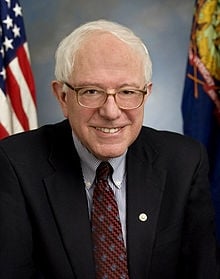 WASHINGTON -- Senator Bernie Sanders is calling for a massive boost in federal higher education spending that would cut college tuition at public colleges and universities in half. 
"We need a revolution in the way higher education is funded," Sanders, an independent from Vermont, was to say in a speech Thursday night at the University of Iowa, according to prepared remarks provided by his office. 
Sanders's plan calls for the federal government to give $18 billion a year in dollar-for-dollar matching grants to states, which he says would allow them to slash public college tuition by 55 percent. He said this would apply to students at all public universities and colleges, effectively offering two free years to everyone, not just those at community colleges, like President Obama's plan.
Although he did not outline how to pay for the plan, Sanders noted that the $18 billion is just a fraction of the increase in defense spending that Obama proposed this year. 
His proposal stands virtually no chance in Congress, but represents the most ambitious higher education plan so far from a potential 2016 presidential contender. 
Sanders also echoed a proposal by Senate Democrats to allow existing student loan borrowers to refinance their debt at lower interest rates. That bill, which failed to clear the Senate last summer, was spearheaded by Senator Elizabeth Warren, who has been outspoken on student debt issues. 
"We must restructure out student loan programs to take the profits out of our system and return them to borrowers in the form of loan forgiveness and lower interest rates," Sanders said. 
Former Secretary of State Hillary Clinton, the Democrats' leading 2016 candidate, has also spoken about student debt issues, though in far less detail. Last month she backed President Obama's free community college proposal. 
In the potential Republican 2016 field, meanwhile, Wisconsin Governor Scott Walker appears to be taking an opposite track when it comes to higher education issues. He is proposing to cut the budgets of public universities and had initially sought to refocus their mission from the pursuit of truth to "workforce needs" before quickly backing away amid backlash. 
Senator Marco Rubio of Florida, another possible Republican candidate, has called for an overhaul of higher education accreditation and allowing students to fund college through private "income share agreements."