You have /5 articles left.
Sign up for a free account or log in.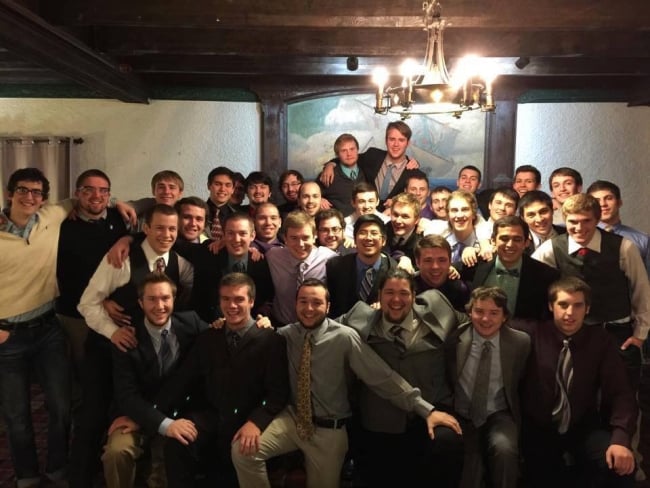 Tensions between University of Idaho administrators, a fraternity and the chapter's alumni have ended with the university's dean of students suddenly announcing his resignation after less than three months on the job. Just prior to the announcement, sanctions brought against the fraternity over hazing allegations were dropped.
"I no longer believe this is an environment where I can work on issues of student safety," Craig Chatriand, the dean of students, said. "The safety of our students is the primary concern of the dean of students office, and not being able to address concerns through our already established policies and agreements takes away the effectiveness of what this office can do."
In the last year, several colleges and universities have made serious attempts to rein in negative fraternity behavior. Punishing fraternities can be a messy process, however, placing student affairs employees in the crosshairs of Greek organizations and their powerful alumni. In some cases, to lose such a battle also means it's time to find a new job.
In September, Clemson University suspended all fraternity activity after a sophomore fell from a bridge to his death during what his parents believe to have been a hazing ritual. Just before winter break, the official who pushed for that decision, Gail DiSabatino, the university's well-respected vice president of student affairs, was suddenly replaced without explanation. In response to her departure, fraternity members on campus sang, "Ding dong! The witch is dead."
When Clemson previously discussed a ban of fraternity and sorority social activities in 2010, Greek alumni e-mailed the university saying such a suspension would jeopardize donations to the university. Some faculty and students had speculated that similar threats had been made leading to DiSabatino's departure, but Robin Denny, Clemson's director of media relations, said those comments were "unfortunate and uninformed." Greek alumni at Idaho have made similar threats over recent proposals to require first-year students to live in residence halls rather than Greek houses.
Kevin Kruger, president of NASPA: Student Affairs Administrators in Higher Education, said making these kinds of unpopular decisions puts student affairs employees "right in the firing line."
"No one's out to get fraternities, but administrators are doing what they think is best for students," Kruger said. "There continues to increasingly be very low tolerance for chapters that aren't able to conform to policy. At the same time, you're absolutely going to get phone calls from alumni. It's a very politicized environment. My hope is that campuses are doing the right thing for students and not bending to the interest of a single group of alumni who may be opposed."
Katherine Aiken, the University of Idaho's provost and vice president, said the university does not place alumni interests ahead of the safety of students.
"Our biggest concern is the welfare of the students," Aiken said. "That's uppermost in our mind. I think the Greek community shares that commitment to that welfare and development. I think we are all in agreement that this is a place where the safety of students is of paramount importance."
With houses that are privately owned and located off campus, Idaho fraternities, like many across the country, are notoriously difficult to police. One university official described them as "holding tremendous power," and they have experienced a number of tragedies, controversies and lawsuits in recent years.
Within weeks of each other in 2009, two students were seriously injured in falls from upper-story fraternity windows. It happened again at another Idaho fraternity in 2011, and again in 2012.  A student celebrating his 21st birthday in 2010 took at least 15 shots in less than 3 hours and died of alcohol poisoning in his fraternity house. In 2013, a freshman wandered away from a fraternity party and froze to death under a bridge. Later that year, a University of Idaho student was sentenced to 15 years in prison for raping another student in the bushes behind a fraternity house as a party continued inside.
In February, the dean of students' office found the fraternity Phi Gamma Delta to be in violation of the university's hazing polices.The fraternity quickly agreed to accept the sanctions proposed by the office. As part of the agreement, freshman members were no longer allowed to live in the house and the chapter was put on probation for three years.
At Idaho, Greek organizations accused of violating university rules have the choice of having their case heard by the Greek Community Standards Board or simply having the dean of students decide the sanctions. Phi Gamma Delta originally agreed to the latter, but the fraternity later changed its mind and asked instead for the case to be heard by the Greek Community Standards Board -- a panel that is comprised nearly entirely of Greek students and alumni.
The standards board rarely decides cases as serious as hazing, university officials said, but after fraternity members said they thought the original process was unfair, Phi Gamma Delta was allowed to withdraw its acceptance of the sanctions. There are no rules saying hazing allegations cannot be handled by the board.
That decision also came after the provost's office received several phone calls and e-mails from the chapter's alumni. Aiken said the original investigation into the allegations still stands, but the Greek Community Standards Board will use that investigation to "make recommendations about what they think transpired" and what the appropriate sanctions are.
She said she disagreed with the suggestion that fraternity alumni directly influenced the decision.
"The University of Idaho has a long history of a vibrant Greek community," Aiken said. "We are always interested in what our alumni are thinking and are open to them providing input on any topic, but ultimately the university is responsible for student welfare, not alumni. The University of Idaho would not allow any alumni to unduly influence any decision it makes."
John Bradbury, a lawyer for the fraternity, also denied that the fraternity's alumni had any outsize influence on how the university will sanction the chapter. Instead, Bradbury said, the alumni just conveyed that they thought the case should have been handled by the Greek Community Standards Board from the start. "The alumni don't run the university; the rules run the university," Bradbury said. "[Chatriand] explained that he didn't think he was able to fulfill his job. We didn't think he fulfilled his job as it should have been fulfilled, either."
On social media this week, other students and alumni reacted to the news with surprise and disappointment. While Chatriand had only been dean of students since January, he had worked at the University of Idaho for five years.
"I suspect his decision to leave wasn't easy and, was one he felt was morally right," one recent graduate wrote on Facebook. "I actually question why the administration didn't back him or support his opinion. I worry that the next dean of students will follow the direction of the administration with no question. After all, it is a 'good old boys' club.'"