You have /5 articles left.
Sign up for a free account or log in.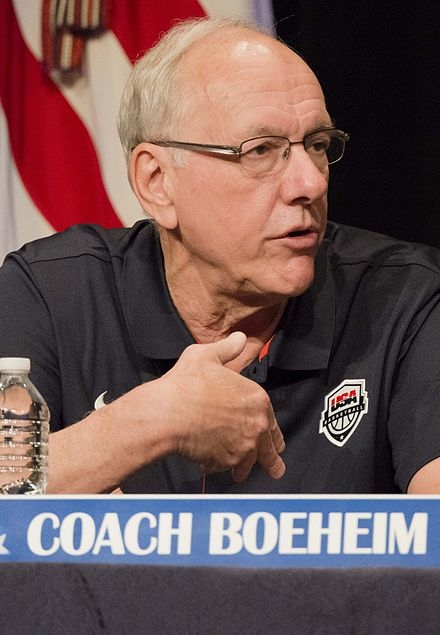 In 2005, following a season of poor academic performance from his players, Syracuse University's head basketball coach, Jim Boeheim, hired a new director of basketball operations and gave him an imperative: "fix" the academic problems of his athletes.
The director's solution, according to the National Collegiate Athletic Association, was for athletics staff members to access and monitor the e-mail accounts of several players, communicate directly with faculty members as if they were the athletes, and then complete coursework for them. In one case, an athlete had his eligibility restored by turning in a paper to raise a grade he had earned the previous year. The paper was written by the director and a basketball facility receptionist.
This sort of fraud had lasted more than half a decade at Syracuse, finally coming to light after a lengthy series of investigations by the university and the N.C.A.A. On Friday, the N.C.A.A. announced a number of sanctions against Syracuse, including vacating more than 100 of Boeheim's wins and suspending him for 9 conference games next season. "Over the course of a decade, Syracuse University did not control and monitor its athletics programs," the N.C.A.A. said in a statement. "And its head men's basketball coach failed to monitor his program."
The decision comes at a time when the N.C.A.A. is under increasing pressure to improve the academic integrity of big-time college sports. The association is currently investigating more than 20 institutions for academic misconduct, including the University of North Carolina, where some university employees knowingly steered about 1,500 athletes toward no-show courses that never met and were not taught by any faculty members, and where the only work required was a single research paper that received a high grade no matter the content.
During a press call Friday, Britton Banowsky, chief hearing officer and commissioner of Conference USA, said while the N.C.A.A. is attempting to be proactive, it still believes the onus for investigating cases of academic fraud should be on the institution. At the same time, Banowsky said, the sheer length of Syracuse's investigation -- eight years -- does raise questions about how such probes are handled. The incident could lead to new rules that would bar investigations from dragging on for "an extremely excessive time," he said.
"As we have to sit back and wait for this to be self-reported, it is unacceptable for our membership to have cases go on this long," Banowsky said. "Our first step is to be deferential to the university system, but ultimately we had a situation where the desire to achieve success on the basketball court overrides the academic integrity. It really demonstrated some clearly misplaced priorities, and that's where the N.C.A.A. process comes in. I think you'll see over the next several months a more focused dialogue about where those lines are drawn."
In a series of statements released by administrators Friday, Syracuse admitted the investigation was too lengthy, saying it may in fact be the longest infractions investigation ever and that the blame is on both the university and the N.C.A.A. The university, which self-reported many of the violations, disagreed with several of the association's other assertions, however, in particular that Boeheim was responsible for his staff's actions, saying that their actions were "done in secret."
Boeheim, a revered and larger-than-life figure at Syracuse who has had a decades-long career coaching the university's storied basketball team, is expected to appeal the sanctions. Boeheim skipped his postgame press conference on Friday, what would have been the last of the season, saying in a statement that he was considering his "options moving forward."
Syracuse said that it would support the coach if he chooses to appeal. "Coach Boeheim has demonstrated that he is a person of character," the university stated in a seven-page response to the N.C.A.A.'s report. "He is a coach who expects excellence and integrity, both on and off the basketball court. The university believes the N.C.A.A. was wrong to find that he failed in his responsibilities."
During the press call Friday, Banowsky reiterated that the N.C.A.A. views the coach -- and the university -- as culpable. Boeheim hired the director of basketball operations to be his "academic point man," making him responsible for the director's actions, Banowsky said. The N.C.A.A. also faulted Boeheim and Syracuse for fostering an environment in which staff members who were aware of the fraud were too afraid to say anything.
The director of student-athlete support services, who suspected the misconduct, told the N.C.A.A. that he did nothing because he sensed that "men's basketball might have a 'little bit of special treatment,'" the association wrote in its report. "He acknowledged that he believed the director of basketball operations was behind the fact that a former academic support employee had been 'pushed out' after 20 years of service, and as a new employee, was mindful of that event."
Rick Burton, a professor of sports management at Syracuse and the university's faculty athletics representative to the N.C.A.A., said in an email that he disagreed with the assertion that the campus climate dissuades university employees from reporting violations.  
"I have been a faculty member here since 2009 and the faculty athletics representative for the past nine months," Burton said. "I have not seen or heard anyone express that feeling. I can say no one at the university should be hesitant to report academic integrity issues involving any student or any other issue related to N.C.A.A. guidelines."
The violations, which began in 2001, were not just isolated to academic fraud among men's basketball players. A significant portion of the report focused on the cozy relationship between the basketball and football programs and a booster who worked at the local Y.M.C.A. The booster provided more than $8,000 in cash to three football players and two men's basketball players for "volunteering" at the club. He gave money to basketball staff members, as well, for appearances at the Y.M.C.A.
The report also stated that Syracuse did not follow its own written policies for players who tested positive for drug use, allowing athletes to immediately return to practice and competition after failing drug tests. While the N.C.A.A. does not have rules regarding banned substances, it requires that programs follow their own policy if they have one in place. Syracuse's policy states that players who fail a drug test cannot participate in athletics until after their parents are notified. If they fail a second drug test, they cannot play until after a counselor declares the student is no longer using the banned substances. From 2005 to 2007, a part-time tutor lied about three football players having completed the required number of hours for an internship.  
In addition to Boeheim's coaching ban and the vacated wins, the N.C.A.A. also placed Syracuse on 5 years' probation, fined the university $500 for every contest played by the eligible students, reduced the basketball program's scholarships by 12, vacated a handful of football wins and demanded that the university return the funds it received for appearances in 3 years of the N.C.A.A. men's basketball tournament, which would amount to at least $1 million.
Syracuse had already self-imposed a number of other penalties, including banning itself from participating in this year's postseason. While the penalties are among the harshest ever doled out by the N.C.A.A. -- Boeheim's vacated wins are among the most ever confiscated from a basketball program -- the punishment could have been much worse. "Because the violations straddled the implementation of the new penalty structure applied in August 2013, the panel used the former, more lenient penalty structure," the N.C.A.A. noted. The new structure would have required that Boeheim sit out at least half of an entire season.
Gerald Gurney, president of the Drake Group, a faculty organization concerned with the role of academics in college athletics, said that the sanctions are too light, and that they will do little to deter others from attempting similar acts of academic fraud. He said that Syracuse's continued backing of Boeheim, like the University of North Carolina's backing of its coaching staff, points to a trend of head coaches "largely getting away" with creating the environment that leads to fraud.
"Large-scale academic fraud is more typical across the country that it was in the past among big-time programs," Gurney said. "This is yet another example of widespread, long-term patterns of deliberate efforts to keep athletes eligible at any cost, and Syracuse and the head coach got off rather lightly over very serious academic issues. Academic fraud is the most serious issue the N.C.A.A. should be dealing with because it gets at the very reason for their existence."