You have /5 articles left.
Sign up for a free account or log in.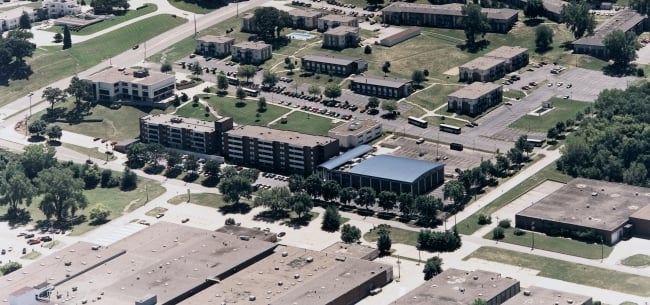 Leaders at the AIB College of Business in Iowa took a look at the future of their small private college and decided to shut down and donate the campus to the University of Iowa.
AIB's decision, made back in January, is similar in some respects to one made a few weeks later by leaders at Sweet Briar College, a 700-student women's college in rural Virginia, that announced it plans to close this year.
At AIB, officials figured they would close down before they were forced out of business.
President Nancy Williams, whose grandfather founded AIB and whose father was also president, said she and the college's trustees looked around at other private colleges and AIB's own condition. They decided they wanted to end things on their own terms. Notes taken during the meeting -- which were leaked to a local TV station -- give insight into that decision.
Officials explored options to keep AIB open, but some of the possible Band-Aids included a 15 percent tuition increase for incoming students and going deeper into debt.
Neither seemed appealing, particularly taking on debt in an effort to stay alive.
The AIB trustees also talked about President Obama's plan to offer free community college: AIB competes with Des Moines Area Community College. And while Williams said AIB is the least expensive private college in the state, it can't beat free.
So Williams decided to approach Sally Mason, president of the University of Iowa.
"That's the one school that is going to be forever here," William said.
Williams offered Mason the AIB campus just outside of downtown Des Moines, which is about two hours away from the University of Iowa's main campus in Iowa City.
AIB has about $1.5 million in debt, but a $6.7 million endowment that it can use to pay back the bank. Williams said if AIB were in serious debt, it might not be able to give itself away.
"It would not be good to be going out of business and selling things piecemeal to pay debts," Williams said. "That would be the last thing our board would want to do."
Other private colleges in Iowa have run into trouble with their debt.
AIB's history is unusual. It's an undergraduate business school founded in 1921 that became a nonprofit in 1941 and focused on secretarial, accounting and business administration courses in its early years. It didn't offer four-year degrees until 2007. In an effort that boosted enrollment, it restarted its sports program that same year, after 50 years without an athletic program. Now, about a third of its 1,000 students play sports.
Williams said other Iowa private colleges have specific roles that AIB doesn't. Some are among the biggest employers in their towns -- if the college went, so might the town. Some colleges are also supported by religious institutions.
Yet Williams said she and trustees asked themselves, "What is really the best thing? Is there really a need for that many schools in Iowa?" And they concluded no, at least not for AIB.
The deal has hit some bumps. First of all, it does not appear AIB or the University of Iowa gave anybody much of a heads-up -- so everybody from students to accreditors has been asking questions about the plan.
Originally, Mason and Williams styled the Des Moines campus as "University of Iowa, Des Moines Campus." Now, the campus is expected to be shared with Iowa's two other public universities, Iowa State University and the University of Northern Iowa.
The University of Iowa could certainly have used the campus to itself: last year, the state Board of Regents decided to revamp how it distributes money to the three universities. The funding formula put a huge emphasis on in-state student head count, a provision aimed at University of Iowa, which has been accused of turning its back on Iowans and admitting too many out-of-state students.
In order to avoid losing millions of dollars because of the new formula, the University of Iowa blitzed the state with a heavy marketing and recruitment effort for next fall's class. The more in-state students it gets, the less money it stands to lose because of the new funding model.
University of Iowa officials said they are not accepting the AIB gift because they need more in-state students, though they do note the Des Moines area is growing -- unlike other parts of Iowa.
Williams said she heard Mason talk during a Rotary club meeting about stepping up recruiting in Des Moines. So Williams figured Mason might stand to benefit from a whole campus in the city.
When Mason and Williams announced the deal in January, Mason was asked if the students would count as University of Iowa students for the purposes of the formula.
"If they are Iowa students, I would presume they would count," she replied.
Originally, there seemed to be the suggestion that AIB and University of Iowa students would share the campus starting this fall. That will not happen -- it seems that AIB and the University of Iowa's accreditor, the Higher Learning Commission, was unhappy with the plan -- and the three state universities won't be able to use the AIB campus until AIB shuts down next year.
Williams estimates about 557 of her roughly 1,000 students will graduate from AIB this summer or next. The rest, including many of AIB's 317 student-athletes, will transfer to other colleges. All sports programs will end this year.
Gary Steinke, president of the Iowa Private College Association, has been critical of the deal. He said neither AIB or the University of Iowa really thought through what the deal would do to students, some of whom were recruited to play sports at AIB but now can't, or who came to AIB for a degree they can't finish before the college shuts down.
He has especially sharp words for the University of Iowa, which he said had been attempting to grab up students to satisfy the in-state funding formula. Because of the changes that happened after the deal was originally announced, the university is now only getting land, but at first it seemed as if it might get students.
"Is it really more important to worry about a funding formula [than] to worry about the herding [of] as many Iowa students as you can?" he said.
Some Iowa private colleges stand to lose students if the University of Iowa enrolls more Iowans -- some have even fretted they will lose so many students they will have to close.
Barry Butler, the University of Iowa's provost, said the deal was "not at all" about the funding formula, though he did note the region is growing economically.
"We're pretty excited about it," he said. "It's a great opportunity for us to respond to the needs of the community, but also to be part of a thriving community."