You have /5 articles left.
Sign up for a free account or log in.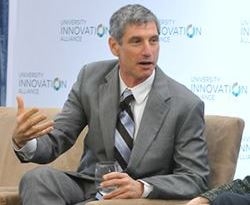 Bill & Melinda Gates Foundation
After spending roughly half a billion dollars on the college completion agenda during the last seven years, the Bill & Melinda Gates Foundation is ready to be more assertive about what it thinks should happen in four key areas of higher education policy.
The foundation lays out what an official there calls its "strategy reboot" in a newly released document. It describes a focus on data and information, finance and financial aid, college readiness, and innovation and scale.
The Gates Agenda
on 'This Week'
The foundation's new approach will be discussed on This Week @
Inside Higher Ed,
our weekly news podcast
.
Click here
to receive an e-mail alert when the podcast is published.
Going forward, the foundation's advocacy will support federal and state policies in those priority areas -- meaning overarching policies rather than specific bills, because charitable organizations face restrictions on lobbying.
First up among the foundation's target areas will be the data piece, which also is likely to garner the most attention.
The goal is to "create a national data infrastructure that enables consistent collection and reporting of key performance metrics for all students in all institutions that are essential for promoting the change needed to reform the higher education system to produce more career-relevant credentials," the foundation said in its strategy paper.
Gates plans to release its new data reporting framework later this year. The foundation will use it to seek improvements to existing federal data sets. On the state level, it will work with state governments on their higher education accountability systems, including performance-based funding formulas.
The foundation has identified 10 states that it will emphasize in this work, most of them with large populations: California, Florida, Georgia, Kentucky, New York, North Carolina, Ohio, Tennessee, Texas and Washington.
In addition, future grantees in higher education will be required to use the metrics, the foundation said. That means measuring how grant money is impacting student outcomes, such as graduation rates.
The shift by Gates isn't an about-face. And the stated priorities will be no surprise to academics who have followed its work in recent years.
The foundation has collected enough evidence with its many grants and experiments in higher education that it has been able to coalesce around "directions worth emphasizing," said Daniel Greenstein, the director of education and postsecondary success in the foundation's U.S. program. "We're articulating a point of view."
Yet while Greenstein argues that the newly stated approach is iterative and an attempt to be transparent about the foundation's evolving views, it's certain to drum up interest in higher education -- some of it critical.
That's partially because Gates is a big fish. The world's largest charitable organization spent $73 million on higher education-related grants in the United States last year. That's less than 0.5 percent of the $150 billion or so the federal government spends. But the money leads to plenty of influence, among both policy makers and college leaders, many of whom are eager to receive grants and might fear pushing back on the foundation's work.
Over the years academics have criticized the foundation for being overly prescriptive. Gates has also taken flak for being bureaucratic and less than coherent with its many initiatives. The news media has amplified those complaints.
Scott L. Thomas has been one of the critics. A professor and dean at Claremont Graduate University's School of Education Studies, Thomas is an expert on the role of Gates Foundation and the Lumina Foundation in higher education. He has researched how such megafoundations can drown out alternative viewpoints.
Thomas, however, likes what Gates is saying about its new strategy, which he calls a tightening of focus. "This is a logical and natural thing for them to be doing," he said.
In addition, Thomas says Gates has done a better job in the last three years of being less ham-handed with its solutions to higher education's problems. They have improved in part by bringing in more voices from the academy, including researchers and faculty members.
"Their agenda has become more sensitive to a variety of expert views," said Thomas.
Another occasional yet nuanced critic of the foundation agreed with Thomas's take. Michael S. McPherson, president of the Spencer Foundation, said Gates has become more responsive to feedback on their education policy work. McPherson said he was cautiously optimistic that the foundation -- and Greenstein -- could succeed with their newly focused approach.
"They're in a good spot to become clearer about where they're pressing without becoming less open-minded," he said.
But it won't be easy, said McPherson, in part because of the foundation's large footprint. "Gates is the only foundation you can see from space."
Policy Opportunities
Gabriella Gomez will play a prominent role in Gates's policy work. Before the foundation hired her last August, Gomez was the assistant secretary for legislation and congressional affairs at the U.S. Department of Education.
"This is about us providing policies based on what we know will provide the greatest leverage for change and in some instances based on what we know works," Gomez said via e-mail.
An early agenda item will be simplification of the Free Application for Federal Student Aid (FAFSA).
Senator Lamar Alexander, the Tennessee Republican who heads the Senate's education committee, has called for a two-question aid application to replace the current, 108-question one. Meanwhile, President Obama has proposed cutting 30 questions from the form.
The Gates Foundation is working with higher education associations to come up with a compromise position, said Greenstein. That could come in the next month or so.
With the FAFSA, the foundation will operate somewhat like it plans to on the forthcoming data system. In recent years Gates has helped fund the creation of a hodgepodge of voluntary accountability systems for colleges and higher education groups to measure student progress and institutional effectiveness.
Notable examples include data projects from Gates-funded groups like Complete College America and Completion by Design, as well as higher education association-created systems such as the Student Achievement Measure, the Voluntary Framework of Accountability and the Voluntary System of Accountability.
It's no easy task to sort through the various data collection projects, which overlap in many ways and differ in others. So the foundation will attempt to cut through the fog by releasing their own metrics framework later this year.
By drawing from the projects it funded, Gates said it will "focus on the data and systems needed to measure institutional performance and progress on access, cost and outcomes."
Greenstein described the foundation's approach as being a "third-party broker." It will draw from existing proposals and solutions, which experts devised, to select an accountability system it likes best.
The impetus for Gates's sharper take on higher education, according to Greenstein, is increasing interest in workforce development and concerns about rising inequity at America's colleges and universities. Both lawmakers and the general public have seized on those issues. And the scrutiny shows no sign of abating before the next presidential election or during the debate over renewing the Higher Education Act, which is the law that governs federal student aid.
"We see a huge opportunity in the political environment," he said.
Readiness, Remediation and Innovation
The foundation's stated focus also is the culmination of work it began around 2012, when Greenstein arrived after a flurry of turnover.
The Reimagining Aid Design and Delivery (RADD) initiative is one of the more prominent foundation projects that hit after Greenstein's arrival. It featured 15 papers on financial aid policy by researchers and advocates, who received $3.3 million in grants. Those papers, which were released in 2013, helped inform the foundation's take on federal and state aid, including how to structure performance-based funding policies.
In recent years the Gates foundation has been active in the discussion of how to improve college remediation success rates, which are disturbingly low. This work is part of the college readiness bucket, which is one of the foundation's four focus areas.
A Gates proxy, Complete College America, which receives a large chunk of its budget from the foundation, has been aggressive on state policies around remediation. Some of its efforts have been controversial, particularly in Connecticut and Florida. But the group has been effective.
The foundation said in the strategy paper that its goal is to reduce students' need to take remedial courses, typically in mathematics and English. It seeks to do that by encouraging states to adopt college readiness definitions that are aligned with the Common Core State Standards (which have become a hotly contested and politicized fight in K-12 circles).
Gates also said it would advocate for change in how colleges place students in remediation, with placement in credit-bearing courses as the default. And the foundation wants to remove policy barriers to what it sees as promising approaches, such as co-requisite models, where remedial students are placed alongside students in credit-bearing courses but receive extra supports.
The fourth emphasis area is the least developed, Greenstein said. That one includes a desire for providers of online and hybrid courses, as well as competency-based programs that do not rely on the credit hour, to have a pathway to access student aid. One example would be through the department's experimental-sites program.
However, the foundation also said it is seeking "relevant quality assurance standards" for those providers.
Finally, Gates wants states to have "simplified, rigorous and consistent requirements for authorizing distance education programs," such as through the State Authorization Reciprocity Agreements. And the foundation is seeking for states to push for "enforceable and comprehensive" transfer and articulation agreements, with a goal of helping students reduce the time and money they spend earning a degree.
The foundation acknowledged it is taking on a big challenge with the more open and aggressive approach it outlined in the paper.
"The priorities and issues outlined here are difficult and complex. They touch fundamental aspects and core values of the existing postsecondary system. Perhaps more significantly, these are areas where there is not universal agreement about the way forward and knowledge about what works is still being gathered," the foundation said. "But the reason we are choosing to tackle them is simple -- postsecondary education can and must live up to its potential as an engine of economic development and social mobility."