You have /5 articles left.
Sign up for a free account or log in.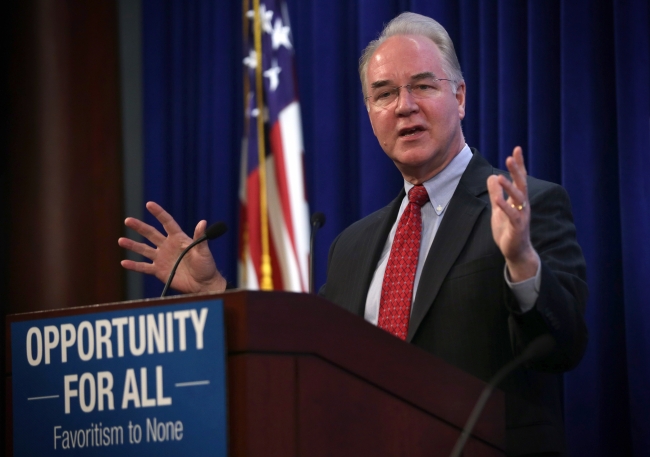 WASHINGTON -- Kicking off what will likely be months of contentious budget battles, Republicans in the U.S. House of Representatives on Tuesday released a 2016 funding blueprint that calls for freezing the maximum Pell Grant award.
The proposal, which was spearheaded by the House budget committee chairman, Representative Tom Price of Georgia, would keep the maximum Pell award at the current $5,775 for the next 10 years.
It is part of an overall plan that seeks deep cuts in domestic spending in order to bring the federal government's expenditures into balance with its revenue over the next decade.
The proposal echoes the budgetary visions of Representative Paul Ryan of Wisconsin, who chaired the House budget committee in the last Congress.
Like Ryan's recommendations in previous years, this year's Republican plan criticizes the expansion of the Pell Grant program under the Obama administration as unsustainable.
Still, the budget outline is more of an ideological statement of priorities than it is a road map to any specific changes to student aid programs.
It calls, for instance, for better targeting of Pell Grants to "students who need the most assistance," but does not suggest how to do that.
Rhetorically, the proposal goes even further than previous Ryan budgets in its skepticism of how Pell Grants are currently awarded.
"Increasing eligibility to those with higher incomes drains resources from those who need the most help," the budget framework says.
Advocates for student financial aid rejected the budget proposal's approach to Pell funding.
"Congress should not balance the federal budget on the backs of students," the Institute for College Access and Success said in a prepared statement. "With higher education more important and harder to afford than ever, we need to do more, not less, to keep college within reach for all students."
Setting Stage for Reconciliation
The budget resolution also includes language that would allow for a parliamentary maneuver known as reconciliation. Republicans included the language in their budget resolution because it would allow them to pass a repeal of President Obama's health care law with just a simple majority in the Senate.
But the mechanism -- which amounts to a procedural shortcut -- could also be used to change other policies, including student aid programs. The budget blueprint calls for a budget reconciliation process that would task the House education committee with finding savings of $1 billion over 10 years from the programs it oversees.
In achieving those savings, lawmakers could change any number of policies affecting higher education. Such was the case in 2010, when Democrats used reconciliation to cut banks out of the federal student lending system.
In recent years, as reconciliation has been used to push through changes to student aid programs, it has at times undercut momentum for reauthorization of the Higher Education Act. Some observers of the process have said that as a result, important changes to higher education policy that can't be achieved through reconciliation (because they don't have a direct budgetary impact) have been left to linger.
The prospect of significant shifts in policy outside of the normal budgeting process worries Justin Draeger, president of the National Association of Student Financial Aid Administrators, who said student aid programs could be "collateral damage" in larger political fights.
The reconciliation process, he said, is an "unpredictable monster whose major focus is producing savings, not good policy making."
Tough Proposal for Research Funding
The framework unveiled Tuesday does not spell out how Republicans would fund academic research. But it does propose slashing the overall pool of funding that Congress allocates each year across domestic programs, including research, by $759 billion over the next decade.
Those cuts would "significantly impede our ability to advance science and combat disease," said United for Medical Research, a coalition of groups that advocate for more federal funding for research.
House lawmakers are expected to vote on the budget outline this week and will likely negotiate government funding over the summer with their Senate colleagues. Senate Republicans are to release their budget blueprint today. Any government funding measure would ultimately have to be approved by the president, who on Tuesday criticized some of the steep domestic-spending cuts in the Republican plan.
The new federal fiscal year begins Oct. 1.