You have /5 articles left.
Sign up for a free account or log in.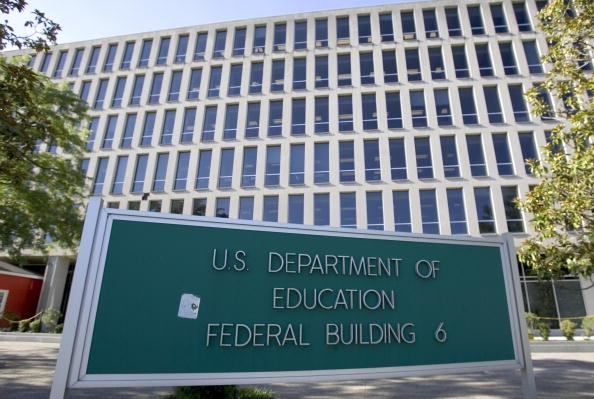 WASHINGTON -- The U.S. Department of Education is so concerned about the risk that dozens of colleges pose to students and taxpayers that it has curtailed access to federal money at those institutions -- but it won't say which ones.
Even as it pushes to make far more information about colleges available to consumers, the department is keeping hidden from public view its decisions to punish certain colleges with funding restrictions known as heightened cash monitoring.
At the end of last October, 76 colleges or universities were subject to the most stringent form of those restrictions, according to the department. Another 455 institutions, as of last August, faced a lower level of scrutiny.
But the department has refused to provide the names of those colleges because of the "competitive injury" it may cause them.
"Given the highly competitive environment in which these institutions conduct business, any public release of the confidential financial standing of these institutions will likely cause the institutions substantial competitive injury," a department official, who declined to be named, wrote in an email to Inside Higher Ed on Tuesday. 
Such reasoning hasn't stopped the department from publishing other information about colleges that might harm their reputation in the interest of protecting students. It annually publishes colleges' financial responsibility scores and an array of other financial and price data. And last year the Obama administration began releasing the names of colleges under investigation for mishandling sexual assault cases.
Denise Horn, a department spokeswoman, said in a statement late Wednesday night that the department was considering releasing the heightened cash monitoring information, after months of requests from Inside Higher Ed.
"Education Department attorneys are reviewing the request for the list of institutions under heightened cash monitoring, and we hope to make a decision on its release soon," she said. "The department is committed to being transparent with data so that institutions are accountable to both students and taxpayers."
The financial sanctions, which have been in the department's arsenal since the mid-1990s, have attracted the most attention in recent years when they have been associated with the downfall of large for-profit colleges. Take, for example, the collapse last year of Corinthian Colleges, or the sudden bankruptcy of Computer Learning Centers in 2001.
But there is far less information available about the relatively smaller, nonprofit and for-profit colleges and universities that the department has placed on heightened cash monitoring in the name of protecting the roughly $150 billion of taxpayer money that flows to institutions each year. That department officials have concerns about those institutions' handling of federal money may foreshadow other problems that impact students or other stakeholders.
Some members of Congress have gone to bat for colleges in their district that are facing heightened cash monitoring. And some colleges -- and the lawyers who represent them -- argue that the sanction is a heavy-handed tool that the department often wields arbitrarily or with little regard for the serious financial problems it can impose on institutions that rely on federal aid for revenue.
A Lack of Transparency
Colleges that are in good standing with the Education Department, which includes the vast majority of them, typically access federal funds through the bureaucratic equivalent of an honor system: they draw down from a federal account the money needed to pay out federal loans and grants to their students.
All colleges are subject to retrospective audits of how they administer those grants and loans. And all colleges are held to a high legal standard of responsibility for properly handling the money.
Some institutions trigger restrictions on their access to federal aid by falling below a certain threshold -- like failing the department's financial health test, for instance. In other cases, though, department regulators at various branch offices across the country may decide they need to more closely scrutinize the federal aid flowing to a college.  
The Education Department has, according to its own rules, the "sole discretion" to decide how easy or difficult it should be for a college to get access to federal student aid money.
How the department exercises that power, though, has been largely shrouded in secrecy.  
The department last summer denied a request by Inside Higher Ed for the names of colleges that have been sanctioned, saying that it "does not retain a list of schools on HCM1 and HCM2," using the abbreviation for heightened cash monitoring, levels 1 and 2. (Inside Higher Ed's appeal of that decision has been pending since November.)
However, a department official said in an email this week that it "is not accurate to state that the Department does not have a listing of all institutions currently subjected to heightened cash monitoring 1 and 2."
Department staff previously provided a list to Congressional investigators that showed which colleges were sanctioned between 2008 and 2012, according to Melissa Emrey-Arras, who oversees education issues at the Government Accountability Office. The G.A.O. used heightened cash monitoring as an indicator of a college's financial health for a study that examined whether sanctions imposed by accreditors correlated with actual problems at a college.
Use on Campuses
In the absence of much official information from the department about which colleges are subject to heightened cash monitoring, the penalty is discussed and communicated very differently across different campuses.
Martin University, for instance, put out a news release last year touting that it was "awarded the highest rating by the U.S. Department of Education" for handling student aid funds, which it described as "an important recognition of Martin's fiscal integrity and ability to meet the financial needs of our students."
The private nonprofit university in Indiana had been removed from heightened cash monitoring and is now able to access federal funds in the same manner as the vast majority of institutions.
At Mid-Continent University, students were kept in the dark about the department's decision to tighten the university's access to federal funds over concerns that Mid-Continent wasn't following federal student aid rules. The university was unable to properly document any of the federal loans and grants it made to students under the scrutiny of heightened cash monitoring, and it closed 10 months later. Now in bankruptcy, the university is trying to recover that money from students.
The department in January placed St. Catharine College, a private liberal arts institution in Kentucky, on heightened cash monitoring, citing "severe findings" of a department audit of the college's financial aid program. (Inside Higher Ed obtained that information through an open records request to the Kentucky state agency that oversees higher education.)
Officials at the college said they're not sure what those findings entail, but they're not concerned about the college's financial situation.
"We are fine," said Jeremy Pittman, the college's vice president for financial aid and enrollment management. "We don't have concerns over cash flow issues."
Asked whether the college had told students about the sanction, the college's provost, Cindy Gnadinger, said that "it's been communicated to campus."
She said that the administration held a meeting to inform faculty and staff about the sanction. The college has also hired additional staff and changed some of its financial aid policies.
"What [students are] aware of is that we've had changes in our procedures and policies in how we're distributing aid," she said.
Political Involvement
In some cases, members of Congress have involved themselves in how the department imposes heightened cash monitoring.     
After the department imposed the sanction on Bramson ORT College, a nonprofit two-year technical college in New York City, the college was unable to access the aid through the heightened cash monitoring reimbursement process.  
It was so cash-strapped that it was "weeks away from closing," according to the office of Representative Grace Meng, a Democrat who represents the district in Queens where the college is located.
Meng called a meeting with department officials and was able to get the department to release some of the federal aid under heightened cash monitoring. Her office put out a press release saying she had saved the college from shutting down.
Other colleges have also appealed to their members of Congress for relief from the department's financial sanctions.
Jay's Technical Institute, a for-profit cosmetology school in Texas, has appealed to its member of Congress, who forwarded their request to the department. But it has been met with limited success. The institute has remained on the most stringent level of heightened cash monitoring for four years, ever since a department audit uncovered problems with how it was documenting students' eligibility for student aid, according to the school's owner, Ollie J. Hilliard.
Hilliard said she understands the initial purpose of applying more scrutiny to their aid payments after the audit, which also imposed a fine for improperly awarding Pell Grants that the school is still trying to repay to the department.
In the meantime, though, Hilliard said that heightened cash monitoring "seems like it's somewhat punitive."
"It's been a very challenging situation," Hilliard said, noting that it takes about 45 days for federal aid funds to be reimbursed to the school. "We're a small institution."
Separately, the institute was on the verge of losing all of its federal aid last year because its cohort default rate was too high. But the school successfully appealed and no longer faces that threat, Hilliard said.
Arbitrary Penalties?
Aside from the transparency issues, some colleges and other observers of the process said they think the department's use of heightened cash monitoring can be arbitrary or, at least, counterproductive.
A department official rejected that criticism, writing that the decision to place the restrictions on a college's access to aid is based on a "careful assessment of the acceptable level of risk to students and taxpayers."
"Our risk analysis process is not publicly disclosed to protect the sanctity and integrity of [federal student aid] programs," the official added.
Dennis Cariello, a lawyer who represents colleges and previously worked for the department, said that heightened cash monitoring is a "very big hammer" the department has in its toolbox.
Cariello said that the sanction could sometimes exacerbate the problems that the feds are trying to guard against.
"If you have a school that is having financial difficulty so much that the government is worried about the security of federal dollars and they put them on HCM2, it kind of protects new funds," Cariello said. "But it potentially puts the school at greater risk of closing, which can stick taxpayers with an even bigger bill."
More from Financial Health