You have /5 articles left.
Sign up for a free account or log in.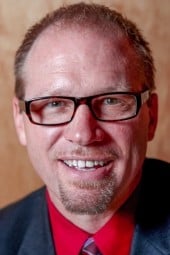 Academics at Christian colleges who believe in evolution (and who believe that doesn't make them any less Christian) have become deeply concerned about the recent move by Northwest Nazarene University to eliminate the job of Thomas Jay Oord, a tenured theologian there.
Oord has written numerous books and articles that (sympathetically) examine the way Christians are able to embrace evolution while maintaining their faith. Oord has drawn attention to the views of many Nazarene scholars and rank-and-file believers who accept evolution, suggesting that there is much to be learned scientifically from sources other than the Bible.
These views appear to contradict Northwest Nazarene's statement of faith, which states: "The Old and New Testament Scriptures, given by plenary inspiration, contain all truth necessary to faith and Christian living." Traditionalist Nazarene blogs have also regularly criticized Oord's work, accusing him of "false teachings" and urging the church's universities to reject "evolution's lies."
The university would not confirm that Oord is losing his job, but did confirm that one theologian and one counseling professor are having their positions eliminated. (UPDATE: The previous sentence has been updated to correct the fields in which professors' jobs are being eliminated.) A spokeswoman for the university said that declining enrollments in theology made it necessary to eliminate two positions, even though Northwest Nazarene is, in her words, "financially strong." Asked if Oord's views on evolution had any role in the decision, she said via email: "The university made these decisions unrelated to performance. Declining student enrollment in the departments affected requires laying off two faculty and four staff members."
Oord referred questions about his employment status to a colleague who he said could speak on his behalf. That colleague said Oord was recently told his job was being eliminated.
As this news has spread among theologians, many have expressed doubt about the university's explanation. They note that Oord had tenure. They note that many religious institutions -- as part of their mission -- have more theology positions than enrollment might dictate to promote the study of their faith. They note that eliminating the jobs of tenured faculty members, without faculty participation, by a college that says it is financially strong violated the norms of tenure.
Two Facebook groups have been created in the last week -- Support Tom Oord and Defending Tom Oord -- to express anger over the elimination of his job. Some comments on the sites say criticism they raised on the university's Facebook page was removed. A spokeswoman for the university said that officials there recently discovered that some posts to its wall are not appearing, and that this is not related to the current controversy.
The Facebook pages supporting Oord feature many statements from colleagues and former students praising Oord as a teacher and a thinker. Many comments talk about how Oord's work made them stronger Christians.
Some have written that they are troubled by the university stating that it eliminates theologians' positions due to enrollment cuts.
"If the religion/theology/graduate program declined even more, would more professors be cut? At what point would we say, 'Despite the finances, we believe that encouraging the formation of Christian ministers is more important than our bottom line. As such, we don't have a problem with letting the financial success of some of our other programs and departments fund the important mission of being what Nazarene schools originally were: those places where people go to further develop in their call as ministers of the gospel,'" said one comment on Facebook.
Similar reaction has just started on the #supporttomoord hashtag on Twitter. Typical tweets are, "Education at the university level should challenge us. What kind of education does #NNU want instead?" and "Apparently love is the unforgivable heresy; and for this I weep. #nnu."
Kevin Timpe, a professor of philosophy at Northwest Nazarene, is the colleague Oord authorized to speak on his situation. Timpe said via email that many professors feel that what has happened to Oord -- a professor with prominent publications, a public and scholarly following, and success at landing grants -- means that no one is secure.
"Yesterday, I heard a 20-plus-year faculty [member] express the worry that 'our tenure is now meaningless.' Many faculty worry that similar measures could be taken against them in the future," said Timpe.