You have /5 articles left.
Sign up for a free account or log in.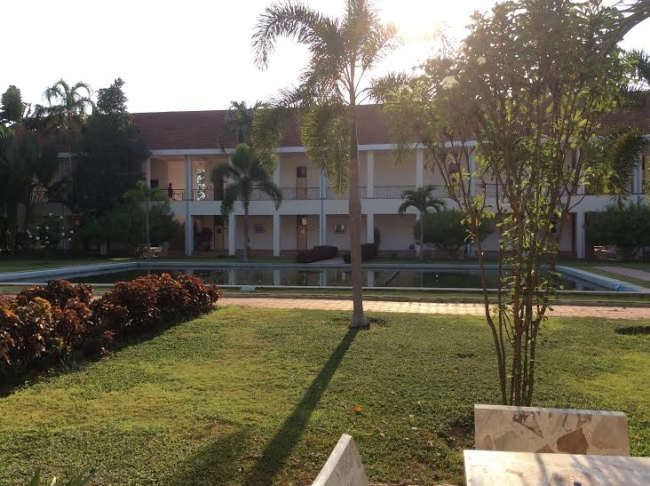 After a student at Webster University's campus in Thailand died in a motorcycle accident last spring, fellow students organized a memorial service at which they released candlelit kites. A palm tree caught fire. 
"I ran to the tree and called upon students to find firefighting equipment," Michael Erickson, an English professor at Webster's St. Louis campus who was in Thailand on a temporary teaching assignment, wrote in a letter to his dean last May. "All we could find was a garden hose. While students tried to douse the fire, I ran in search of more hoses, ladders or any other firefighting equipment. Nothing! Because the fire was in the crown of the palm, our hose was not quite long enough. A student climbed on top of another student's shoulders to shoot the water high enough. This worked."
Erickson's letter continued, "If the tree next to this one had caught fire, the west wing of W.U.T. [Webster University Thailand] would certainly have caught fire."
"At one point," Erickson wrote, "I turned around to look for others to help." He did not see any administrators or other faculty on the scene.
The tale is not merely metaphorical. Some former faculty and current and former students at Webster's campus in Thailand have been yelling that their school is (figuratively) on fire for nearly five years now, to little effect.
A Diverse and Global University
Webster, a private, not-for-profit institution based in St. Louis, markets itself as "a truly global university," with a network of overseas campuses serving local students in seven countries, as well as dozens of off-campus locations at military bases and in metropolitan areas throughout the United States. With "traditional, American-style" (and American-accredited) campuses in Austria, Britain, China, Ghana, the Netherlands, Switzerland and Thailand, Webster purports to be "one of the most diverse and global universities in the world." 
Its campus in Thailand, however, has long been troubled, as internal university memos and accounts from many former instructors and staff, as well as students, make clear. 
The allegations are wide-ranging, and include concerns about issues of academic rigor, student health and safety, student services, the condition of physical facilities, faculty and staff turnover, and reported fears of retribution against those who dare to challenge the administration. Some former faculty have also raised questions about the allocation of resources -- specifically the use of Webster funds to pay tuition for the rector, academic director and financial controller to pursue doctoral degrees in Europe when needs on the Thailand campus seem so pressing. Critics see this perk as illustrative of an administrative clique running the Thailand campus for their own personal benefit, while the university counters that these payments are part of a tuition remission program that seven other Webster Thailand faculty members have also utilized (citing employee privacy, the university declined to provide further substantiating details).
A student letter submitted to the provost's office last week decried what it called the "blatant misuse of our tuition" and called for a change in the top administration in Thailand. Some students and former faculty have variously accused administrators in Thailand of mismanagement and authoritarianism, and those at the main Webster campus in St. Louis of a combination of neglect and complicity.
A History of Reported Problems
The reported problems in Thailand are not new. In 2010, Webster Thailand student council members reported to St. Louis that they felt personally threatened by the rector, Ratish Thakur, after he allegedly made statements to them about corruption and the ease of hiring contract killers in Thailand in response to their push to change the shuttle bus company the university then used.
"There is corruption on campus, moderate and significant. You take away one contract and someone gets shot," Thakur allegedly told the group of students, adding that the province that Webster Thailand is located in has the highest number of hit men in Thailand and that the highway running by the campus is rumored to be a particularly prime contract-killing location.
"Director Thakur closed this topic of the conversation with the following statement: 'I do not want students to get shot, please talk quietly [about corruption],'" student council leaders wrote in a signed Nov. 22, 2010, account they sent to the dean of the College of Arts and Sciences in St. Louis, David Wilson. The letter, signed by nine students, states that they "unanimously" took the rector's comments as threats made to intimidate them prior to Wilson's planned visit to the Thailand campus. (One of the signatories recently reached by Inside Higher Ed said he didn't personally find the comments threatening but added, "I could totally understand if it was the case because of the way he was communicating it to us.")
This was not the only such incident alleged. The then student body president, Andrea Eickelmann, wrote letters to Wilson reporting that the rector had made comments that she interpreted as threatening about corruption and the ubiquity of violence in Thailand on three separate occasions: in the student council meeting, as well as in two private meetings, including one in which Thakur allegedly pointed his hand in the shape of a gun at a fellow student's head. 
Wilson rang a fire alarm. In a Dec. 9, 2010, memo from Wilson to Webster Provost Julian Z. Schuster obtained by Inside Higher Ed, the dean described a number of "extremely serious problems" at the Thailand campus, including the bullying of students by Thakur and "nonexistent" academic freedom, adding, "Many faculty are fearful that expressions of dissent will result in their contracts not being renewed." While noting that there were some courses of high academic quality, Wilson's memo also described a "a disturbing lack of academic rigor" at the campus and a paucity of student life programs and staff.
Wilson's letter cited an attached memo from the then associate dean, Sarita Cargas. In Cargas's memo, she provided details on academic problems at Webster Thailand, including that "little homework was assigned," that students were "skipping class with impunity" and that there was a "lack of [text]books." (Erickson's memo, written three and a half years later, would likewise raise each of those issues.)
Cargas also expressed concerns about drinking at university events, two student deaths in motorcycle crashes and the use of drugs and prostitutes by some students. "Whether prostitution is more culturally acceptable in Thailand or not is irrelevant," Cargas wrote in the memo, which was based on conversations with 13 students as well as the contents of a student blog.
Wilson's memo to the provost recommended the "consideration" of Thakur's dismissal. Thakur remains the rector today.
Thakur declined to be interviewed for this article. Speaking on behalf of the university, Provost Schuster said the alleged threats against students in 2010 were "duly investigated" and nothing was found to substantiate them. When pressed on whether the signed student accounts provide some substantiation, Schuster said he was satisfied that no harm was implied toward the students but that there may have been a communication breakdown. "I am not going to go into any of the specifics, but if the administration had handled a certain issue in a suboptimal way, that has been brought to the administration's attention in Thailand," Schuster said.
More generally in regard to the wide range of concerns at the Webster Thailand campus that Inside Higher Ed asked about, Schuster said he is anticipating the results of a nine-month internal review of the campus, a process that the university has described both as "standard operating procedure" and as the first in a series of planned reviews for all of Webster's international campuses. Schuster said the campus review committee's findings, due any day now, will be made public.
'An American University in Name Only'
Webster's main undergraduate campus in Thailand is located in rural Cha-Am, a 30-minute bus ride away from the resort beach town of Hua Hin, where students live (in addition to the Cha-Am campus, the university has a newly relocated academic center with undergraduate and master's programs in downtown Bangkok). The complaints about Webster's approximately 400-student campus here in Thailand come at a time when many American universities are using a variety of models to create global footprints -- and are finding themselves accused in some cases of ignoring the treatment of local workers or principles of academic freedom. Increasingly, faculty and other critics are questioning whether American colleges can truly assure quality and American higher education standards thousands of miles away from their main campuses.
The bolded subheads from Webster St. Louis English professor Michael Erickson's 21-page letter last May about the university's Thailand campus touch on problems related to academics ("Academic standards and quality control are not much in evidence"); admissions ("Low-scoring E.S.L. students are recruited and not supported"); faculty morale ("Faculty firings and turnover have destroyed academic integrity and cohesion in programs"); finances ("Very questionable financial practices at all levels, especially in student accounts"); student well-being and reports of violence against students ("Health and safety issues are present on campus and in housing"); and student services and academic support ("The normal infrastructure of an American liberal arts, residential university has been gutted to save money at W.U.T. A partial list of what's missing").
Erickson's list of infrastructure problems include "an embarrassingly poor library," little equipment for the media department, few student clubs or activities, no career services office or programs "to speak of," no counseling services, no writing center or academic tutors, no "functional" athletic field or gym, and no faculty senate or similar governance body.
"W.U.T. is an American university in name only," Erickson wrote, adding that the top administrators there "do not know what a real American university education consists of, and have no interest in finding out." He questioned whether any of them went to a "real American university in the first place." 
The online faculty catalogue for Webster states that Thakur earned his B.S. from the University of Delhi, in India, and his M.B.A. at Southeastern University. The media relations office at Webster would not specify the location of the latter institution: more than one university has gone by the Southeastern name, including a Southeastern in Washington, D.C., that closed after it lost its accreditation in 2009. Webster Thailand's interim academic director, Nisha Ray Chaudhuri, has a B.A. and an M.B.A. from Stamford International University, a private institution with campuses in Bangkok and Hua Hin. She recently completed her D.B.A. at Grenoble Ecole de Management, a French business school, with Webster support.
In an interview, Provost Schuster acknowledged a need to improve the facilities and student services on the Thailand campus, though he rejected any suggestion that "we have nickeled-and-dimed on any of our campuses, including Thailand."  
"In my meetings with the members of the [Thailand campus review] task force as well as the feedback that we have received from various constituencies, the issue of facilities and the issue of student services did emerge as something that we need to address in the near future," Schuster said. "I'm not going to go into the details of what is missing and what is not missing, because there is a long history of that. Certainly, we know that the facilities in Thailand might not be at the level we would like them to be."
Yet it is not merely the quality of the infrastructure and the robust provision of student services that makes an American university an American one. "The administrators don't understand American academic standards, American right to freedom of speech and academic freedom," charged Dario Navarro, a lawyer who briefly taught business courses at Webster Thailand last fall before departing under terms he claimed as constructive dismissal (a legal term for when intolerable working conditions effectively force an employee out). 
Navarro is one of a number of ex-employees who have alleged retaliatory or arbitrary treatment. These employees variously describe firings (or nonrenewals of their one-year contracts) without reason or recourse, the seemingly arbitrary or selective enforcement of policies, and the targeting of perceived troublemakers among the faculty ranks. In Navarro's case, he said he was harassed and retaliated against after reporting problems at the Thailand campus -- including issues regarding educational quality and "faculty salaries so low as to be unsustainable" -- to the university's director of internal audit in St. Louis. (Webster's media relations office declined to comment on Navarro's or any of the other specific personnel cases raised in this article.)
After he left, Navarro wrote a series of letters to Webster administrators in St. Louis in which he conveyed concerns specific to his case and the conduct of Webster Thailand's outside lawyer as well as recommendations for resolving what he described as a "severe administrative crisis" at the campus. He subsequently received an email from Webster Thailand's lawyer warning him of the possibility of arrest and a criminal lawsuit if he were to continue making "false, destructive and defamatory" statements about individuals at Webster Thailand and its law firm.
In other words, a lawyer for an American university overseas threatened a former employee of that university with criminal (as opposed to civil) charges in response to alleged defamation. Libel is a criminal offense in Thailand, which, in general, has much sharper controls on speech than the U.S. What freedoms existed in Thailand have been curtailed since last May's military takeover: the pro-democracy organization Freedom House reduced its characterization of Thailand's status from "partly free" to "not free" following the coup. 
"Here you are in a country that's just had a military dictatorship come into power," said Navarro. "You're 10,000 miles from home; you're dependent on this entity for your work permit. The moment they say you don't have a job, you have to leave."
"You're very vulnerable to manipulation and coercion by these administrators."
A Protest Resignation
A former librarian at Webster Thailand who asked not to be named because he didn't want his name associated with a "disreputable" institution resigned in protest within his first six months there in 2012 . "I was there for about a month and I had a meeting with the rector, Ratish [Thakur]," the librarian said. "In the meeting he said among other things that he was planning to fire the two Thai women who work in the library. I asked him why and he said that for one of them, she was too old and had been there for too long. For the other woman he said that she was simply making too much money. I said that those reasons were not sufficient grounds for firing them and that in the month that I'd been there they had performed their job duties better than satisfactorily and I had no complaints with their work.
"I anticipated a situation of me being forced to make a decision, either go along and assist Ratish in firing these two women or refuse to do so and get fired myself. Fast-forward about four months and that's basically what happened. I was in my office one morning and the academic director came in and said to me that he'd just had a meeting with Ratish, [who] wanted me to write negative performance evaluations for those two women, which Ratish would then use to fire those two women. I refused to do so and rather than be fired by Ratish, I resigned in protest."
The academic administrator to whom the librarian was referring, Claudio Cicuzza, took issue with the librarian's account, saying in an email that he did not convey any message from the rector. He said he did not know what happened before his conversation with the former librarian, but that their conversation focused on issues related to the staff members' job performance -- and that a staff member they discussed was not fired.
"All the problems in our university have been generated -- in my humble opinion -- from the lack of ability to establish a dialogue with the administration," Cicuzza wrote. "And I am sorry to say… this is not a problem only ascribable to the administration! Several faculty members created mountains from a small stone."
In his May memo, Erickson estimated that more than 90 Webster faculty and staff members have quit or been fired, or not had their contracts renewed, in the preceding five years. When asked, Webster did not offer any statistics to contradict or confirm that. A count of the Webster Thailand online directory yields about 75 faculty and staff combined in Bangkok and Cha-Am.
"The mere fact that we have turnover is not a cause necessarily for any concern," Schuster said. "What we need to do is see why this turnover occurred. Based on what [information] I have obtained, in some cases it was underperformance, in some cases people decided to do something else and in some instances we needed to bring a new set of skills and expertise in order to serve the students." 
"On the other hand, I am waiting [for the campus review committee report]. If there is even the most remote sign or trace of, as you said, retaliatory practices, that will of course invoke our firm response to those practices by holding people who were engaged in those practices responsible."
Neglect and Collusion?
Out of about a dozen current Webster Thailand faculty members contacted, Cicuzza, an associate professor and a scholar of Pali and Sanskrit texts, was the only one who agreed to talk (or, rather, email) on the record. He offered a largely positive assessment of the institution. Communication between the administration and faculty and students needs to be improved, he said, and the information technology and infrastructure are in "poor quality" and in need of upgrading. But over all, he described Webster Thailand as a "unique laboratory… where students and faculty members from America, Europe and Asia can easily meet and discuss. It is a priceless experience, for me."
Cicuzza ventured that the majority of his colleagues have similarly positive views of Webster Thailand. And he questioned the reliability of some former employees who are raising concerns and who, he said, are "voluntarily partial" in their views. Of Erickson, Cicuzza wrote, "Professor Erickson carefully avoided meeting me! He was able to contact previous and rancorous faculty members, scattered in Bangkok, but he never tried to contact me…. Was he aware that my version of the facts was just different from the other versions?"
Erickson declined to comment for this article, though he did say that he's had no contact with members of the campus review committee about the contents of his 21-page memo. In that memo, Erickson wrote that his notes were based on his own observations as well as "discussions with a wide cross section of faculty, students and an administrator. I did not initiate or prompt these discussions. People wanted someone from the outside to hear their stories. Again and again students and faculty would say to me, 'You must tell people what's going on here.'"
One current faculty member who asked not to be named for fear of being fired said that at least half a dozen Webster Thailand professors presented members of the review group committee with information about "the seriousness of the situation" there. 
"I think it needs an independent" -- as opposed to an internal -- "review," said James Gomez, who said he was dismissed as the head of the media and communications department at Webster Thailand after four months there in the spring of 2014. "I think the issues that have been raised both in the Erickson memo and other things that have since come out are of a more serious nature."
"The second point I want to make is even if there were such an independent review, I think this local institution has suffered so much reputation damage that whatever you do to try to clean it up wouldn't really work. I think the reputation damage has gone quite far."
Gomez, who is now program director and professor of international journalism at the joint campus of Beijing Normal University and Hong Kong Baptist University, in China, said his efforts to improve the media and communication programs at Webster Thailand were frustrated by a shortage of video and computer equipment and the poor condition of existing equipment. No new equipment purchases were approved during his brief time there, he said. "It was a black hole. You could fill in forms and have them signed and sent in. Ultimately, it went down to the rector, and he would decide."
Gomez described Webster Thailand as "not a serious institution," one that's not run by "serious academics" and that has had a difficult time attracting and retaining a critical mass of "serious people with academic backgrounds." But for the current state of affairs, he thinks the blame has to be put equally on administrators in St. Louis. 
"I think there has been a lot of neglect and collusion with regard to the low quality of the program," Gomez said. 
Ricardo Lucio Ortiz, a former faculty member at Webster Thailand whose contract was not renewed in 2011, said there's no question there's been neglect on the part of administrators in St. Louis. "Apparently, what Ratish [Thakur] has identified is that Webster St. Louis wants to see this operation operating in the black. That's it. It doesn't care about anything else," he said.
"If faculty members have to be dismissed, so be it…. If students are going to be raising a fuss every now and then, so be it.
Raising a Fuss
After a website called CollegeTimes published highly negative accounts of the Thailand campus from two former instructors, Charles Brumfield and Jesse Nickles, the provost sent a letter, dated March 20, to students at the Thailand campus.
"As you are aware the Thailand campus has been the subject of commentary by former W.U.T. faculty members," Schuster wrote. "Please be assured that several members of the university's staff, faculty and administration have investigated complaints of wrongdoing and found them to be baseless. It should be noted that some of the media used by these individuals are platforms where any opinion can be presented as fact, and have been the subject of lawsuits by other institutions of higher education for posting false, libelous and defamatory information. W.U.T. is discussing its legal options with counsel."
The provost is referring to a legal challenge involving the CollegeTimes website and its owner -- one of those former instructors, Jesse Nickles -- in which Utah's Neumont University accused the site of posting false and disparaging reviews while prohibiting Neumont officials and others from posting positive ones. (While Inside Higher Ed reviewed the materials on the CollegeTimes website, this article does not rely on that website but on numerous documents independently verified or obtained and interviews with current and former Webster Thailand employees and students.)
Several current students interviewed by Inside Higher Ed declined to be quoted by name. But one student sent along a rebuttal letter and petition that the student said was signed by about 160 classmates and presented last week to the provost. A Webster spokesman said that the provost was in receipt of an unsigned copy of the letter; Inside Higher Ed has seen digital images of scores of signatures, but has not independently confirmed those signatures.
The student letter calls for the resignation of three senior Webster Thailand officials -- the rector, the academic director and the director of marketing -- and accuses the provost of disregarding the documented concerns of current faculty and students and essentially undermining the review committee's report before it comes out.
"In response to your [Schuster's] letter to the Webster University Thailand community dated March 20, 2015, we the student body of Webster University Thailand are offended by the disrespectful dismissal of the substantial problems we have presented to the Webster review group over the past several months. We find the letter insulting to all of the individuals -- faculty and students -- who met with the review group to present factual information about the serious problems at this campus. Not only did you easily dismiss our well-documented grievances, you have attempted to link our valid and substantive concerns with the separate and disputed commentary of former faculty members," the student letter says.
"We placed faith in the St. Louis administration to conduct a transparent and balance[d] review of Webster University Thailand. It is now clear that not only is Webster St. Louis administration aware of the problems, but that despite all of the meetings and site visits… unethical behavior will remain the norm at this campus," reads the letter, which includes specific complaints about the cost of campus housing, fees and fines charged to students, and the level of funding for student activities. "The student body only sees the blatant misuse of our tuition."
Webster's chief financial officer, Greg Gunderson, said in an interview that a review of the Thailand campus's finances as part of the committee's review process had turned up no problems, but that the committee did identify a need for greater transparency in how fees are used.
Schuster, the provost, described "any assertion that the committee did not do its job or did not do an investigation" as being unfair to members of the committee who have spent hundreds of hours and traveled thousands of miles from home to conduct the review. 
"If we have a common goal to continuously improve our operation, then we need to give our colleagues the benefit of the doubt that they worked hard, that they were objective and that their report will help us to improve what we have been doing so far," he said.