You have /5 articles left.
Sign up for a free account or log in.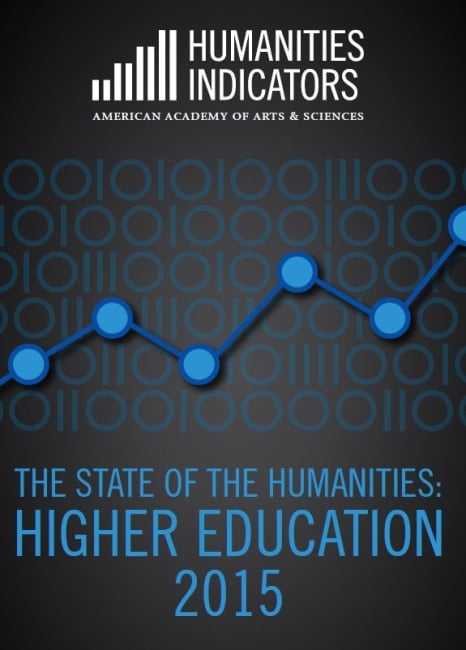 The last year has seen plenty of concern about the state of the humanities. Once popular English departments worry about their declining numbers of majors. New data show that foreign language enrollments are shrinking. And politicians continue to question the value of the humanities.
"The State of the Humanities: Higher Education 2015," released today by the American Academy of Arts & Sciences, acknowledges many "troubling signs" for the humanities and notes a national narrative portraying the humanities as "beleaguered and declining."
But the annual report of the academy's Humanities Indicators Project notes that there are positive signs as well. A nuanced portrayal of the humanities, the report argues, would note signs of growth amid the angst.
The report is a compilation of data -- some gathered by the academy and some from other sources. Most of the statistics that will concern advocates for humanities education and research won't come as a surprise.
Many humanities professors assert that the worth of their programs can't be judged only by the number of majors they attract, given the role of humanities disciplines in general education and in advanced study, where scholars in many fields rely on humanities departments to learn foreign languages and cultures. But many college administrators have continued to base decisions on budget allocations (and program elimination) in significant part on numbers of majors, so it is an influential figure.
And here the data continue to show a drop from 2007, when about 12 percent of undergraduate degrees were awarded in the humanities, to 2013, when the figure was about 10 percent.
In earlier decades the figures were much higher, but many have noted that women were largely excluded or discouraged from many science and technology disciplines for much of American higher education, so humanities and selected other fields (such as education) enjoyed considerable female enrollment because of the limited choices available to women.
Of late, the share of men in humanities fields appears to be increasing. According to the new report, the share of women earning bachelor's degrees in the humanities has fallen modestly every year from 2003 (when it was 62 percent) to 2013 (when it was 59 percent).
Of late, the only sector showing growth in humanities majors is for-profit higher education, where the base has been quite low.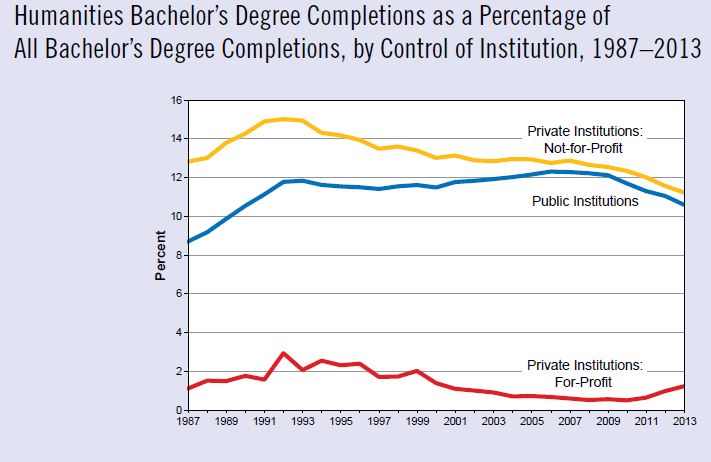 Despite these concerns, the new report notes positive trends, especially with regard to prebaccalaureate education.
As the academy noted in a report in January, from 1987 to 2013, the average annual growth rate for liberal arts or liberal studies degrees at community colleges was 4.3 percent.
The new report also notes tremendous growth over the last 20 years in the number of Advanced Placement exams taken in humanities fields. While the A.P. program has seen across-the-board growth, the rate has been highest in humanities fields: