You have /5 articles left.
Sign up for a free account or log in.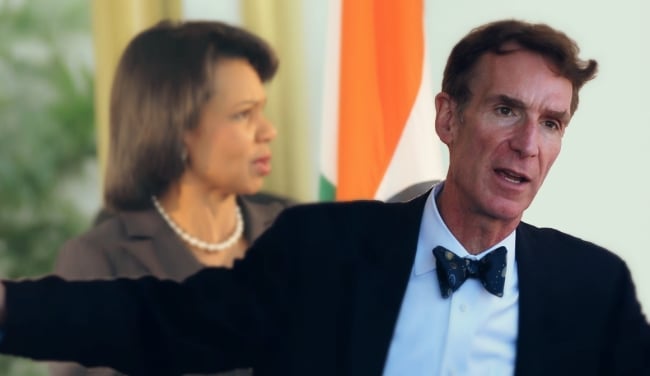 When Rutgers University invited Condoleezza Rice, former U.S. secretary of state, to speak at its commencement ceremony last year, a group of students protested the choice by staging a sit-in on campus. Rutgers's faculty council passed a resolution urging the university to rescind its invitation to Rice, calling her a "war criminal." The university stood by its decision, but Rice withdrew from the ceremony.
This year's commencement speaker is not likely to spur such a debate. In fact, the pick may have been partly the result of a student-led social media campaign making use of the hashtag #BowTie4BillNye. And indeed, Bill Nye, the bow tie-wearing science guy many of the graduates grew up watching on television, will speak at the ceremony.
Last year, Rutgers was one of a number of colleges that saw commencement speakers back out following student and faculty protests. Although the speakers withdrew and the institutions didn't rescind their invites, the Foundation for Individual Rights in Education took to referring to that spring as "disinvitation season." This year, those same colleges seem to be playing it safe.
"I think it's the extension of the echo chamber from our personal curated Twitter feed or Facebook friends," said Will Creeley, vice president of legal and public advocacy at FIRE. "Now students like seeing just the views they agree with, and it extends past social media onto the commencement stage."
For Haverford College's 2014 commencement, the college invited Robert Birgeneau, former chancellor at the University of California at Berkeley, to receive an honorary degree and speak at the ceremony. Birgeneau is a respected figure for his work with undocumented and minority students, but he has been criticized for his handling of a 2011 incident in which campus police injured student protestors.
More than 40 students and a handful of faculty members penned a letter asking that either Birgeneau publicly apologize for the incident and support reparations for the students, or the college rescind his invitation. Birgeneau withdrew from the ceremony.
In his own commencement speech, William Bowen, former president of Princeton University and one of two others speakers scheduled to talk at the Haverford ceremony, criticized the students and Birgeneau's withdrawal. "In keeping with the views of many others in higher education, I regard this outcome as a defeat, pure and simple, for Haverford," he said. "No victory for anyone who believes, as I think most of us do, in both openness to many points of view and mutual respect."
This year's speakers and honorary degree recipients include Thandeka Luthuli Gcabashe, South Africa's ambassador to Venezuela during Nelson Mandela's presidency and a key figure in ending apartheid; Sister Mary Scullion, a nun renowned for her advocacy for the homeless; and Bryan Stevenson, founder of the Equal Justice Initiative. Haverford declined to comment on if this year's selection process differed from previous ceremonies.
Last year, Smith College invited Christine Lagarde, chief of the International Monetary Fund, to speak at its commencement. Students responded with a petition saying that the women's college "should not be publicly supporting and acknowledging" Lagarde and the IMF.
"The IMF has been a primary culprit in the failed developmental policies implanted in some of the world's poorest countries," the petition read. "This has led directly to the strengthening of imperialist and patriarchal systems that oppress and abuse women worldwide."
Many were aghast at the protest, given that Lagarde is a rare woman at the top of the male-dominated field of international finance and has done much to promote gender equity. Lagarde, too, withdrew from the ceremony, saying she didn't want protests to distract from the celebration. "Those who objected will be satisfied that their activism has had a desired effect," Kathleen McCartney, Smith's president, said in a statement at the time. "But at what cost to Smith College?"
Creeley said the cost is that students are stuck with only safe, inoffensive speakers. This year's choices are not uninteresting or unworthy, he said, but if the trend continues he worries that this will one day be the case.
"If we allow students to serve as vetoes, only the blandest speakers will be left," Creeley said. "If we treat ideas we don't agree with as barred from campus, then really what's left are only the most inoffensive, and by extension most uninteresting, folks. Perhaps campuses in the limelight last year have gotten the message, and it's a shame because students on campus have been denied the ability to learn something from someone they disagree with, or celebrate someone they do agree with."
This year, Smith invited Juliet Garcia, president of the University of Texas at Brownsville and the first Hispanic women to lead an American college or university, to speak during commencement. The choice was not in reaction to last year's protests, Sam Masinter, Smith's director of college relations, said. It's instead the result of a typical selection process that includes sending an email to all juniors asking for nominations and later meeting with a group of class leaders.
"Dr. Garcia was chosen on the merits of the work she has done to improve educational access, a value that is core to Smith's mission," Masinter said. "And she is a compelling speaker with a remarkable personal story."