You have /5 articles left.
Sign up for a free account or log in.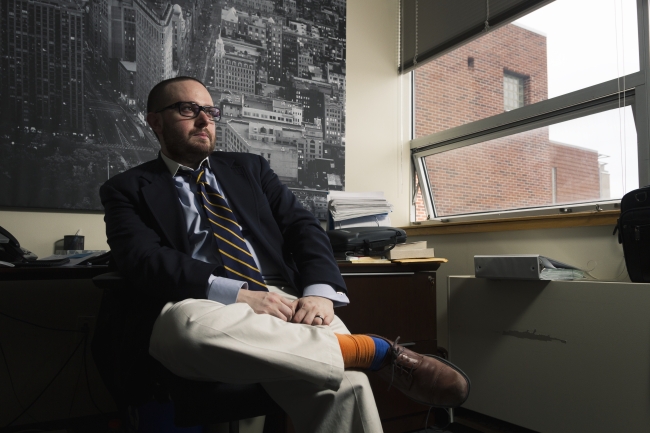 Bryan Roberts's symptoms started small -- with a twitch in his right thumb.
He was an avid athlete and he ignored it, thinking it was a pinched nerve. But then a tremor started and he started feeling rigidity in some limbs.
If he'd known what he knows now, he would have recognized the symptoms immediately.
But he was 29 at the time, interviewing for positions as an assistant dean and expecting a baby with his wife. Parkinson's disease was something he associated with aging. That was five years ago.
Today, Roberts, the associate dean of the Park School of Communications at Ithaca College, is one of two administrators at the college who have shared what it's like to live and work with Parkinson's disease.
An estimated one million people in the U.S. have Parkinson's, an incurable, degenerative neurological disorder. The disease causes tremors, rigidity and other problems with movement.
The average age of diagnosis is 60, according to the Michael J. Fox Foundation for Parkinson's Research.
Roberts was diagnosed in October 2010. He was 30 years old.
Parkinson's looks different on every person, Roberts said. Some people can hide their symptoms effectively for years. He wasn't one of them. His right arm tremor was getting worse, and carrying around the secret was a burden.
When he stood in front of a crowd to give a speech, his eyes inevitably connected with the one person in the room who clearly saw the shaking. Did people think he was nervous? He's a college dean, and a dean of a school of communications, no less. He should have public speaking down, he thought.
He wondered if people suspected him of being a drug addict or a recovering alcoholic. What am I doing, he remembers thinking. 
"You can either become more diminished by the disease or you can get off the bench and get into the field," Roberts said. "I'm a starting-lineup kind of guy."
Being in the educational field, he saw a teachable moment.
So in 2011, he sat down with the student newspaper, The Ithacan, and told his story.
Since then, Roberts has turned into a public advocate for finding a cure for Parkinson's disease and for not letting the disease define his life. He writes a blog and works with the foundation started by the actor Michael J. Fox.
If Roberts's tactic was a campuswide media blitz, his colleague Barbara Howard went about sharing her diagnosis in an almost completely opposite way.
The associate dean of the School of Business was diagnosed in 2011 at age 55. After a series of tests and appointments with specialists, her doctor sat her down in his office.
The bad news was that she had Parkinson's.
The good news is, you'll die with it, not from it, he said.
That was three weeks after she'd started working at Ithaca. She was shocked and then scared. She would wake up in the morning and think, I have Parkinson's disease. I have to deal with this every day now. She'd lie in bed every night and think the same thing.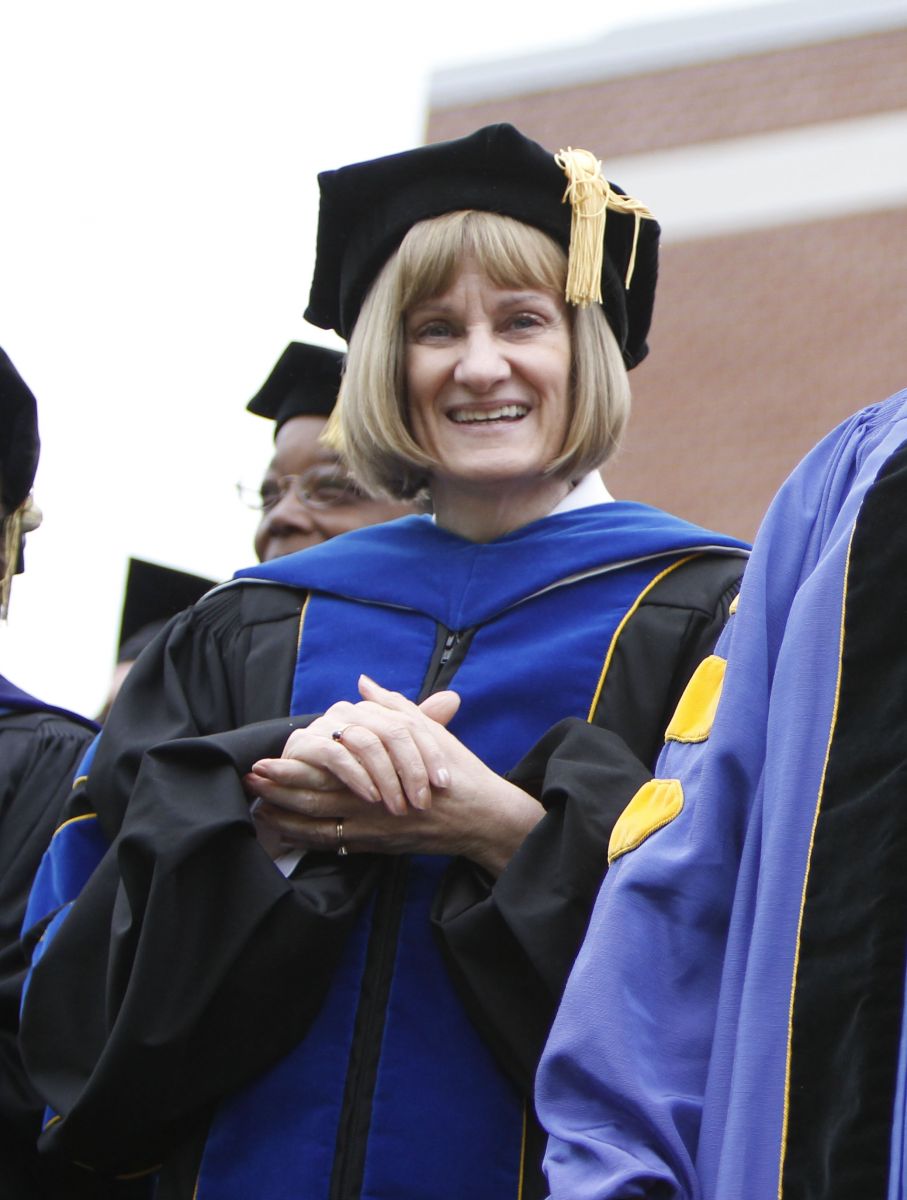 After a few months, though, several days would pass when the thought wouldn't cross her mind. Then the time periods without the thought grew longer.
She realized that Parkinson's wasn't life ending. But it was life altering.
She had trouble staying asleep at night. She couldn't walk as fast on the treadmill. It was hard to do simple tasks that require a quick movement of her hands -- brushing her hair, whisking an egg or writing notes.
But with medication, all of that got easier. The only noticeable symptom she has is a tremor in her foot.
"I am managing it," she said. "It's not managing me."
Roberts and Howard had worked together before they learned of their common bond. Howard suspected Roberts had Parkinson's before he announced it to the campus and asked him about it in his office one day.
When she was diagnosed, she confided in him early on. But she swore him and the few on campus who knew to secrecy.
She was still new on campus, and she wanted to fit in and build relationships without them being muddied by a chronic illness.
She also worried that when people learned she had Parkinson's, they'd assume she was older than she was, or that she wasn't as capable as she was.
As she grew more comfortable and felt more in control, she slowly began to tell more people, one by one. Last fall she participated in a student-produced documentary with Roberts. Roberts advances the conversation around the disease by being a vocal advocate. Howard says she pushes forward by participating in number of research trials.
"He's Ithaca's Michael J. Fox," she said. "That's good. That fits his personality. I'm more of a behind-the-scenes person."
There are some people who are comfortable sharing everything, some who are comfortable keeping it all private and some who, like Howard, fall somewhere in the middle. No category is any better than the other, she said. Everyone has to handle the disease in a way that works for them.
Roberts maintains an optimistic outlook that's inspiring and probably unusual for a lot of people his age, Howard said.
But Roberts doesn't feel that he has any choice except to be positive, he wrote in a blog post for the Michael J. Fox Foundation. When he first started showing symptoms, his doctors tested him first for a brain tumor and then for Huntington's disease. He knows he could have been dealt a worse hand, and so he doesn't waste time feeling sorry for himself.
He does worry about his 4-year-old daughter, Avery, though. He's questioned whether she drew the short straw in the parent lottery and whether his parenting abilities will be diminished by Parkinson's. At an advocacy event a few weeks ago, Roberts mentioned his fears to Sam Fox, the actor's son, who had some advice for the dean.
"Your daughter will never see you as her dad with Parkinson's. She'll only know you as Dad," he told Roberts.
"That's the cool thing," Roberts said. "No one would ever choose to have [Parkinson's]. But I've met so many smart people through this."
Roberts's diagnosis was so early that there's little research about what his progression will look like. That uncertainty hasn't changed his long-held career goals: being a college president and playing second base for the Mets. (Some days, he jokes, the second option feels more realistic.)
 "You're going to give me 40 years to help find a cure," Roberts said of his early diagnosis. "I wouldn't bet against me."