You have /5 articles left.
Sign up for a free account or log in.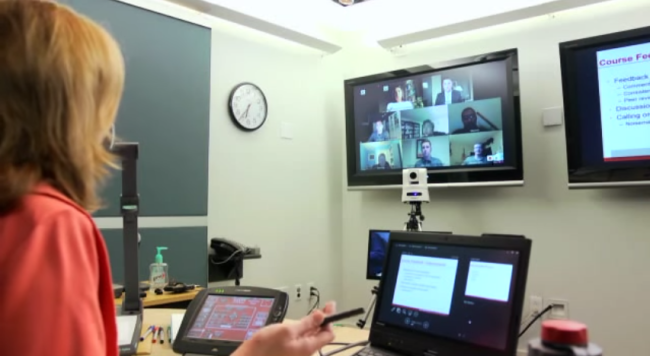 Carnegie Mellon University
The University of Southern California's new online M.B.A. program is the latest entry in a renaissance for such degree offerings, a development program directors say has been made possible by advances in technology that connect students and professors online.
The USC Marshall School of Business will launch its program this fall, marking the first time the university has offered the degree at a distance. Students in the 21-month program, which is split into five semesters, will tackle one course of three to four topics at a time, covering much of the required readings and assignments at their own pace but checking in with classmates and professors during weekly live online sessions. Unlike programs at other universities, which include regular campus visits, USC's online students will only come to campus once.
USC's balance between asynchronous and synchronous content is the most recent attempt to find a ratio that works for an online M.B.A. With the announcement, the university joins institutions such as Carnegie Mellon University and the University of North Carolina at Chapel Hill, which in the past four years have begun to offer their selective M.B.A. programs online. Program directors at those universities say distance education and the technology to support that mode of delivery offer too many opportunities to justify simply recording a lecture and posting it online, but their opinions diverge on the importance of face-to-face meetings, the role of outside firms, pricing and pace, among other components.
"If we don't think that our job is to replicate the lecture experience but find a new and in some respects improved experience, what does that mean?" said John G. Matsusaka, Charles F. Sexton Chair in American Enterprise at USC. "We really believe there's a set of students out there who prefer to learn in this mode. Of course there are some student that are going to prefer the residential option. Our view isn't that one is better than the other."
Dan Bursch, program director of the online M.B.A. program at UNC, called USC's announcement a "validation." UNC launched its online M.B.A. program, MBA@UNC, in 2011, and in less than four years, its enrollment has grown from 19 to about 630 students.
Bursch said the Kenan-Flagler Business School at UNC views itself as one of the first -- if not the first -- school to use the terms "asynchronous" and "synchronous." In the years since MBA@UNC launched, Bursch said he has seen several universities "imitate and duplicate what we are trying to do."
The fading "stigma" surrounding the quality of online education is partly to thank for that development, Bursch said, but so are advances in technology -- particularly in videoconferencing. Many M.B.A. programs pride themselves on small cohorts and curricula that emphasize group work, so just a few seconds of lag would be a major interruption. Conversations about an online M.B.A. program at UNC began as early as 2005, Bursch said, but at that time, "the school said we weren't in a place where we felt that we could duplicate everything we do on campus."
With the introduction and refinement of software such as Adobe Connect, Google Hangouts and Skype, UNC returned to the idea in 2010. "The ability to have live classes every week is really what set things in motion," Bursch said.
Similar, but Different
Carnegie Mellon spent five years waiting for a similar breakthrough. The financial crisis left the university's business model for online M.B.A.s "more or less dead," said Robert T. Monroe, director of the part-time program there. The university's old program was entirely corporate sponsored, with companies paying more than $100,000 to set up clunky videoconferencing systems so professors could beam courses to their locations. As the economy tanked, partnering companies pulled out. In 2008, the business school killed the distance education program.
"Instead of scrambling to try to keep that one going, we decided to use that opportunity to take a step back and see how things had changed in the 20 years since we started it," Monroe said. "We saw there was an opportunity, but that it was going to be an individual opportunity."
Carnegie Mellon rebooted the program in 2013. Officially named the Tepper School Online Hybrid M.B.A. ("because we haven't been able to find the right word to describe it," Monroe said), the program splits course content about equally between asynchronous content, live online sessions and intensive in-person conferences.
Each mini-semester, of which there are six a year, begins with a weekend in Pittsburgh or at Carnegie Mellon's locations in New York and Silicon Valley. During the following weeks, students work independently on course modules and attend a weekly 75-minute live online session.
"For us, the one-third, one-third, one-third breakdown of what was previously 100 percent live class works well," Monroe said. "We came up with a new model that we felt is as good as on-site and gives you a complete experience."
At 32 months, Carnegie Mellon's program takes longer to complete than USC's 21 or UNC's average of 27, and includes the most face-to-face content. Matsusaka, meanwhile, said USC's faculty members made a point of making as much of the content as possible available to students on their own time.
"If you're going to do this, you can't ask [students] to come to campus a lot," Matsusaka said. "I'm sure that's appealing to some, but our sense of the market is the typical person wants more flexibility."
UNC, in comparison, requires students to attend two "immersion weekends" on their way to completing the 66-credit program. The university has hosted in the weekends both in the U.S. -- in Chapel Hill, San Francisco and New York -- and abroad -- in Mumbai and Johannesburg -- since the program launched.
Monroe said Carnegie Mellon's weekend sessions were created with the idea that students would be able to balance their careers, studies and family lives in mind. "It's very, very expensive for a student to leave work for two years to get an M.B.A. -- especially from the more selective schools," Monroe said. "The ability to both go to a selective program and keep working is a big deal. That's going to be very appealing to a lot of people."
An M.B.A. from a selective university can easily cost more than $100,000. To stress the idea that its program is the same no matter the form of delivery, Carnegie Mellon charges all part-time students the same for tuition: about $120,000. At UNC and USC, however, the online option comes with a discount. USC's online students will pay an estimated $88,502 for tuition, down from the residential program's $108,504. At UNC, out-of-state students in the residential full-time M.B.A. program pay $111,092 for tuition, while MBA@UNC drops the price to $96,733.
"We spent a lot of time trying to think about what's the perfect price," Matsusaka said. "What do we need people to know to feel we've been able to give them a USC degree, and what does that take? Clearly you don't want to go in and be the most expensive guy."
Finding Students
USC has yet to enroll its first students in the online M.B.A. program, but officials there have an idea of whom the program may appeal to. The ideal student, Matsusaka said, graduated with a bachelor's degree in computer science and went to work for a company such as Google for five years. Now 30 to 34 years old and ready to climb the career ladder, the student realizes he or she needs to learn about accounting or leadership but sees the prospect of leaving work for more than two years as unacceptable, he said.
"It occurs to me there might be an untapped market of people who prefer this delivery," Matsusaka said. "Unless your eyes are closed, you have to realize that a lot of people live a lot of their lives and have a lot of meaningful experiences online."
Results from the first year and a half of cohorts at Carnegie Mellon show about 60 percent students come from an area within a few hundred miles of Pittsburgh, Monroe said. The West Coast is home to another concentration of students.
UNC's enrollment data is "pretty varied," Bursch said. Students in the program reside in 47 states and 35 countries, with most groups in major cities, but also in rural areas where students would have to travel far to the nearest program.
"When people and schools that want to do this talk about the online M.B.A., they use the word 'flexible' a lot," Bursch said. "However, to me, the key word is really 'accessibility.' Until 2011, if you wanted an M.B.A. from UNC, you had to pick up and move your family to Chapel Hill."
As the universities that offer online M.B.A. programs are able to market to students who live increasingly farther away from campus, they find both a larger pool of potential students and new competition. Marketing, the program directors said, will likely play an important role for programs to stand out in an increasingly crowded field.
Both UNC and USC have chosen to work with outside firms to help with that task. USC picked All Campus, a firm specializing in online enrollment. UNC took the partnership a step further, partnering with the online "enabler" company 2U (then known as 2tor) to build the program. Bursch said the partnership let the business school spend its time on adapting the curriculum, outsourcing the technical aspect to the online enabler.
"We like to say we practice what we preach here at the business school," Bursch said. "When you partner with an expert in the field, you'll produce a better product."
The program directors said they expect more universities will launch online M.B.A. programs in the near future. All three described the market as being in an "experimental phase" that will remain unsettled for several years.
The institutions threatened by that development, Monroe suggested, may be those that place too much emphasis on location.
"If you're an M.B.A. program whose primary point of distinction is that you're physically located somewhere that makes it easy for students to get to, you're going to seriously have to think about what your differentiator is when there are a lot of good online options available," Monroe said.
On the other hand, he said, launching an online program is more of an "incremental step" than Carnegie Mellon had anticipated. With email, lecture capture and learning management software already in place in the residential program, "We found we were already doing 70 percent of it."