You have /5 articles left.
Sign up for a free account or log in.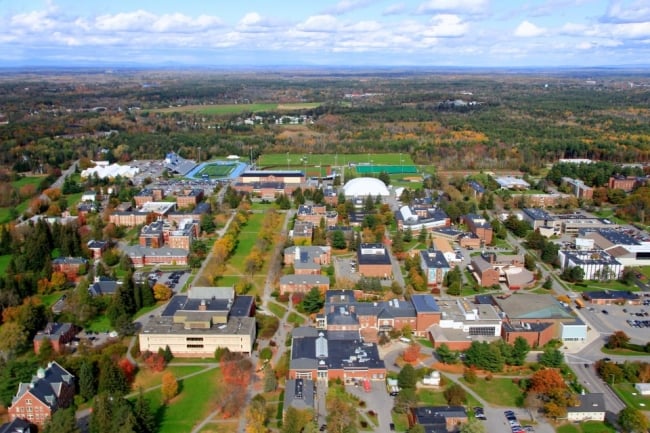 In a push to become one university with seven campuses -- instead of seven universities within one state system -- the University of Maine is considering a single, regional accreditation for all of its campuses.
The move, if taken, appears unprecedented among university systems.
Proponents say it will allow for more flexibility in adding and cutting degrees, reduce administrative costs, and help create more paths to enrollment for nontraditional students. In short, they say it would give the University of Maine the agility it needs to become financially solvent in an era of flat state funding, consistent tuition freezes and enrollment decline.
Yet opponents say a single systemwide accreditation diminishes the autonomy and faculty voice of each institution and could jeopardize the quality of education at individual campuses.
"We have very substantial economic and demographic challenges," said James Page, chancellor of the University of Maine System. "We do believe that really dramatic, transformative change is required here."
Over the course of eight years, full-time enrollment at Maine's seven campuses has dropped by 2,000 students. The system has eliminated 700 jobs, or about 13 percent of its workforce. This year it is facing an operating deficit of more than $8 million, despite a $5 million increase in state funding. Even with these struggles, the system's trustees decided, for the fourth straight year, to freeze tuition next year, solidifying Maine's status as the most affordable public system in New England but prompting local media outlets like the Bangor Daily News to draft headlines like "Affordable or a Fiscal Nightmare?"
"When there isn't any money, you really need to think of maintaining quality services in different ways, and that's what this whole effort for single accreditation is all about," said Aims McGuinness, a senior associate with the National Center for Higher Education Management Systems (NCHEMS) and an expert on postsecondary governance. "This is not going to be an easy kind of change anywhere, and that's why Maine is interesting."
The changes involved in moving toward a single accreditation are sweeping. And Maine's regional accreditor, the New England Association of Schools and Colleges' (NEASC) Commission on Institutions of Higher Learning, isn't currently set up to handle a systemwide accreditation, although that could change if the commission approves Maine's plan.
Page says single accreditation status would allow Maine to centralize some of its administrative functions. It would make it easier for the system to cut programs or change how they are distributed. For example, the system could eliminate an underenrolled program at one campus and direct interested students to a similar program at another campus -- and, on the flip side, it would allow for new majors that draw on resources that exist on multiple campuses, not just one. Each of these abilities could drive down costs. 
"Right now we have the ability to move programs, or to open and close programs," Page said, "but what we want to be able to do is do that in a coordinated or a strategic manner."
The system is already working on a number of pilot programs across campuses, such as a cybersecurity major. No one campus offers all the courses required for the major. Instead, students must take courses offered by multiple campuses (the major includes online offerings).
"There can be much more synergy across the campuses, much more sharing -- particularly in general education courses -- of academic programs, much more sharing of faculty," McGuinness said.
Quality at Risk?
Yet it can be harder for institutions and accreditors to ensure across-the-board quality at a system with several units.
"There would be cons from a quality perspective," said Peter Ewell, vice president at NCHEMS. He added that each of Maine's seven campuses are "different from one another" and separated by, in some cases, a substantial geographical distance.  
Maine's flagship campus has 11,000 students, while the smallest institution has an enrollment of just 800 full-time students. The University of Southern Maine and the University of Maine at Fort Kent are more than 300 miles apart, while the flagship campus is just a 15-minute drive from the University of Maine at Augusta's campus in Bangor. 
"I would think for quality assurance and assurance to the public that you would not want to lump those campuses together," said Ewell. "There are risks involved in doing that."
Susan Feiner, a professor of economics and of women's and gender studies at the University of Southern Maine, said some faculty members are concerned that with a systemwide accreditation, they'll lose control over curriculum, hiring, and promotion and tenure reviews. She said a single accreditation could interfere with an institution's ability to mold the curriculum to fit the needs of the unique student population at each campus.
"Our universities are very, very different," Feiner said. "Centralization of the university poses a real threat to each campus's autonomy and to the academic freedom of faculty at each campus."
Feiner said faculty members on different campuses don't have a history of working together on large-scale issues, such as curriculum. There's currently no systemwide faculty governance body, but instead a different faculty government for each of the seven colleges.
Susan Hunter, president of Maine's flagship campus, said professors will still be involved in developing curriculum, but will do so from different campuses. Administrators say part of the push for "one university" is to increase faculty collaboration. Under the current structure of separate units with separate budgets, faculty members don't necessarily have an incentive to work together because their campuses can end up losing money.
"Tuition dollars follow the credit hours," Page said. "How do we get our campuses to cooperate if, in effect, certain dollars are moving away from one campus to another because of shared programs?"
He continued: "The goal would be to eliminate administrative barriers… that could slow down these kind of opportunities."
Unknowns Ahead
Barbara Brittingham, president of the NEASC commission, declined to elaborate on communications between the commission and the Maine system, saying both parties are in an early fact-finding stage and will meet in June, when Maine is supposed to give a detailed proposal to the accreditor.
"We don't know what it will look like. We don't know where there is headed, but what we do want to do is have a good conversation with them," she said. "New things come along all the time, so we'll just see what this looks like when it comes in."
As Maine further explores a single accreditation, administrators are looking to see if it's feasible without jeopardizing the accreditation status of each campus, and if, in the end, it will help bring in more revenue. 
"Does it allow us to be more effective, and therefore generate additional enrollment and credit hours?" Hunter said.
Ewell said he's not aware of another system that has transitioned from each campus having its own accreditation to all campuses being under one accreditation. (Some systems have one accreditation, but have always been that way. Penn State University, which has 24 branch campus locations, and Washington State University are each under a single accreditation. Many community college systems have one accreditation.)
"I've never seen that and I'm not sure why you would want to," he said, adding that it's not a "slam dunk" that the accreditor would agree to the change.
"The trend, more and more, is to have individual accreditation, and the accreditors like that better because [campuses] sometimes have different missions," he said. "They'd rather look at individual campuses."
One accreditation for seven campuses would require significant change on the ground in Maine, and would lead to more change as the system becomes more lean and centralized. Yet change is exactly what system leaders are looking for.
"I'm sure there will be some growing pains," Page said. "I'm sure a lot of people will be watching to see what works and what doesn't."