You have /5 articles left.
Sign up for a free account or log in.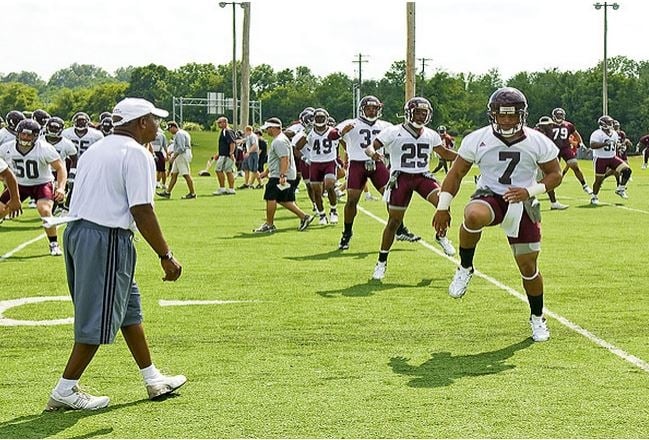 Mississippi State University
At a recent panel discussion organized by the Big 12 Conference, a moderator asked four college athletes what they thought of a number of proposals to reform college athletics.
Getting rid of late evening games? The athletes said they like playing during prime time. Realigning the conferences so that athletes don't have to travel so far? The athletes said they enjoy traveling across the country. Requiring athletes to sit out their freshman year? It's unfair to those freshman players who don't need remediation.
There was one issue that all four athletes agreed needed addressing, however: the amount of time they spend on sports during the off-season. "I don't need to be in the gym six days a week in June to stay in shape," Sune Agbuke, a women's basketball player at Baylor University, said.
It's not a new complaint, but it's one the athletes said continues to be largely overlooked by those hoping to reform college sports. Juggling athletics and course work during the season is expectedly difficult, they said, but athletes often feel just as overworked in the off-season.
And for some college athletes, the off-season can be even more draining.
"In-season, it's understood that we don't perform well [during games] when we're dead tired," Agbuke said, meaning coaches know not to push athletes too hard during workouts and practice, a concern that isn't as pressing during the off-season. "Commitments out of season could use some work."
According to the National Collegiate Athletic Association, the majority of college athletes say there's little difference between off- and playing seasons.
In a 2010 NCAA survey, more than three-quarters of Division I baseball players reported spending "as much or more time on athletic activities" during the off-season as during the competitive season. About 70 percent of men's basketball players reported the same, as did 70 percent of football players. It was a similar picture for the remaining men's sports.
Just less than half of women's basketball players reported spending equal or more time on athletic activities during the off-season, and about 60 percent of athletes in all other women's sports said the same. In Division II, about 80 percent of baseball players reported spending as much or more time on their sport during the off-season, as did 54 percent of women's basketball players.
A 2006 NCAA survey had comparable findings. "Athletic time commitments for student athletes can be very high and there is little downtime, even in the off-season," NCAA researchers wrote in a report about the findings. "This issue is crucial to developing the balance that should be a goal for student athletes."
Meghan Durham, a spokeswoman for the NCAA, said that the new Division I governance structure -- created last year to give the five wealthiest conferences more autonomy in creating new regulations -- will be examining playing and practice season rules, and the topic might be addressed at the NCAA's annual convention in January. Proposals from the "power five" conferences aren't due in the national office until later this year, she said.
The NCAA already has rules for how much time athletes can spend on athletic activities, though it's widely assumed that most players and coaches find ways around them. The current rules have been in place for decades, but there were always concerns that coaches and players would ignore the limits, said Amy Perko, executive director of the Knight Commission on Intercollegiate Athletics.
"What was feared might happen -- that the proposed maximums would become the new minimums -- has come to pass," Perko said.
During the season, college athletes aren't permitted to devote more than 20 hours a week to competition or official practices and workouts. Yet the average number of hours spent in season on athletic activities, according to NCAA surveys, far outnumbers that limit for every sport. On average, football, men's basketball, women's basketball and baseball players in Division I spend about 40 hours a week on athletic activities. In 2010, no sport in any division had an average lower than 28 hours.
If the majority of Division I and II athletes are spending as much or more time on their sports during the off-season, then they are spending vastly more time on athletic activities than what the NCAA permits. During the off-season, athletes are only allowed to spend eight hours a week on athletic activities.
A handful of programs have been penalized by the NCAA in recent years for conducting countable "athletically related activities" out of season.
In 2005, the association's infractions committee placed Texas State University on three years of probation after it required football players to attend a "voluntary" strength and conditioning summer program. The athletes were required to sign attendance logs that were reviewed by the then head coach, according to the infractions report. In one instance, the coach even called a player's parents to warn them that the student would no longer be allowed to play football if he missed the voluntary workouts. Similar cases have occurred at Ball State University, Florida International University and Northern Ohio University.
Attempting to thwart NCAA time limits by describing out-of-season activities as voluntary is common practice, said Mark Nagel, a professor of sports and entertainment management at the University of South Carolina. Voluntary activities are described by the NCAA has being initiated by athletes and having no coach present.
"There's technically an off-season, but there are these voluntary workouts that most coaches say are voluntary but then expect athletes to be at," he said. "The system is set up to where the coaches encourage athletes to train all year round, but there's also pressure from the athletes themselves. Even when an athlete is given a situation where it's truly voluntary, they still might be practicing. It's the competitive nature of sports."
Nagel said that pressure is especially prevalent in revenue sports like football and men's basketball. In the 2006 NCAA survey, many athletes said that if they had more time in the week they would devote that extra time to sports rather than academics or extracurricular activities.
Rachel Scott, a softball player at the University of Texas at Austin who spoke at the recent Big 12 forum, said much of the extra work she does during the off-season is indeed voluntary, but it doesn't always feel that way. "It's not mandatory," she said. "But it's expected."
A recent survey by the Pac-12 Conference found that nearly three-quarters of Pac-12 athletes shared Scott's view. About 73 percent of athletes said they felt voluntary activities were actually mandatory. More than 60 percent of Pac-12 athletes said they would like to see voluntary activities become "truly voluntary," giving them more time for studying, internships and part-time jobs.
Some of the athletes reported that coaches had threatened to kick them off the team for missing "voluntary" activities, or had punished an entire team in retaliation for an athlete missing a nonmandatory practice or workout. Jamie Zaninovich, deputy commissioner of the Pac-12, said this week that the conference has now assembled a task force made up ​of​ administrators, coaches and athletes to discuss potential legislation that would address overall time demand issues, especially activities that are meant to be voluntary.
Allen Sack, a professor of sports management at the University of New Haven, said efforts to curb off-season activities should focus on "getting coaches under control."
"The demands they make are absurd," Sack said. "Workouts and practice go on year-round. Coaches must be forced to realize that college athletes are not professionals like those in the NFL."